Pirelli is a tire manufacturer known for its cutting-edge technology and premium-quality products. With a legacy spanning over a century, Pirelli tires have earned their reputation through a relentless commitment to research and innovation and delivering high-performance tires that meet drivers' demands worldwide.
In addition, their focus on safety, durability, and exceptional grip has made them a trusted choice for luxury and high-performance vehicles, including SUVs, cementing their position as a leading name in the automotive industry.
That's why it is no surprise that this brand has recently unveiled its latest innovation, the Scorpion MS, an exceptional all-season tire designed specifically for 'premium and prestige' SUVs. This tire promises to deliver unmatched performance and safety, catering to luxury SUV owners seeking superior handling and traction in various weather conditions.
Pirelli's commitment to research and development shines through in the Scorpion MS, boasting advanced technology to enhance grip, reduce road noise, and increase fuel efficiency. With this new addition to their Scorpion line-up, Pirelli aims to set an all-new benchmark for SUV tire excellence in the automotive industry.
The Scorpion MS – A bit about this ingenious new tire tread
The Scorpion MS is a new top-tier all-season tire engineered specifically for the latest generation of premium SUVs. It's guided by Pirelli's Eco-Safety Design philosophy, which prioritizes safety while minimizing environmental impact. It has also been built on the success of its predecessors, the Scorpion Verde All Season and Scorpion Zero All Season.
With improved wet and dry grip and reduced rolling resistance compared to previous models, the Scorpion MS meets the high-performance needs of various regions. American drivers will appreciate its extended tire life, while the Asian market will benefit from enhanced comfort.
Moreover, the tire's design enables light off-road and snow-driving capabilities – something that hasn't been seen too often before – making it the ideal choice for SUV owners seeking versatility and performance. Some of the key benefits from the launch of the new Scorpion MS range include the following:
The Pirelli Scorpion MS's all-season capability eliminates the need for seasonal tire changes.

Extensive research and development have resulted in a Pirelli tire with exceptional grip, wet and dry braking, and improved performance on snowy surfaces.

This tire prioritizes customer comfort by reducing noise levels by 25% compared to the Scorpion Verde All Season thanks to a tailored pitch sequence, accurately positioned and angled primary grooves, and a single-ply carcass that achieves the perfect blend of lightweight construction and durability.

The innovative design enhances the driving experience and steering precision and maintains low rolling resistance – always a plus.

This tire's uniform contact patch deformation ensures even wear throughout its entire life cycle.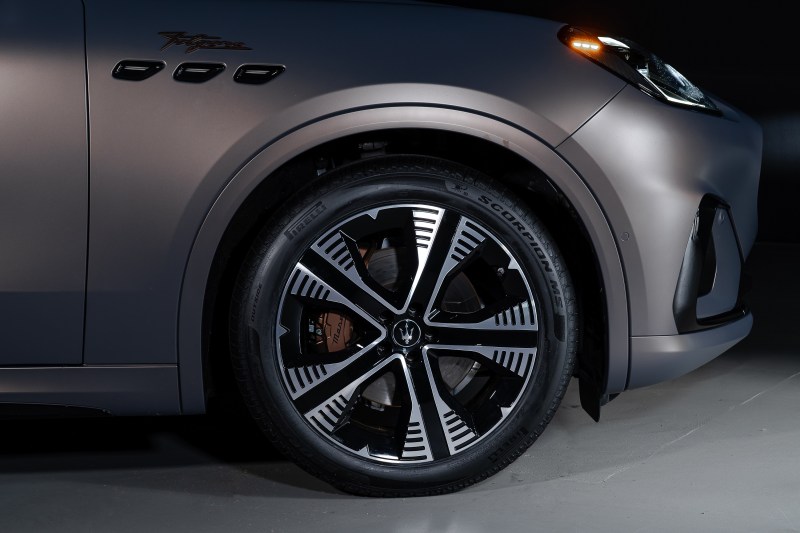 Electric SUVs to benefit from the new Pirelli all-new Scorpion MS all-season tire
This new tire by Pirelli is set to benefit the electric vehicle industry. Unlike other tire makers, Pirelli has customized its tire technology for modern electric SUVs. It aims to do this with its Elect technology focusing on electric and plug-in hybrid vehicles and its ability to cater to every SUV model's unique tire requirements.
Approximately 75% of original equipment Scorpion MS projects feature Elect technology, including fitments for electric SUVs like the Maserati Grecale Folgore. Pirelli has developed two new Scorpion MS fitments – 255 50 R19 all around and 255 45 R20 at the front, and 295 40 R20 at the back for this Italian vehicle, the brand's first fully electric SUV.
This partnership with Maserati showcases the Scorpion family's adaptability to electric mobility. It also aligns with Pirelli's electric mobility range, with more than 30% of Pirelli Scorpion MS tires featuring Elect markings.
Moreover, Scorpion MS tires offer technologies like Seal Inside anti-puncture system, Run Flat, PNCS (Pirelli Noise Cancelling System), and potentially RunForward. The extraordinary RunForward feature would allow for continued journeys after a puncture – a crucial component for electric cars without spare wheels due to battery presence.
Ultimately, Pirelli's latest addition, the Scorpion MS, expands their range of specialized SUV tires and cements their presence in the electric vehicle tire market. Joining the Scorpion MS is the Scorpion (summer), Scorpion Winter 2, and Scorpion All Season SF2.
From 2024, the replacement market version of the Scorpion MS will be accessible in the APAC region, while other Scorpion tires will continue to primarily target European countries, following their approval for the original equipment on various car models, so keep an eye out.
Editors' Recommendations