The more things change, the more they stay the same. Sure, it wasn't long ago that cars like the Chevrolet EV1, Fisker Karma, or even the original Tesla Roadster were considered unusual to the point of being bizarre. But then, it wasn't that long ago that the idea of watching movies, banking, and learning another language all at the same time on your phone would have sounded like the ramblings of an insane person. And while those early niche cars didn't quite pan out, they did pave the way for some very impressive electric cars today.
As has been the case with sedans, sports cars, SUVs, crossovers, and even sub-compact crossovers, Mercedes-Benz has been there to stake its claim at the high end of each and every automotive category. So when electric cars and then electric SUVs came along, we knew it wouldn't be long before high-performance electric cars and SUVs were next. So for 2024, we are finally getting the Mercedes-AMG EQE SUV, and, as we expected, it isn't cheap.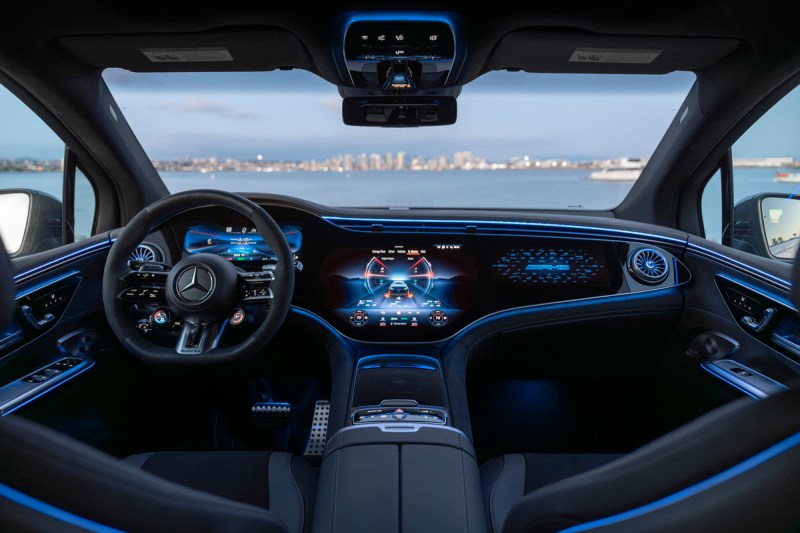 All about the 2024 Mercedes-AMG EQE SUV
Being Mercedes-Benz's sports division, AMG has been the author of some of the most fun cars we've seen, and the AMG EQE SUV is no exception. In keeping with the EQE family, the AMG SUV has an incredibly slippery windswept shape that is accentuated with air diffusers and a faux yet fancy AMG-specific black panel grille. In its standard trim, the AMG EQE SUV has a starting price of $109,300.
There are two exterior packages available to make the AMG EQE SUV even more visually exciting. The AMG Night Package adds a glossy black finish to both the front and rear skid plates, side mirrors, roof rails, and window trim. The Night Package Plus adds blacked-out vertical grille bars and black AMG badges on the front, side, and rear of the car. Either package can be had with 21- or 22-inch wheels.
Inside, the AMG EQE SUV looks and feels as futuristic as anything the movies have ever promised us, even in its standard trim. The incredible Hyperscreen, which stretches the entire width of the dashboard via three separate OLED displays held under one single pane of safety touchscreen glass, is the focal point of anything and everything either the driver or passenger could need or want access to.
Both the driver and passenger are treated to 12.3-inch display screens, while the Central Display screen measures an impressive 17.7 inches. A Burmester 3D Surround Sound System handles all things audio, while the entire system is powered by Mercedes-Benz's award-winning MBUX infotainment system. Supportive AMG-specific seats can be had in either supple Napa Leather or MB-Tex/microfiber, while an expansive panorama sunroof allows access to the outside world if it is so desired. The only available upgrade is the Pinnacle trim, which along with all the standard features, also adds highlights such as four-zone climate control, active ambient lighting, and an AMG-specific head-up display.
AMG has always been synonymous with performance, and the EQE SUV version is no exception. A pair of AMG-tuned motors sit at both the front and rear axle that, when combined with the optional Dynamic Plus Package, uncorks up to an unbelievable 677 horsepower and 738 pound-feet of torque. Those powerhouse motors work in conjunction with MB's 4MATIC+ all-wheel drive setup, adaptive damping, and rear-axle steering to allow the AMG EQE SUV to feel more performance-oriented than some of the fastest cars of yesteryear.
According to Mercedes-Benz's press release, the AMG EQE SUV can sprint from 0-60 mph in a scant 3.4 seconds and top out at a ridiculous 149 mph. Given manufacturers' tendencies to advertise acceleration times that are easily repeatable, it wouldn't surprise us if this AMG was even quicker than advertised. So whether it is gas-powered or electrically operated, AMG still spells speed, showing us that the more things change, the more they really do stay the same.
Editors' Recommendations