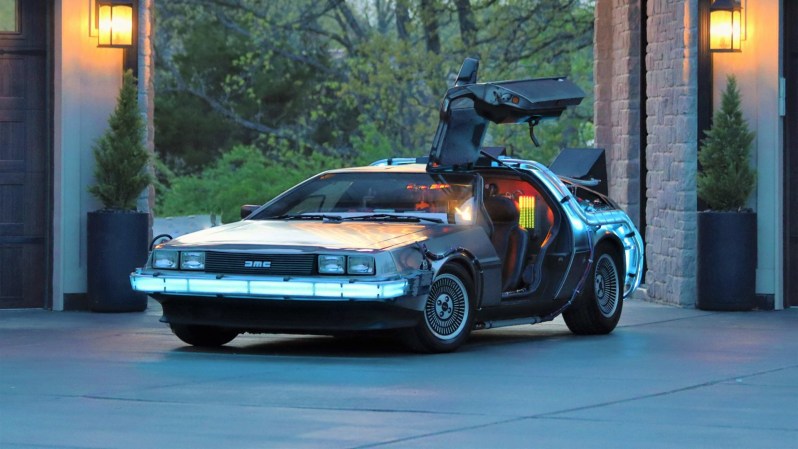 In 1975, the DeLorean Motor Company (DMC) was founded by automaking legend John DeLorean. Although this brand never produced many cars during its short and tumultuous history, it is well remembered for manufacturing the beautiful gull-winged stainless steel 1981 DeLorean DMC12.
This model was featured in the hit franchise 'Back to the Future' and was depicted as a time-traveling machine with its outfitted flux capacitor. In real life, it was a normal car, but that didn't stop everyone who was anyone from wanting to own one. This is especially true considering its futuristic look, which was unlike anything seen before in the automotive industry despite numerous automakers aiming for an aggressively futuristic look.
DeLorean appearance and history
The DeLoreans were wedge-shaped coupes with a stunning visual effect thanks to their stainless steel outer body. Still, unfortunately, its looks alone couldn't make up for its lackluster performance for many people at a time when how fast and powerful a car was determined its value more than its looks.
Even though the car overall wasn't a success, it became iconic thanks to Universal using the DeLorean in its 'Back to the Future' franchise. Sadly, this was years after the automaker went publically bankrupt.
Very few DeLorean models were produced before the company declared bankruptcy in 1982, making these cars rare collector's items. Numerous auto firms make these replicas intending to get them to look as close to the 'Back to the Future' version as possible, but not everyone manages to get it right.
DeLorean on auction
Numerous DeLorean fans are always looking for one of these models in pristine condition to make its presence known at auction houses, and for one lucky buyer, their wish could come true in 2023. Mecum Auctions has a 1981 DeLorean that will be auctioned off, but it's no ordinary DeLorean. It's one of the most beautiful homages to the franchise collectors have seen in a while.
The 1981 Delorean for sale has had much work done to make it far superior to other replicas without removing its signifying original features and looks. For example, this sale model has retained its V-6 2.8 liter engine and still features the original Bosch K-Jetronic fuel injection. The interior has also been given an intentional homemade look to ensure it resembles the original vehicle from the movies.
The cool features that have been added make the price tag worth it. This DeLorean sale item is equipped with buttons that power working time circuit displays and neon lighting strips alongside the rear vents and outside that can perform an incredible smoke effect similar to how it would look if the car was going back in time.
There is also a lightable flux capacitor, a theoretical electronic circulator device (with no real purpose) behind the comfortable bucket seats. Additionally, various components in the car can be swapped out to look like the ones seen in the 'Back to the Future II' film if a driving enthusiast so wishes.
Another element that sets this DeLorean apart from other replicas is that it has the signature of Christopher Lloyd, who played the iconic Doc Brown in the fan-favorite 'Back to the Future' film franchise. If you're interested in placing a bid or following the bidding projections, you should note that this DeLorean will be auctioned off in Indianapolis starting May 12th via Mecum. A fantastic replica of the Gray Sports Almanac from the second movie will be thrown in as a freebie to sweeten the deal for the buyer.
Editors' Recommendations