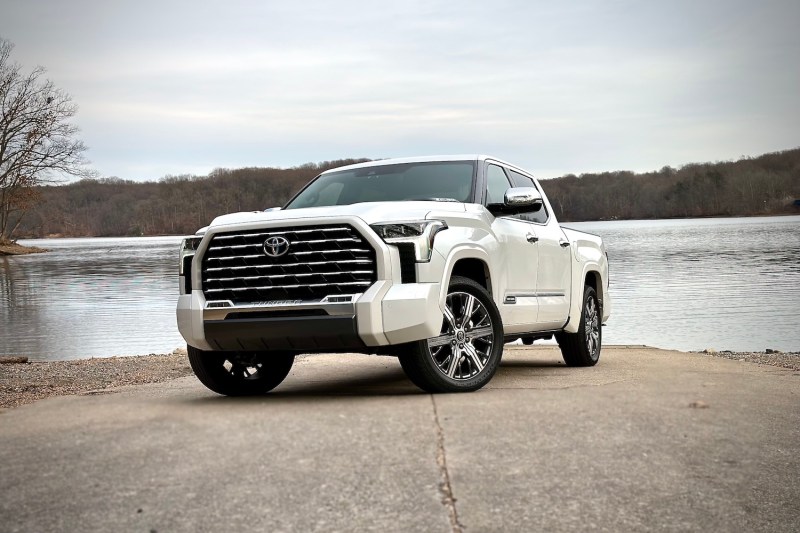 If the world of pickup trucks has felt a little confusing as of late with gas engines, electric motors, and hybrid powertrains, don't worry, you're not alone, and we're here to help. Gas engines are what we're all used to. Fully electric vehicles like the Rivian R1T, GMC Hummer EV, and Ford F-150 Lightning are all fully electric trucks that have no gas-powered components whatsoever.
Hybrids are where all the fun begins. As the name suggests, hybrid motors are just that, a combination of both gas and electric power. Typically, the gas engine is the primary source of power, while the electric motor provides a boost and, at times, the ability to run completely on electricity. Mild hybrid systems utilize smaller electric motors that are more complementary and can't power the vehicle on their own.
Mild hybrid systems recharge their batteries using energy created from regenerative brake tech. Plug-in-hybrid-electric vehicles (PHEV) generally use larger electric motors that do also recharge via regenerative brakes, but they can also be plugged into a charging station. PHEVs are usually able to run on electricity alone for a time.
Now that your crash course in engines is complete, the following is a list of the best hybrid trucks available to go out and buy right now.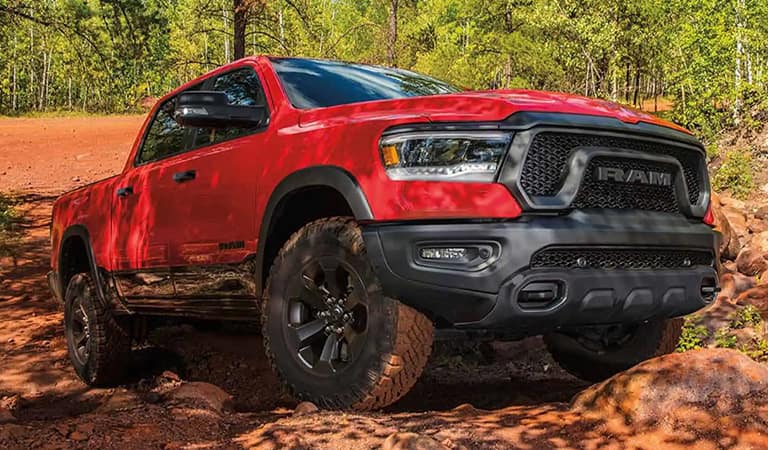 Ram 1500 eTorque
The Ram 1500 eTorque is the first hybrid truck to be introduced. In 2023, you can choose between a V6 or V8 gas engine for the Ram 1500 eTorque hybrid. This mild hybrid system utilizes an electric motor located at the front of the engine, which replaces both the starter and alternator and is powered by a traditional serpentine belt. It provides some extra power during initial acceleration and helps with overall acceleration. Rams, like several of Chrysler's headlining vehicles over the years, are not known for their fuel efficiency, but the eTorque does slightly improve the fuel economy, achieving a maximum of 20/25/23 city/highway/combined mpg in 2WD V6 form.
The eTorque, in its V6 form delivers a combined output of 305 horsepower and 273 lb-ft of torque. It boasts a towing capacity of 7,730 pounds. Opting for the Hemi hybrid comes with a higher fuel cost (18/23/20 city/highway/combined), but it also offers a more exciting 395 horsepower and 410 lb-ft of torque. As expected, the Hemi is capable of towing even more, up to 12,750 pounds. The base Tradesman trim has a starting price of $39,900, but the price can double for the top-of-the-line Limited trim.
Ford F-150 PowerBoost
Although the Lightning has dominated the headlines lately, the Ford F-150, along with the Ram, was one of the earliest full-sized pickup trucks with hybrid capabilities. Some Ford enthusiasts were initially skeptical when the switch was made from a V8 to a turbocharged V6. However, the introduction of the PowerBoost silenced the critics quickly with its remarkable performance. The PowerBoost boasts a 3.5-liter twin-turbo V6 engine combined with an electric motor, producing an impressive 430 horsepower and an incredible 570 pound-feet of torque. The maximum towing capacity is 12,270 pounds, and it can handle a payload of up to 2,120 pounds. The starting price for the Ford F-150 PowerBoost is $57,480.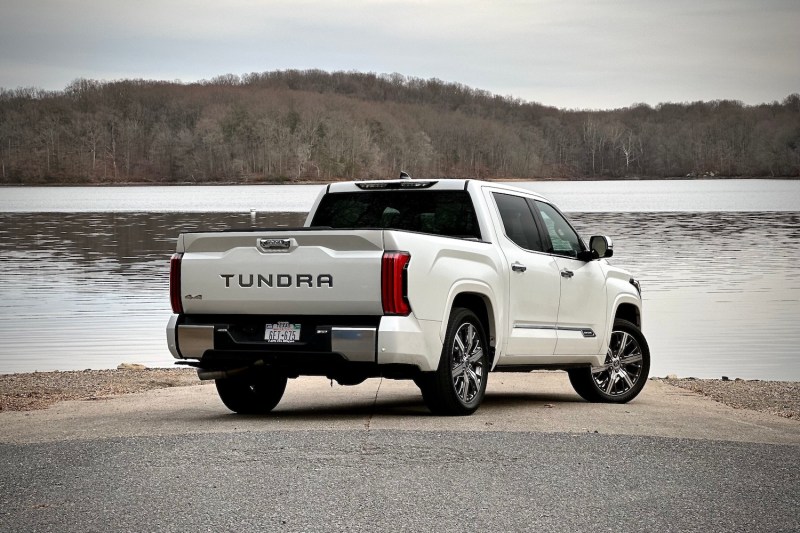 Toyota Tundra i-Force Max Hybrid
Toyota has done a good job of making a reputation for creating big, powerful trucks through the years. Their only current hybrid truck offering is the Tundra i-Force Max, which at first, may seem like a bit of a contradiction. Hybrid vehicles typically imply better fuel efficiency, and while the Tundra Hybrid does have better mileage than its gasoline-only counterpart, it's not exceptional. However, the Tundra makes up for its lack of MPG with its substantial power.
Similar to the F-150 PowerBoost, the Tundra i-Force Max Hybrid utilizes a twin-turbo V6 engine and an electric motor to produce a total output of 437 horsepower and 583 pound-feet of torque. This power is transmitted through a ten-speed automatic transmission, allowing the large Toyota truck to tow up to 11,450 pounds. Unfortunately, its fuel economy isn't impressive, with only 19/22/20 city/highway/combined mpg. The entry-level Limited trim includes four-wheel drive, four doors, and a 5.5-foot bed, with a starting MSRP of $55,615 for the Tundra i-Force Max Hybrid.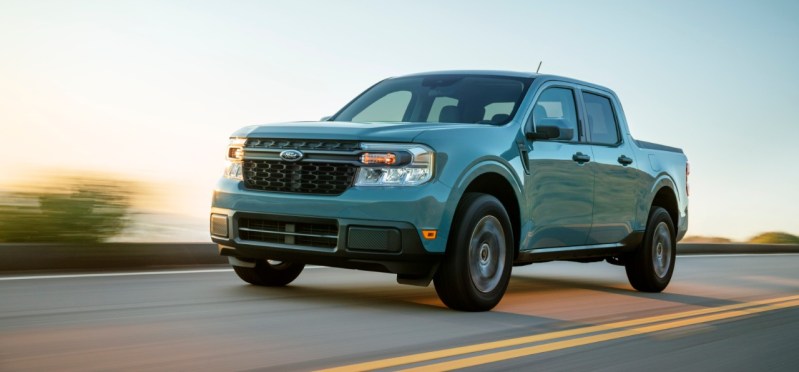 Ford Maverick Hybrid
Ford's other and latest entrant into both the compact pickup truck market and mixed-motor realm is the Maverick Hybrid. Although you might think the Maverick is just a miniaturized version of the F-150, think again. Power comes from a 2.5-liter inline-four-cylinder engine, which combines with an electric motor for a total power output of 191 hp and 173 lb-ft of torque. That power is then funneled through a continuously variable transmission (CVT) and then, somewhat surprisingly, onto the front wheels for propulsion.
At 3,762 pounds, the Maverick weighs more than a ton lighter than its F-150 sibling. The smaller and lighter Maverick can only tow up to 2,000 pounds and has a payload capacity max of 1,500 pounds. Perhaps the most impressive numbers the Maverick can show off are its fuel economy specs. Thanks to its diminutive and slow-sipping engine combined with its svelte curb weight, the Mav can post an impressive 33/42/37 city/highway/combined mpg all for a base MSRP of $25,950.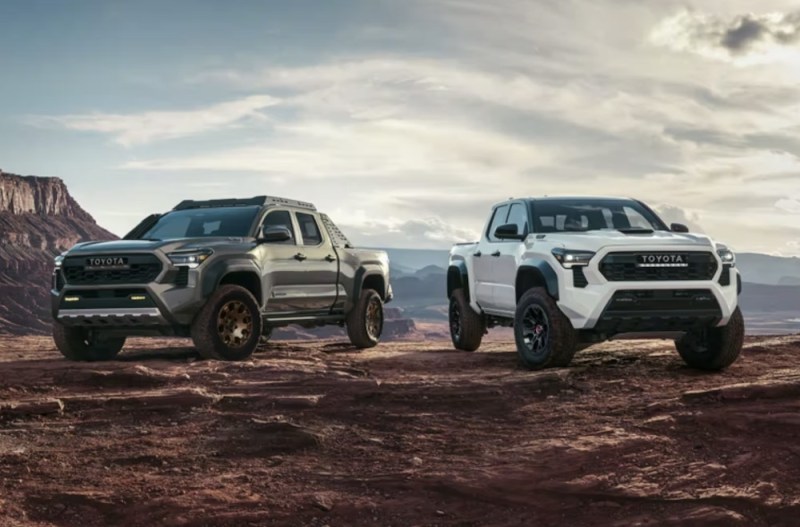 Honorable mention – Toyota Tacoma i-Force Max Hybrid
The aim of this article is to let you know which hybrid trucks are available so that you can go out with your newfound information and pick up (get it?) one of these trucks as soon as possible. But being published late in 2023 means that we are at the end of the '23 model year, and the 2024 trucks are just about to drop into dealerships. So, while it is not on showroom floors just yet alongside its Tundra Hybrid sibling, the 2024 Tacoma i-Force Max hybrid Toyota might just be the one worth waiting for.
The 2024 Tacoma will boast a 2.4-liter turbocharged inline-4-cylinder engine and an electric motor, producing a combined output of 326 horsepower and 465 lb-ft of torque. This power will be transmitted through an eight-speed automatic gearbox to either the rear or all four wheels. The most exciting feature of the 2024 Tacoma is that its hybrid powertrain will be available on six out of eight trims, including the TRD Pro and the new Trailhunter. While official numbers are not yet available, we anticipate that the 2024 version will surpass the 2023 model's 6,800-pound towing capacity and 18/23/20 city/highway/combined fuel economy with ease. The base MSRP for the 2024 Tacoma i-Force Max Hybrid is estimated to be around $30,000.
Editors' Recommendations