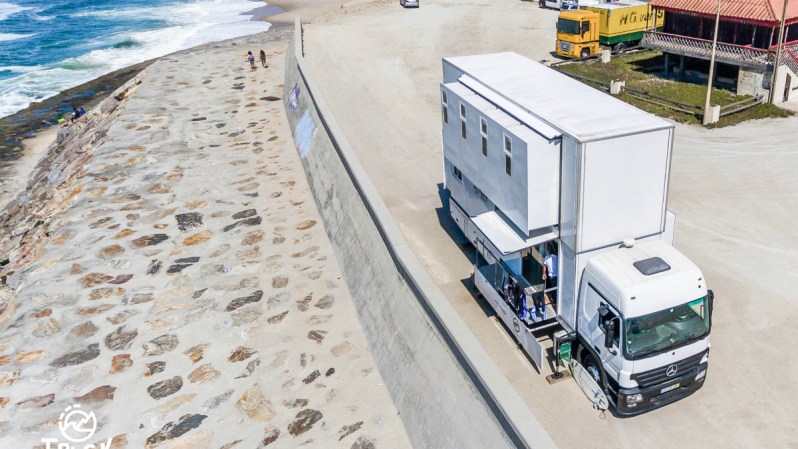 They say real estate is all about location. That adage applies doubly when you're on vacation. Of course, we can't all afford waterfront hotels at the best surf and nature spots in the world.
Truck Surf Hotel is solving that problem by bringing outdoor-loving guests directly to some of the most beautiful destinations in coastal Morocco and Portugal.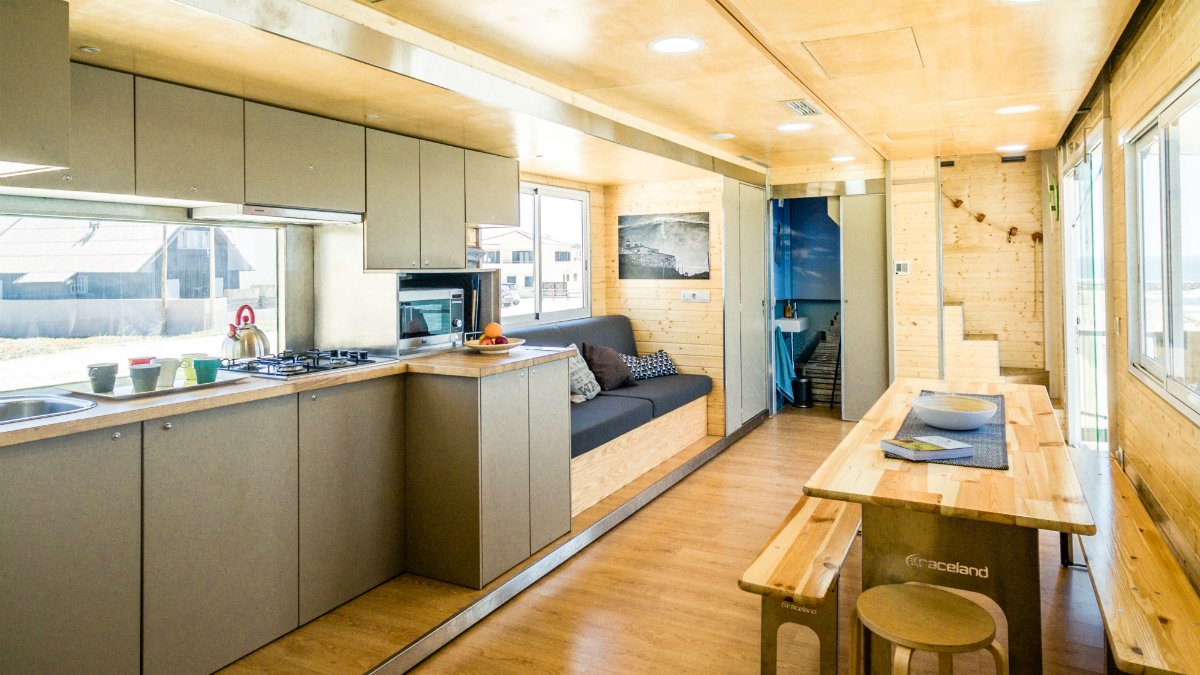 True to its namesake, Truck Surf Hotel is a transforming RV-style truck that expands to reveal a surprisingly spacious, basecamp-style adventure hotel. The six-wheeled behemoth is a converted Mercedes Actros with custom hydraulic systems that allow its walls and ceilings to expand on arrival. In its parked, double-decker mode, it offers an array of creature comforts on the first floor.
There's a kitchen, a communal dining table, and a lounge where guests gather around a projector at the end of each day to share GoPro footage. Outside lies an al fresco terrace with bean bag chairs for relaxing with a beer while enjoying the sunset.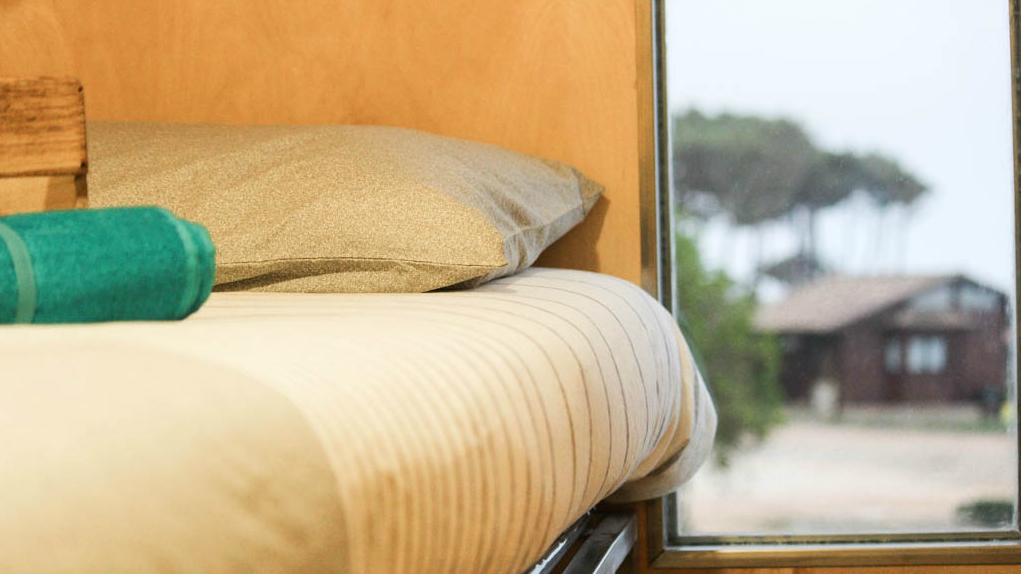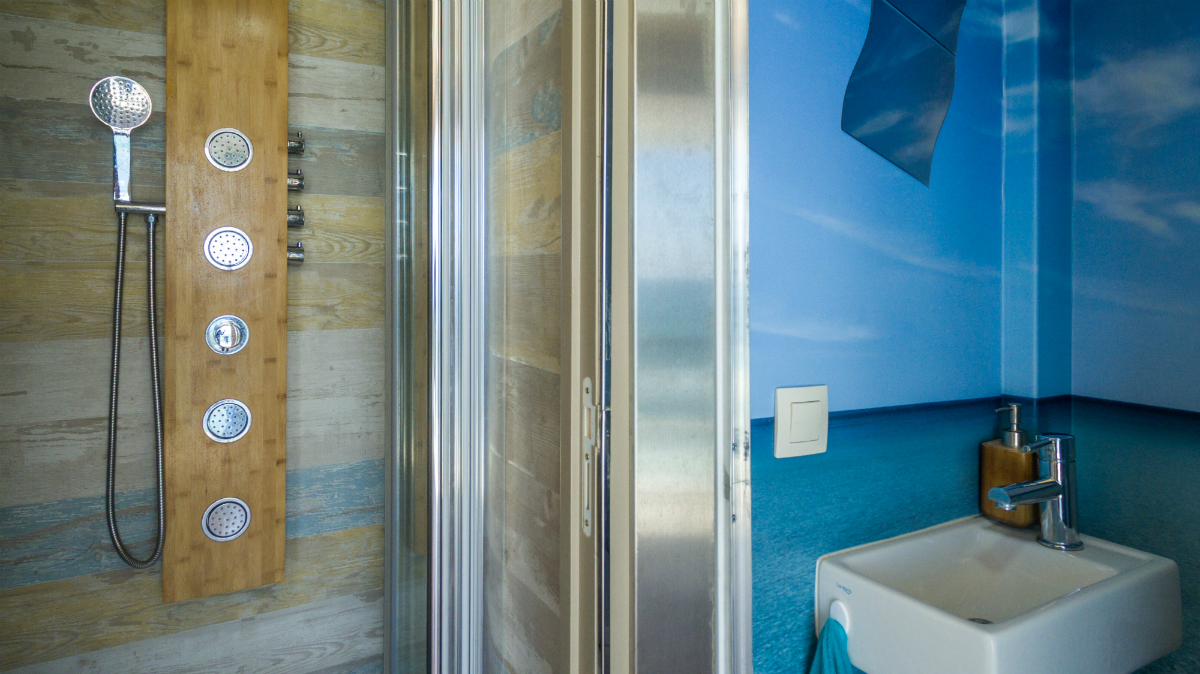 Back inside, a staircase leads up to the sleeping deck. The main hallway connects five total guestrooms: four shared doubles with bunk beds and a single private double for couples. Rooms are bright and clean but straightforward with only air-conditioning and a personal locker.
Truck Surf Hotel is more about the destination than the journey. Like on a traditional cruise ship, guests awake each morning in a new and amazing location. The company offers two main tracks for guests: either a surf experience or an adventure experience. For those on a surf experience, "ports of call" could be any of a number of beaches in Portugal's world-famous Algarve or along Morocco's pristine, uncrowded coastline, famous for its right-hand point breaks. Traveling surfers can opt to free surf at their own pace or choose a fully guided experience with expert instructors.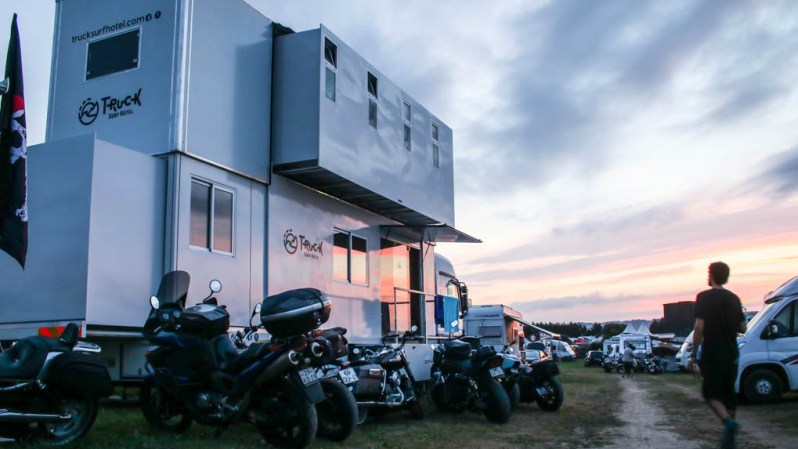 Alternatively, adventurers can watch the sunset at rural tourism farms and nature parks. Every day affords opportunities for biking, hiking, horseback riding, and city tours with food and wine tastings. The two countries offer decidedly different outdoor experiences. In Morocco, that means exploring a wide variety of North African landscapes from untouched beaches to mountains to the desert. In Portugal, Truck Surf Hotel explores the rugged Alentejo region with its traditional villages, centuries-old cities, and idyllic hillside towns.
Weekly prices start at €499 (approximately USD $600) per person for a fully-hosted, low season surf experience in Morocco, while the priciest experiences run €750 (USD $900) for a high season package in Portugal. Tailor-made packages are also available.
Truck Surf too far away? Look for something a little closer to home with Tipoon the Travel Machine, an expandable, RV-Style tow-behind travel trailer.
Editors' Recommendations