Marrakech: The name itself conjures up ancient buildings bathed in pink paint nestled under the awesome Atlas Mountains, '60s music legends lounging in caftans and kanduras, and melodic music by Berber bands. Well, that notion isn't far off — just replace the music legends with adamant Instagrammers (They. Are. Everywhere).

While the city is well known in jet-set circles, it is just as easily accessible to the rest of us and even easier to navigate (although you will thank us for our tips). We were impressed by the infrastructure, clean and newly paved streets, ample lighting at night, and abundant taxis. Clearly, you can tell that King Mohammed VI, one of the wealthiest men in the world, has taken good care of the city he calls home. Marrakech fulfilled all of our 1,001 nights worth Arabian fantasies from the quality cuisine, stimulating souks, and rich history around every corner.

The best time of year to go is from March to May before the city is boiling and you can catch all the famous roses in bloom. Although we went in January and it was a cozy time to be there with warm days and cool nights.

Here is what you need to know before you go:
Play
Don't just get sucked into shopping in the souk! There is so much more to see in Marrakech besides rugs and lanterns. Editor's note: While it is not necessary, we encourage hiring a private guide to take you to some of the historical attractions in Marrakech. They know the ins and outs and can regale you with lots of history. We asked our hotel to book a guide for us for half a day ($50) and it was well worth it.
El Badi Palce and Bahia Palace (more on that in a bit) are nearly next door to each other, so visit these together. Go to El Badi first since Bahia is the real eye-orgasm you want to save. Built in the 1500s by Sultan Ahmad al-Mansur, it took 25 years to construct and was the jewel of the city until it was completely stripped by another sultan to use in the construction of his own place. While the dazzle is left to the imagination, the mass and scale is awe-inspiring, as are the sunken gardens and reflecting pools. Plus, the museum in the former dungeon is a great place to cool off and learn a bit about the history of the city.
"Bahia" translates to "beautiful and brilliant" in Arabic, and those are the perfect words to describe this sumptuous palace. Built in the 19th century for Si Moussa, chamberlain of Sultan Hassan I of Morocco, Bahia Palace is considered one of the masterpieces of Moroccan architecture. Inspired by the Alhambra in Spain, the palace was built for a favorite mistress and is covered in zellij tile work, painting, and stained glass.
Tucked away behind the Kasbah Mosque, a wander through this complex is well worth your time. While the mosaics, marble, and intricate woodwork are pristine, the history is equally amazing. Built in the 1500s by Sultan Ahmed al Mansour (same dude as El Badi), 200 of his descendants and servants are buried here. While his successor, Moulay Ismail, tore apart El Badi, he could not destroy a place of burial, so he simply filled in the entrances and there it sat until 1917 when it was discovered and restored by the French. Tip: Come late in the day when the hordes have moved on and the lines to see the tombs are shorter.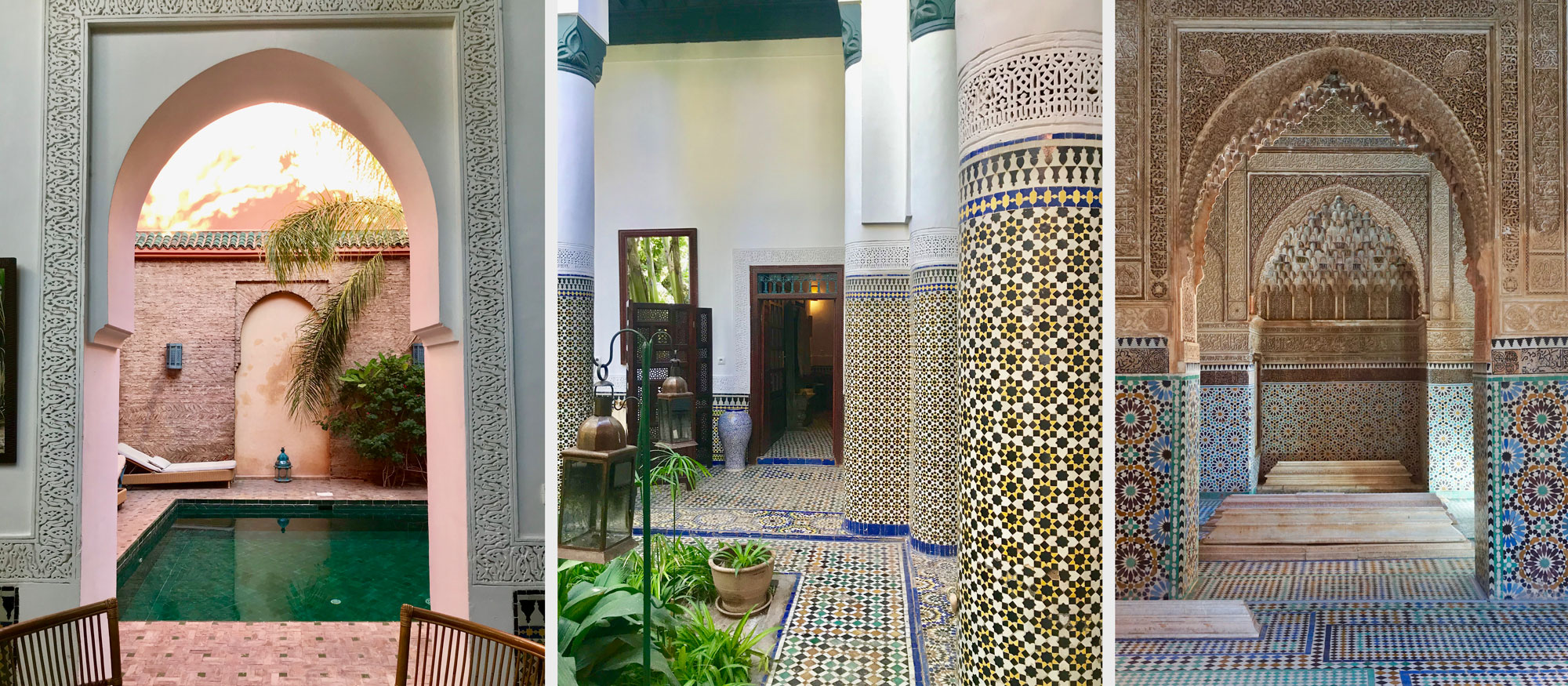 Regardless of whether you follow fashion, this museum is a must-see. Opened in the fall of 2017, the museum was designed by contemporary firm Studio Ko. The iconic fashion designer, Yves Saint Laurent relished his time in Morocco after buying a home there in the '60s. The museum is an ode to his love of the country while also showcasing his illustrations, clothing, and accessories. Stick around for lunch — the café is a treat!
Tip: Buy a combo ticket for the YSL museum and Marjorelle Gardens at the YSL museum. The line for tickets to Marjorelle can wind around the block and, with your combo ticket, you walk right to the front of the line.
OK, OK, we know. You aren't a garden kind of guy. Still. Just go. Go to see the most amazing color blue you will ever see: Majorelle blue. Go to have a moment of peace with your lady friend and show her you are man enough to stroll through a famous garden with birds chirping and water trickling under tall bamboo arcades. Located right next door to the YSL Museum, the gardens were created by French artist Jacques Majorelle in 1923 and restored by YSL in the 80s. It is one of the biggest attractions in Marakkesh, so go early or late to avoid the mobs.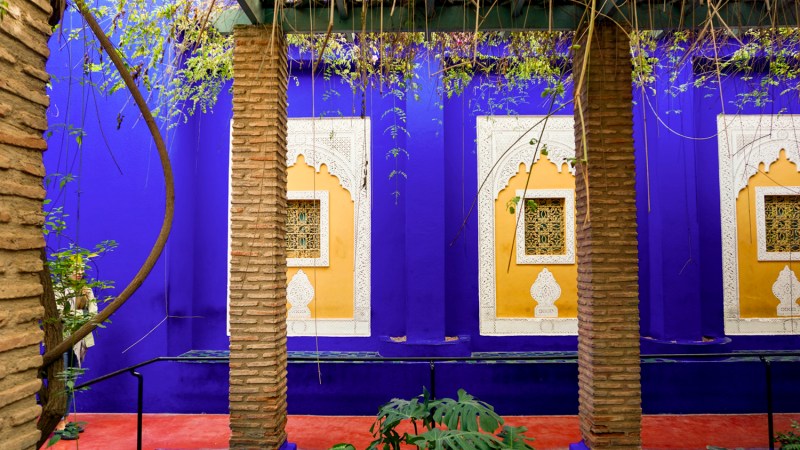 We try to find a local barber in every country we visit to experience the cultural vibe. While this one is new and designed to resemble an American barbershop, my barber gave me 40 minutes of total peace while he cut my hair and gave me a shave. Hot towel and all. We just don't understand why they don't simply call it the '"Berber Shop."
Take at least one day out of the city and explore the Palmerie or the Atlas Mountains. Dunes & Deserts is a trusted company where you can book a wide variety of activities, from paddle boarding on Lake Takerkoust to hikes in the Atlas Mountains with a tour of a Berber village. The day trip to Ouzoud Waterfalls, the highest in Morocco, is another popular experience.
You can't go to Morocco and not ride a camel. We took the half-day camel ride through the desert, and it was a real highlight. We had a guide to give us a bit of history and the camel escorts were hysterical. We stopped in a tiny village for mint tea and Halwa Chebakia (sesame and honey cookies) before heading back. It just so happens a photographer was on hand to capture the adventure and we bought the USB drive as soon as we dismounted.
If you want to experience the Atlas Mountains but a hike isn't in the cards, book lunch at this swank hotel and take a day trip up to enjoy the fresh, mountain air. Kasbah Tamadot is owned by Sir Richard Branson and is a seriously sick 28-bedroom resort. Originally built as a country house in the 1920s, it was later owned by an interior designer and antique collector, Luciano Tempo. When Branson bought the place it came stocked with this amazing collection. Ask your hotel in Marrakesh to book a round-trip car to take you up and into the mountains where you will drive by Berber villages and vast vistas. Book lunch well in advance, as this is a "thing" to do for many tourists visiting Marrakesh and they can book up quickly.
Go to a Hammam
A hammam is basically a spa day in the Muslim world. These can go from dirt cheap to hundreds of dollars. Find something in the middle and do it. It will be two hours of total relaxation. We tried the hammam at Riad Elisa and, for $90, we were scrubbed down with the famous Moroccan black soap for one hour and repeatedly doused with warm water from huge brass buckets as we lay on a marble slab (seriously). Then we had a one hour massage before being escorted to the main fountain to sober up and get back to reality.
Shop
The Souk
OK, this is easy. The Souk is where you will find everything — and more — from those beautiful brass lanterns to carpets, djellabas, scarves, spices, babouches (Berber shoes), bags, pottery, jewelry, fragrances, even tiny turtles. Just don't buy the tiny turtles.
The souk is located inside the medina (the old, walled town). Here, you can wander for hours and hours and hours. It can certainly get overwhelming, but there are some great places to stop for a tea or lunch (Café Arab and Terrace des Epices are two favorites). If you really need a breather, step into the tranquil oasis of the Secret Garden for an hour of calm and get a tea and pastry. Morocco is famous for mint tea, which is served absolutely everywhere.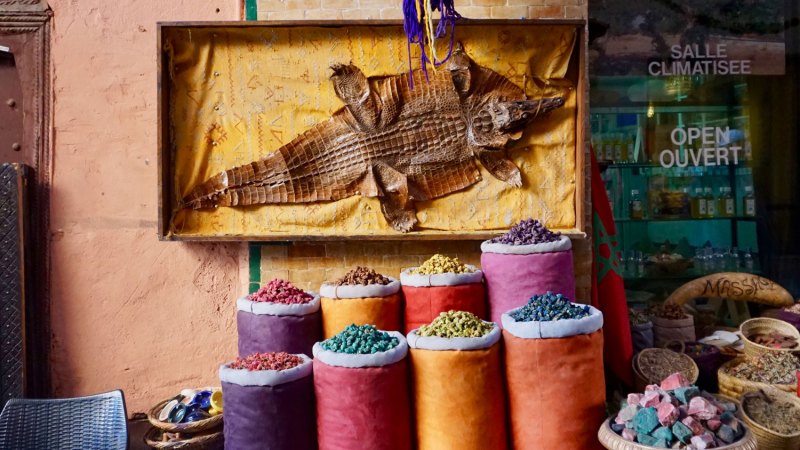 A note on the bargaining: Now, while we aren't giving you specifics spots to shop, we will tell you about the art of bargaining in Morocco. It is an art form and it can take some time. It is almost an insult not to bargain. Whatever price they tell you something is, offer half. They will smile and nod that that isn't possible so start walking away. Suddenly, it's possible, with just little more haggling.
Example: If a pair of shoes are 500 dirham, offer 250. They will probably come back with 350. Either take it or offer 300.
We saw a pair of shoes for 700 dirhams and we walked away. The gentleman walked behind us begging us to buy them until he went down to 150. From $70 to $15 — sold.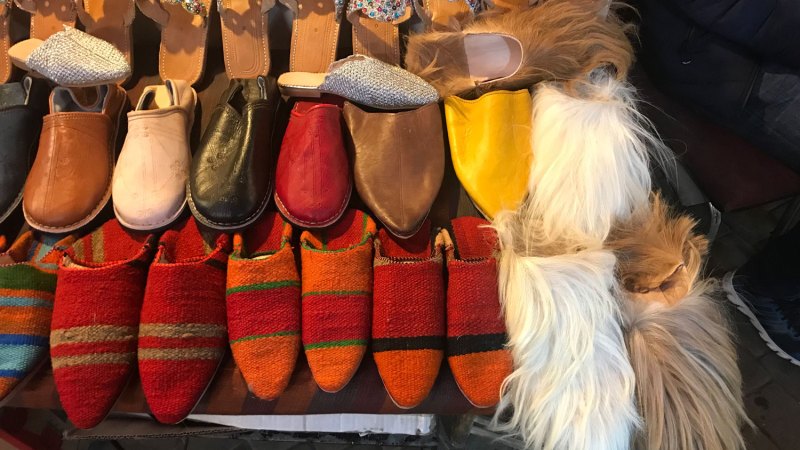 Many vendors do not take credit cards, so bring a lot of cash each morning or be prepared to have them walk you to the nearest ATM, which can be a trek. However, we enjoyed these trips because we had a chance to ask them about the souk, their lives, their culture.
What we enjoyed most about the marketplace was that we got to know the locals since we were walking through it every day. On our last day in Marrakesh we said goodbye to Ibrahim, Mohammed, and Sala, and Ibrahim even gave us some incense to thank us for our business.
Finally, the tea thing: If you are working with a vendor to buy multiple items or a big ticket item like a rug, they will usually offer you mint tea. If you have time, take it. It tastes delicious;,it slows down the process, and makes it a little more enjoyable.

Eat and Drink
A note on taxis: While we stayed in the medina, where you could walk everywhere, if you want to go somewhere that requires a taxi, be sure to ask at your riad (the name for a traditional-style Moroccan house or hotel with a central courtyard) where to find a taxi stand. When you find a taxi, always tell them where you are going and ask how much it will be before getting in. If you don't, they may ask for way more than is standard. You can also haggle with drivers. If you think they are gouging you with the price they suggest, you can tell them so and let them know how much you are willing to pay. We paid about 100 dirhams ($10) for nearly all of our trips. I am sure locals pay way less, but we didn't feel ripped off. Also, since taxis cannot drive into the medina, you need to know the closest gate to be dropped off. For instance, our riad was closest to Bab (gate) Laksour.
Street Food
While we don't suggest surviving strickly off of street food, the vendors in El Fna Square are monitored by the local health department and are worth checking out. If you can't stomach lambs' head, try the crepes. Try them wherever you see them. Moroccans know how to make a damn good crepe with Nutella and bananas — the perfect snack if you don't want to sit down for a long lunch.
Moroccan Gray Wine
Morocco has boasted vineyards since the Ancient Greeks were making moves in the region (around 1500 BC). Makes sense considering the country's high mountains and cool breezes from the Atlantic. While red wine is most popular, Morocco is hot and you will be eating a lot of fish. Why not try the vin gris, or gray wine, which is white wine made from red grapes. It is basically the lightest color of rosé and quite refreshing.
If you are looking for a place to party, book here. Comptoir Darma is a total tourist destination, but in the very best way. The vibe is more club than restaurant, and the food is all traditional and well done. There are some international options, like curry and ravioli, but why bother? The real treat comes mid-meal when the lights dim and six costume-clad women come dancing down the staircase and jump on your table to belly dance. Others will be twirling around your tables balancing brass trays with lit candelabras on their heads, all with a smile and a shimmy. After dinner, the DJ comes on and doesn't stop till 3 a.m.
This was the hot spot to dine during our stay — lots of jet-set French families and hipsters galore. But don't let that turn you off. The rooftop terrace is well worth a visit and the food is superb. For lunch, we strolled in on the early side, but for dinner, book in advance. Like, way in advance. Before you leave for Morocco. Terrace des Epices has DJs spinning in the evenings and, when the music is right, the sun is setting, and a cool breeze blows through while you are sipping Moroccan grey wine, the world just feels right.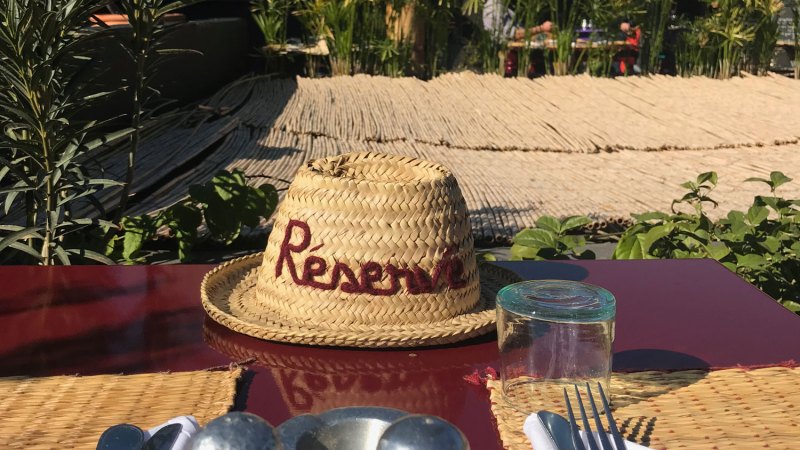 Our riad also happened to have one of the best restaurants in the medina. (Note: It's only open to non-guests on Friday and Saturday for lunch and dinner). Each night, the staff will light all the lanterns and dress all the tables in the lush courtyard for guests to dine on the chef's specialties. Dinner here is upscale, so come here for a romantic night under the palm and banana trees or book a big table for a celebratory event.
This is another magical riad that also served an excellent meal. We booked it for our last night in town and the owner, Christine, laid out a long table in the center courtyard full of fresh flowers, rose petals, and candles for our group of eight. Her team prepared a delightful meal of tagines, couscous, and other French-Moroccan delicacies — she even organized some Berber musicians for entertainment. Message them on their Facebook page for reservations.
Stay
Built in the early 1900s by a prominent Moroccan family, this riad is quintessential Marrakesh. While it is terribly elegant, it's not pretentious, or a Disney version of Morocco. The original owners were also in the furniture import/export business, so you will find carpets from Mecca under cabinets from France and beds from England. Take note of the enormous Victorian brass beds in the Le Sultane and Le Harem rooms. Wake up to birds eating bananas out of the trees in the courtyard and spend the afternoon sunning on the roof terrace while the Call to Prayer echoes through the ancient city. The staff couldn't be more accommodating, and the location in the heart of the souk is ideal. With only six rooms to choose from, you can rent the whole place out with a group and simply call it home.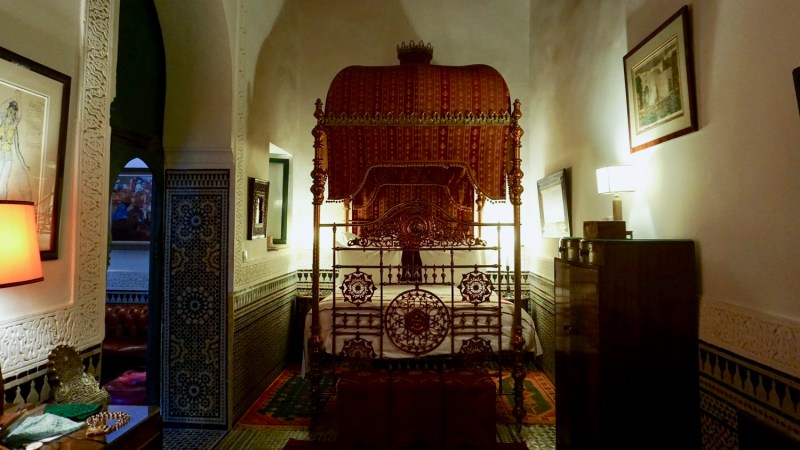 Located up the street from the Palais Lamrani, Zouina is similar in scale. Two riads have been combined to create a remarkable retreat from the cacophony of the street. The owner, Catherine, lives on property, and she and her staff are welcoming and accommodating. The price per room here is slightly lower than Lamrani if you are looking for something more affordable.
Condé Nast Traveller slapped this blue suite on the cover of its Gold List issue, if that is worth anything. From beautifully carved doors to plush velvet pillows and working fireplaces, Dar Darma will make you feel like you stepped into a seriously decadent home. The riad offers traditional Moroccan dining as well as cooking lessons. With all the antiques and unsupervised pools, this is not the place to bring the kids.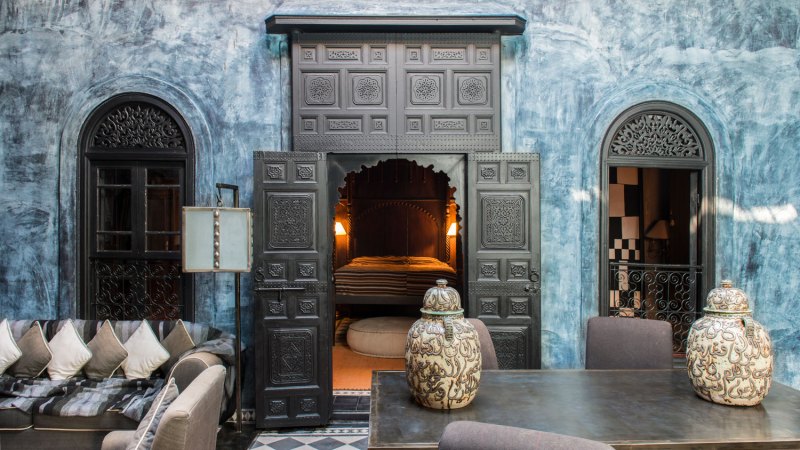 If you are traveling with the kids, Beldi could be the place for you. Don't worry — you aren't getting relegated to some second-rate inn. Situated about 10 minutes from the medina by taxi, Beldi has been built to resemble a Moroccan village with 38 rooms, a souk, green houses, rose gardens, tennis courts, even a cinema. Here, parents can chill while the kids run about. Better yet, sign them up for cooking, pottery, or tennis lessons and get some real alone time in the amazing spa.
Editors' Recommendations