A name like Tipoon the Travel Machine conjures images of yellow submarines and magic school buses, so it may come as a surprise that this playful, almost child-like moniker belongs to a totally streamlined, expandable, tow-behind travel trailer.
Designed and built in the Loire Valley of France, Tipoon the Travel Machine has been in the works since the idea of a comfortable, spacious, expandable camper first struck Tipoon's lead designer.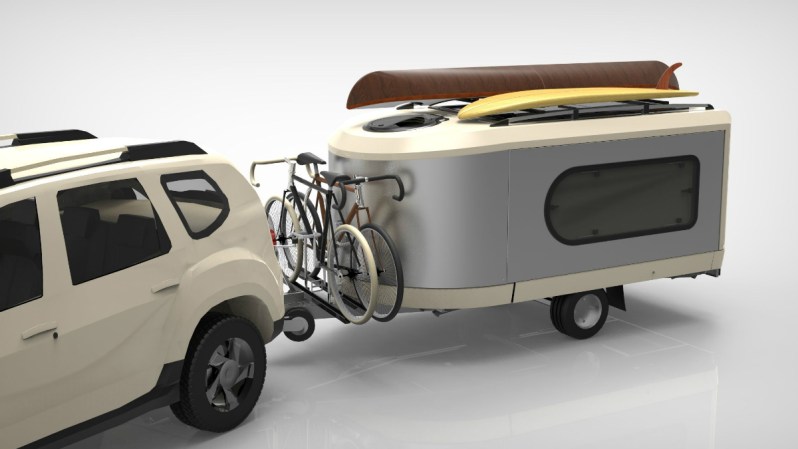 "I wanted to create a slightly "magical" solution applying sleek lines to the somewhat dull and sobre shapes of a traditional caravan or trailer — something beautiful that would be with me at home or while away, and something light that was easy and convenient to tow for those unplanned weekends (or weeks) away from it all," Jean, the designer, said in a statement.
And magical Tipoon truly is.
Taking its cues from larger, expandable RVs and trailers, Tipoon features a pop-up roof that, when extended, makes the interior of the trailer over six feet in height. Additional side expansions allow a full-sized bed to emerge, along with more interior space for the kitchen area and general habitation. The tiny kitchen includes a hot plate, refrigerator, and storage space, while the bathroom (yes, there's a bathroom!) houses a shower and toilet combination wet-room area.
The adjustable nature of the trailer, however, allows for customization to owner specifications, like the addition of a secondary bed or a larger king-sized bed. That makes for some serious glamping — and all in a package that weighs under 1300 kilograms with dimensions of 5.5 x 5.5 x 13.5 feet (while closed).
Worried about having to pop open the Tipoon in bad weather and struggle through leveling and stabilizing it while on uneven ground? Don't be. Tipoon the Travel Machine comes equipped with a remote that makes set-up as simple as pressing a button. And with four standard colors to choose from (cream, hunter green, butter yellow, or light blue), Tipoon will look great anywhere, from Durango to your driveway. And speaking of driveways, Tipoon's small size and light weight mean it can be towed by even the smallest of subcompact or crossover SUVs.
While not yet officially released for commercial consumption, you can sign up to receive Tipoon's first catalog mailer as soon as the travel trailer goes into production. Prices are under wraps, so start saving your pennies!
For more tiny-home inspiration, check out some of the best tear-drop trailers, Airstreams, and tiny-cabins we've had the pleasure of writing about.
Editors' Recommendations