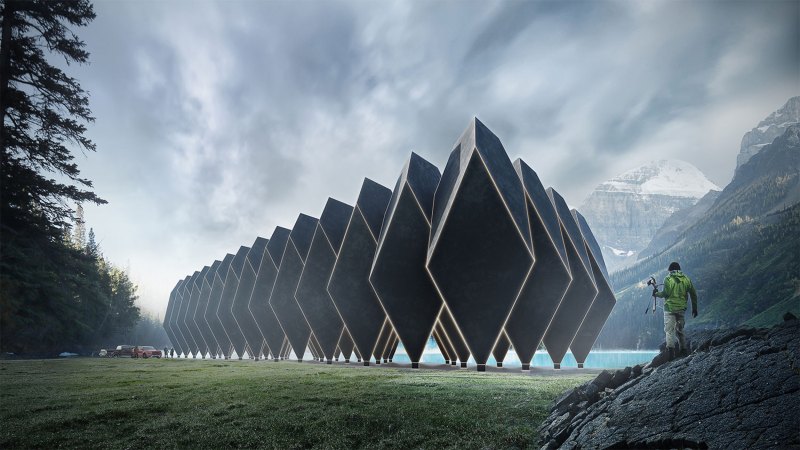 Hotels often target the lowest common denominator. By definition, they need to be all things to all guests. While more forward-thinking architects have are thinking outside the very square box recently, most modern hotels are still pretty damn bland. But what if hotel designers were to imagine big — very big? Here are the most insane hotel concepts we'd love to see built right now.
Tetra Hotel
Sleeping in a "pod" hardly seems like a luxurious way to spend a night. There's a reason Japanese capsule hotels aren't exactly a "big get" for travelers. However, David Ajasa-Adekunle has reimagined what it could mean to vacation in such a structure. His Tetra Hotel envisions symmetrical rows of vague, cube-like geometric "pods" lining the banks of a glacial river in Iceland? Jasper National Park? It's hard to say for sure, but it's damn beautiful wherever it is. Every room features a multi-story layout starting with a work area on the ground floor, moving through an entertaining space on the second, and finally up to a top-floor bedroom and shower situated beneath a massive skylight. If Jared Leto's trillionaire industrialist character in Blade Runner 2049 had a vacation cabin, it might look something like this.
Waterworld Hotel
Aside from its unfortunate name, Waterworld Hotel has nothing in common with that disaster of a Kevin Costner movie from the '90s.  The project is envisioned for Songjiang, China, in a stunning quarry, making the property both subterranean and waterfront. The massive, 400-bed complex would house all the amenities of a Caribbean luxury resort, including underwater common areas and multiple restaurants, cafes, and swimming pools. Atkins Architecture Group, the award-winning firm behind the concept, also imagines making smart use of the surrounding quarry with numerous sporting facilities such as bungee-jumping, rock climbing, and other adventure sports.
Hydropolis Underwater Hotel and Resort
Imagine a hotel three-quarters the size of New York's Central Park — underwater. It's a concept so large and so fantastic that designers have been trying since 2006 to devise a way to build it without affecting the tides in the surrounding Persian Gulf too much. The Dubai-based Hydropolis hotel would consist of three zones: a land station to welcome guests, a connecting passage to usher guests from reception to the main area by train, and 220 underwater suites. The construction price tag is estimated to top €600 million (approximately USD $750 million), making it one of the most expensive hotels ever devised. Nightly rates are expected to run north of USD $10,000, but at least you'll be treated to the hotel's self-proclaimed "10-star service."
Aeroscraft Luxury Airship "Hotel"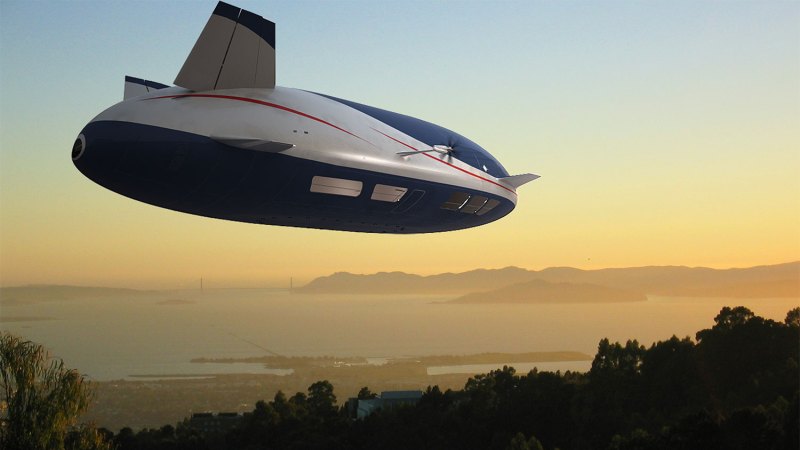 Future hotels may not be built on land at all. The Aeroscraft is a luxury flying hotel concept designed to take guests to the furthest reaches of our planet — places where traditional planes, helicopters, and boats just can't go. The 400-ton blimp could be up to two football fields long and capable of carrying 250 passengers in luxurious comfort. Planned onboard amenities include a casino and multiple restaurants. The best part? This concept is the closest on this list to seeing the light of day. The design is the descendant of a massive airship already tested and fully functional for cargo transport.
Editors' Recommendations