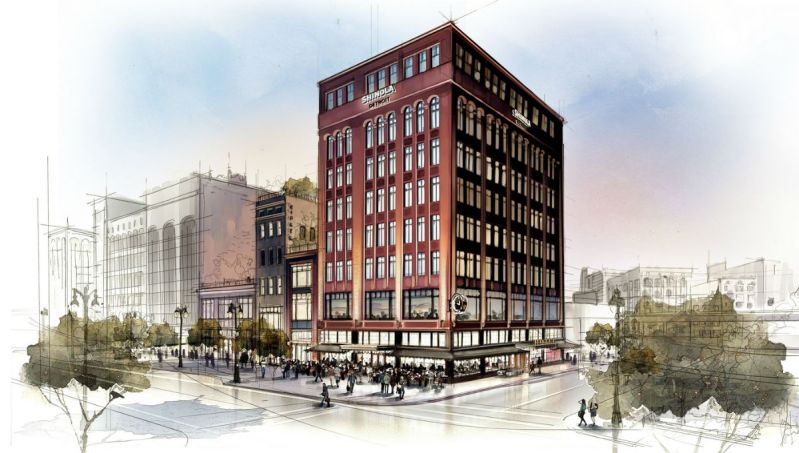 In a natural step for Detroit-based lifestyle brand Shinola, the label, along with Detroit real estate company Bedrock recently announced that it will open the first Shinola Hotel, which will be located at 1400 Woodward Avenue in Detroit. Don't get too excited just yet — the hotel is scheduled to open in fall 2018.
Shinola Hotel will combine the Shinola sensibility of American craftsmanship with Bedrock's urban revitalization. The hotel will have over 130 guest rooms, with Detroit-inspired design by Gachot Studios and the Detroit-based Kraemer Design Group. New York-based NoHo Hospitality Group was charged with developing an innovative food and beverage program for the hotel.
"We are excited about this venture because it presents a challenging creative exercise to create a boutique hotel concept that Detroit will be proud of. We've assembled best-in-class talent that will result in an experience which reflects the philosophy of the Shinola brand." said Tom Kartsotis, founder, Shinola. "We are partnering with industry experts like Gachot Studios for interior design and help with real estate development, as well as NoHo Hospitality to guide the food and beverage programming. Josh Pickard, one of the NoHo Hospitality partners, grew up in Detroit so it all felt very organic."
Over the past few years, Detroit has seen a number of new hotels pop up in the city. "While Detroit has seen the launch of new hotels over the last few years, we still see a gap in the boutique hotel market," adds Dan Mullen, executive vice president, Bedrock. "The Shinola hotel will be like nothing else in Detroit and will be strategically located in the now burgeoning shopping district on Woodward Avenue. We know out of town visitors will appreciate the central location and unique experience the hotel will offer, while local Detroiters will want to stop in for a dinner or drink while shopping downtown."
And of course, what hotel is complete without a food and beverage program that will turn it into one of the city's hottest go-to destinations? "A great hotel provides something for everyone, we will create a diverse program to engage guests, and welcome and energize the community," Christine Gachot, co-founder, Gachot Studios. "We look forward to activating the street level and getting people out walking, jumping from one venue to the next and exploring. We hope it will become a destination for those in and outside the city."
We can't wait to see what the Shinola Hotel will look like.
Editors' Recommendations