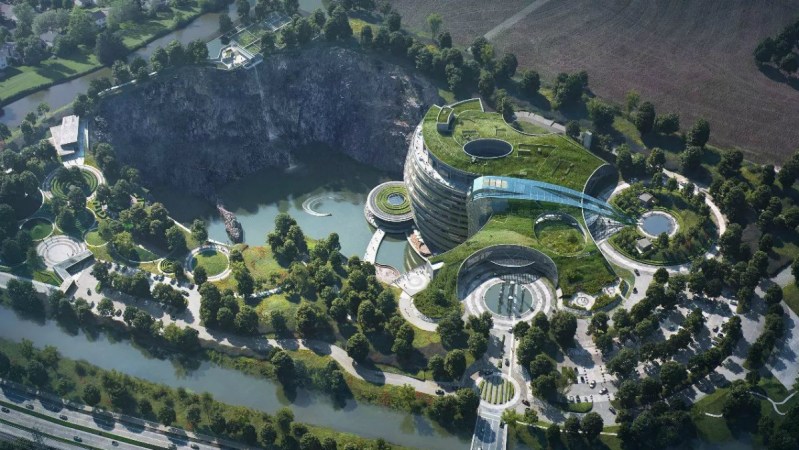 China seems intent on giving Dubai a run for its money on out-of-this-world construction projects. When the former announced the Waterworld Hotel project, a world-first luxury hotel built inside an abandoned, water-filled rock quarry, we filed it away as just another insane hotel concept. Now China is building it, and it looks every bit as amazing as the original concept.
It seems the hotel's marketing department wisely realized how unfortunate a "Waterworld" brand could be. They've ditched any perceived ties to that Kevin Costner disaster and rebranded as the Shimao Wonderland Intercontinental Hotel (a.k.a. "Songjiang Quarry Hotel"). Situated 20 miles from the center of Shanghai, the hotel includes a sprawling design, modern luxury amenities, and state-of-the-art, eco-friendly features.
The architecture was inspired by the abandoned quarry to blend into the surrounding landscape. The green, tree-covered rooftop and cascading waterfall down the front façade appear (almost) natural. The above-water rooms on the top 18 floors boast private balconies that overlook the water-filled space. In the two underwater levels are additional, premium guest rooms, plus a restaurant, a three-story aquarium, and a wellness complex with water sports facilities and a pool. Among the hotel's most striking features is a full-featured sports center that cantilevers over the quarry. Here, guests can engage in a variety of outdoor activities, including bungee jumping, rock climbing, and paragliding.
The 380-room property will also be surprisingly eco-conscious. Designers worked hard to incorporate a comprehensive sustainability program and protect against future damage to the existing landscape. High-tech energy production and retrieval systems mean the hotel can fulfill most of its power needs — including heating and light — through renewable means like solar and geothermal.
From an architectural perspective, the hotel is a marvel of modern engineering. Over the last decade, more than 5,000 designers, engineers, and architects were brought in to devise the means to bring the necessary building materials into the quarry. The final concept was realized by Martin Jochman with JADE+QA and Atkins, the now-famous design firm behind Dubai's Burj Al Arab Jumeirah, the self-proclaimed "world's most luxurious hotel."
Shimao Wonderland Intercontinental is scheduled to open later in 2018, but the reservation system is unavailable at this time.
Editors' Recommendations