Everyone in South Florida knows the Boca Raton Resort & Club — or, as many call it, "the big pink hotel." The property is an icon. It was built in 1926 by famed local architect Addison Mizner, who was known for not only his design genius, but also his eclectic style (he was often seen strutting around in silk pajamas, inspired by his trips to China, with a monkey on one shoulder and a macaw on the other).
Then called Cloister Inn, the property was modeled after Spanish-style castles, and most of the common areas at the time were furnished by Mizner's personal collection to cut costs near the end of construction. The resort continued to expand and change hands through the decades, and became stomping grounds for celebrities and presidents who would arrive by yachts and private railroad cars. During WWII, the U.S. Army purchased the Club to house Air Corps trainees, making it the most elegant barracks in history.
Today, the Boca Raton Resort & Club is a Waldorf Astoria property that sprawls 356 acres and includes five main sections: the Cloister (named after the original hotel), the Tower (an iconic building constructed in 1969), family-style bungalows, the Yacht Club, the Boca Beach Club, and the Boca Country Club. We stayed in the famous pink tower, which overlooks Lake Boca Raton and the twinkling lights of the Yacht Club Marina. The classically designed rooms are comfortable with plush beds, large bathrooms with separate his and hers sinks, and a giant closet that could almost be considered walk-in. While we loved staying at the original resort, guests with more modern tastes should check out the accommodations at the Beach Club section of the property, located across the Intracoastal Waterway on a stretch of private beach.
Sometimes the food at large resorts is an afterthought, so we were pleased when every meal we had was better than the last. There are nine different restaurants on the Resort side of the property, and four more at the Beach Club. Don't visit without taking a meal at Morimoto, the signature sushi bar by the Iron Chef of the same name. We dined on two kinds of rock shrimp in spicy aiolis, octopus carpaccio dressed with chili oil, chives, ginger and garlic, and a chefs selection of the most beautiful sashimi. End your meal with a glass of Morimoto's aged sake, a treat that is only available in his restaurants.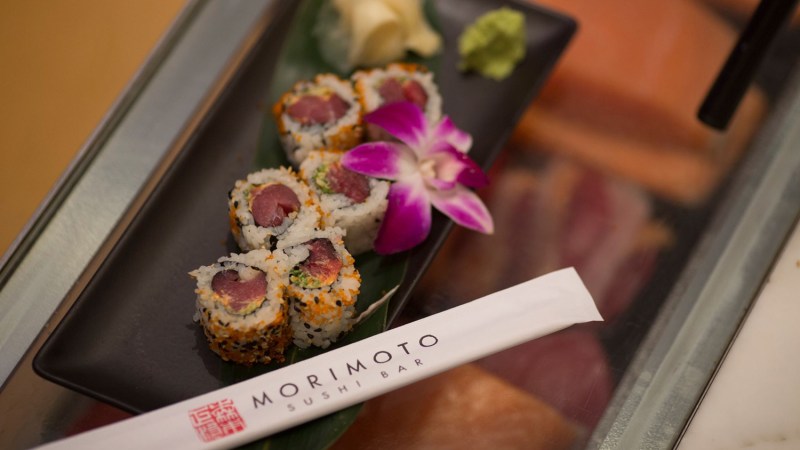 On most mornings, you'd find us grabbing coffee and pastries at the resort's outpost of NYC's Serendipity, which also serves New York-style hot dogs and deli sandwiches along with the restaurant's famous Frrrozen Hot Chocolate. Bar Luna's dark wood interior and leather armchairs make it the perfect place for a nightcap, but pay them a visit at lunch for great salads and a killer club sandwich. Don't miss cocktail hour at The Blue, which is located at the top of the tower and features alcove window seating that offers an amazing view. Order a classic cocktail and plate of deviled eggs, which are dressed with things like pickles, bacon and jalapeño. Check out brunch at the Palm Court — our favorite room at the property — which is designed with a dramatic transparent ceiling that ushers in natural light.
At the Boca Raton Resort, there's a new adventure at every turn, whether that means action-packed water sports or simply lounging at one of the property's seven glistening pools. Flow House Boca is equipped with the dual-sided wave simulator FlowRider, which lets you experience surfing and bodyboarding on land. If you'd rather catch some real waves, a plethora of ocean sports await at Boca Beach Club, including paddleboarding, catamarans, jet skiing, and skimboarding. You can also take surf lessons, either in a group clinic or a private session. The resort boasts two gorgeously-designed golf courses with lessons from the pros for those who want to learn or improve their game. If you love tennis, Boca Raton Resort has one of the best courts in the country and offers lessons, camps, a pro shop, and a two-story clubhouse overlooking the courts, where you can relax after a match.
The Tower Pool at the Resort side of the property is fun and lively, and you'll often see a Mojito cart passing by on the weekends. Over at the Beach Club, three glorious pools await, as does a mile-long stretch of private beach with full-service chair and cabana set-up. But our favorite pool is at the Waldorf Astoria spa — where you can enjoy a tranquil experience before or after treatments — because it features underwater music and two hot tubs with cascading massage waterfalls. Inspired by Spain's Alhambra Palace, the spa itself is one of the best we've seen, designed with elaborate mosaics, cypress woodwork, and opulent facilities. Choose from an array of face and body treatments, rejuvenate in the Ritual Bath (complete with nine individual mineral pools), and enjoy amenities like steam, sauna and inhalation rooms.
It's not often you see such an iconic hotel with the caliber of modern upgrades that the Boca Raton Resort has to offer. For anyone who wants to experience the glamour of yore with the adventure sports and comforts of present day, you have to pay this bright pink property a visit.