The amount of time Ryan Thompson, founder of Orra travel bags, has spent in the sky could be measured in weeks, and yet, as he flew toward Honolulu two and a half years ago, he had a fresh realization. Just below him, slowly growing by the day, was the Great Pacific Garbage Patch. "It was a concept before this. Then I flew over it, and it was all so real," the 40-year-old United pilot says. "What are we doing? I was embarrassed to be an adult."
When he arrived, he dropped his bags and paddled out at Waikiki, a surfing holy site if there ever were one, and sat on his rented longboard, feeling the mana of the land, floating with his thoughts. Something had to be done; the ocean, which had been a refuge for him during a childhood split between Hawaii and Los Angeles, wouldn't be the same for his own two young children unless something dramatic were done. From this impetus, Orra bags began.
Related Guides
Thompson, in speaking with The Manual, clearly divides his concern for the ocean and his desire to build a better travel bag. There's much to be said on the latter, which began as a fresh-from-high-school Air Force recruit who deployed to Afghanistan as the tip of the spear, where he witnessed firsthand the importance of good gear. "In war zones especially, you need to know where your ammo is, where your first aid kit is," he says. Everything has to to be in its right place and easily accessible. Later, as a civilian and commercial airline pilot, he'd evaluate numerous carry-on luggage and roller bags used over a 15-year career, judging all wanting in some area or another. "That zipper is misplaced by an inch here. Or, this component sucks — why would they even bother?" he says. And it wasn't just him: During Orra's R&D phase, Thompson would interrogate his fellow pilots with a thoroughness other bag companies could only dream of: "This isn't just some survey with one-word answers. I'm flying to Sydney and I have 16 hours to talk with this guy about why he hates his dopp kit."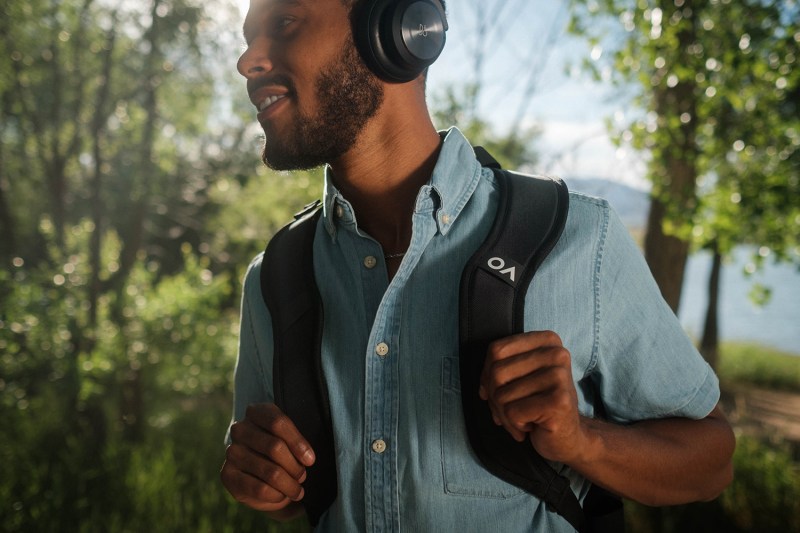 Orra, therefore, is the ultimate product born from insider knowledge: The guys who demand the most out of their gear have had the largest say in its design, from layout, features, and dimensions down to something as seemingly banal as zipper placement.
But design iterations, worthy of their own story, are only part of Orra, and the other half is in its composite parts that trace their inclusion to that day over — and then in — the Pacific Ocean. Nearly every component, from the fabric to buckles and beyond, has some kind of environmental backstory. Its fabric? All made from upcycled water bottles. The buckles? Rather than brittle injection-molded plastic, they're forged from durable aluminum, which not only holds up to abuse better but, at the end of its lifecycle, is infinitely more recyclable than any other material. Even the foam inserts, which protect your laptop and that bottle of smuggled Caribbean rum, are made from a cutting-edge algae biomass. "That not only sequesters carbon dioxide from the atmosphere but it also cleans polluted waterways," Thompson says. "So, it's like, holy shit! We can do that with something we cram into this bag? That's amazing!"
While it's safe to say the no bag has ever been more fully crafted from environmentally friendly components, neither has any bag been so utterly unassuming. Put another way, for the first time a green product doesn't come with the scent of pachouli. Orra's bags are made in dark colors, understated, and feature-rich, so that the first thing someone does when examining your bag is not to invite you to a drum circle. And that's not by accident.
"You make this amazing, sleek, beautiful, sexy bag that has tons of features and performs better than anything out there, but, oh, by the way, it has this environmental impact as well," Thompson says. "We can't let environmentally friendly products remain a tree-hugger thing."
Many companies describe their products as "The Tesla of Whatever Category of Product We're Making," and it doesn't take long before Thompson describes his flagship Backpack as "the Tesla of backpacks." But in this case, he's not far off the mark. Because the thing about Teslas is that they're rarely talked about as an electric vehicle. Sure, everybody knows they're electric, but the biggest news is always its newest features, which can both autonomously drive and grill the perfect croque monsieur. Compared after another category-defining product, the Backpack's functionality overshadows its environmental story, though both are noteworthy.
With figurative doors opened in March 2021, Thompson laughs at the timing of his company's launch. "There's no one way to start a company. That's the beauty of entrepreneurship — and also the curse," he says. But the importance and the impetus has always been to make a bigger difference, and he hopes that his example will inspire other startups now in their infancy to make better material decisions, which will combine to make larger changes to the industry as a whole. After all, while every Orra bag owner will know the number of water bottles its fabric is made of, how many party balloons of carbon dioxide are sequestered in its foam, and how many gallons of filtered water have been returned to natural habitats, it's all just a drop in the ocean.
"The important part is the optics," he says. "Us saying, 'Small businesses, you want to do something, here's the way to do it,' is way more important.
"It's no longer about me," he continues. "I don't give a shit if we don't make money. But we need to do something for these kids to not inherit this big mess."
Granted, the pandemic's worldwide impact Thompson doubly hard, delaying Orra's launch while clipping his figurative wings from over-ocean travel. But even the coronavirus response inspires him, as it proves that when enough people band together, the world can change. "It's been a shining example of how we're all in this together," he says. "Big problems are everyone's problems."
Editors' Recommendations