Is this a chill ski town? Is this a desert spa resort town? Is this an artists' colony? Is this one large living history museum? Yes, I think Santa Fe is all of this and more. Santa Fe, New Mexico, truly is "The City Different" that's difficult to neatly label or compartmentalize, and I definitely don't mean this as an insult.
Just like the city it's located in, the Four Seasons Resort Rancho Encantado Santa Fe is hard to compartmentalize, and this most definitely benefits the travelers who come to stay here. Whether you prefer a chill spa weekend, a trip full of epic outdoor excursions, or simply a (very luxurious) "base camp" to explore Northern New Mexico, this Four Seasons goes above and beyond to accommodate.
The lay of the land
Located about 75 miles northeast of Albuquerque, and about 10 miles north of Downtown Santa Fe, the Four Seasons Resort Rancho Encantado manages to feel far "away from it all" while also being well within reach of the urban amenities you might want or need during your trip. (Later in this guide, we'll go into further details on transportation.) But if you're someone who likes the ability to walk from your hotel into town, you may be frustrated by the location of the Four Seasons in a very far-flung, exurban feeling area.
Conversely, if you're someone who values maximum peace and quiet, or if you're someone who wants to be close to the region's best hiking, biking, and skiing (during the winter season) areas, you will love the Four Seasons' beautiful 57 acres in the Sangre de Cristo Foothills. Sometimes, I simply want some peace and quiet and easy access to good hiking when I'm traveling, so I really appreciated the resort's location and natural scenery.
What to do
As I hinted at above, this Four Seasons resort is ideal for adventurous travelers who want to get out and explore without sacrificing creature comforts when they're ready to kick back. If you want to sign up for one of the resort's prime guided activities, or if you simply want some ideas on what to do during your stay here, check with the resort's in-house Adventure Center for more details.
Since I traveled here late in the winter ski season, and since another gnarly snowstorm hit during my stay, certain adventures were unavailable. However, the Four Seasons Adventure Center kindly offered a modified and customized version of the Journey to Abiquiu (see below) for me to experience and immerse myself into. It's always a good idea to check with the Adventure Center ahead of time on what's available and to pay attention to any messages they send before your scheduled adventure (s).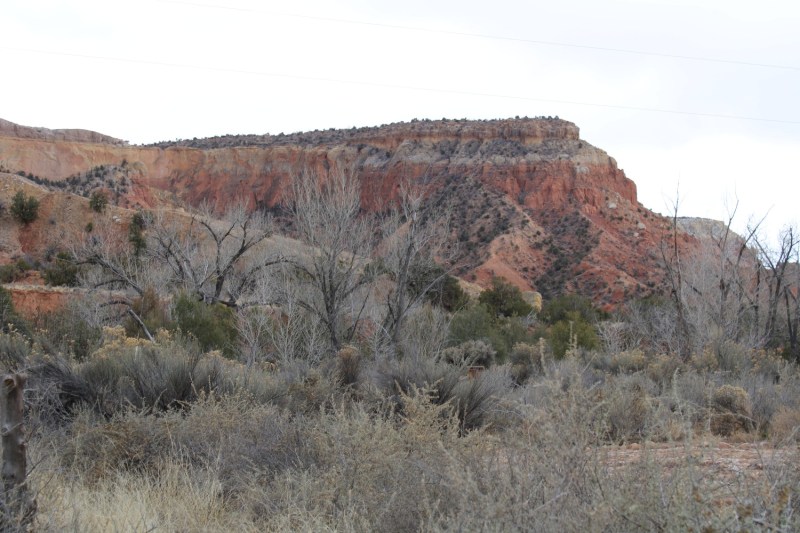 Journey to Abiquiu
This unique hike-to-yoga excursion is so exhilarating, so gorgeous, and so magical that you truly have to experience it yourself to believe it. On this excursion that's only available to Four Seasons guests, you make the pilgrimage to the Plaza Blanca that the famed American visual artist Georgia O'Keeffe cherished, and you visit the Cerro Pedernal mountain that also inspired much of O'Keeffe's landscape-based artwork.
You begin with a sacred smudging ceremony, then embark on a guided hike to enjoy these incredible mountain and canyon views. From here, you get an hour of expert-guided yoga and mandala meditation that is simultaneously challenging, eye-opening, and relaxing. Plan on committing several hours to partake in the Journey to Abiquiu, but it is truly worth the time investment.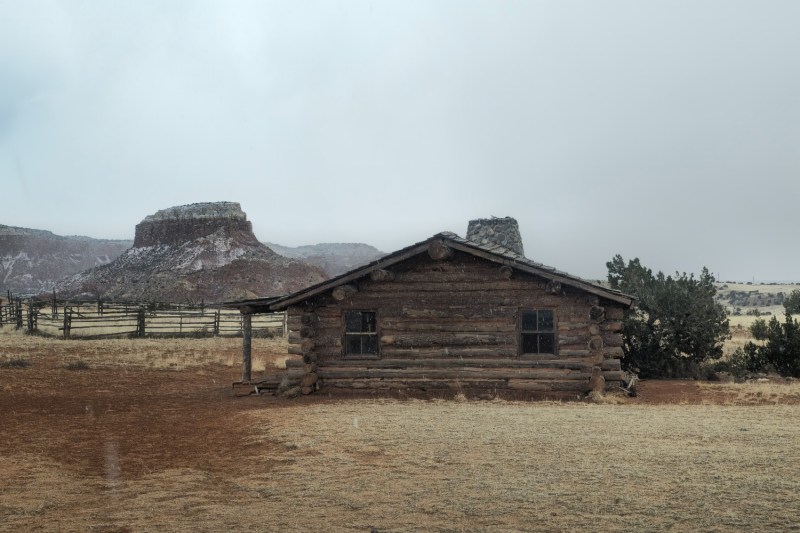 Here's the scoop on the journey that I got to experience
As I hinted at earlier, I couldn't do the Journey as originally envisioned, because Northern New Mexico got another round of snow that made outdoor yoga and certain hikes inadvisable. Nonetheless, my guide Amy went the extra distance to take me on an incredible hike through a beautiful landscape that's only available to select parties who book in advance.
We also got to see and experience the legendary Ghost Ranch that inspired many of Georgia O'Keeffe's paintings and later became a favorite Hollywood filming location. The red rock formations are simply stunning, and there are plenty more surprises in store for guests to discover, including one prehistoric local whose final resting place is right here. Whether you're seeking your own artistic inspiration, a spiritual journey, or simply an amazing hike, this adventure really delivers, even in its modified winter weather form!
Seasonal outdoor adventures
If you're eager to get wet and wild during the summer season, the Four Seasons offers whitewater rafting excursions at the Racecourse, which offers a series of Class II and Class III rapids at the Rio Grande River. If you prefer more laid-back outings, the Four Seasons can also hook you up with backcountry Jeep tours, horseback rides, golf tee times, and hot air balloon rides.
During the winter season, you can reserve a ski package that includes lift tickets at Ski Santa Fe, transportation to and from Ski Santa Fe, and Ski Butler rentals. Ski Santa Fe has a full mix of beginner, intermediate, and expert-level slopes for skiers and snowboarders to enjoy.
Art, cultural, and culinary tours
Even for those who don't consider themselves "outdoorsy," the Four Seasons still has plenty for you to do. Check with the Adventure Center for Northern New Mexico winery tours, Native American indigenous cultural tours, regional art pilgrimages, and Santa Fe and Taos city tours.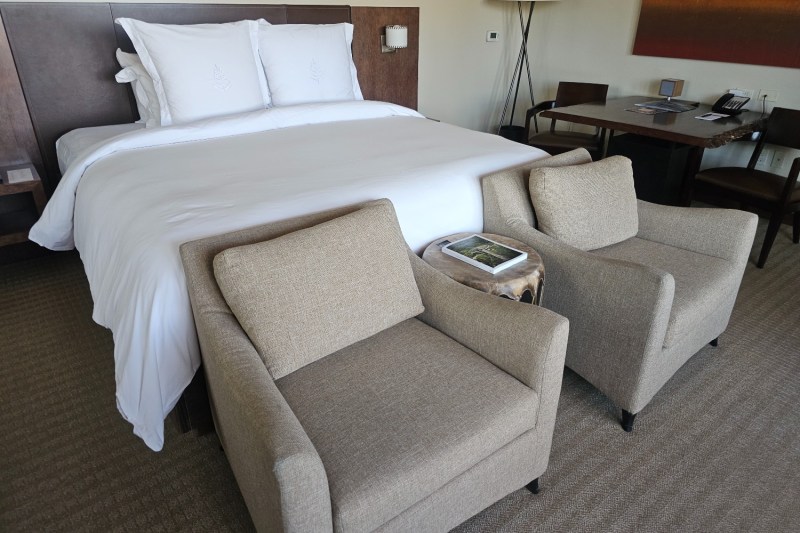 Where to stay
Let's get this out of the way: Don't expect to find bargains at this Four Seasons hotel. This is a high-end resort, and you'll be reminded of this throughout the resort's grounds. Though the Four Seasons Resort Rancho Encantado Santa Fe only has 65 rooms and suites, it's very much a full-service resort where you don't have to leave the premises unless you really want to. (See above.)
At this resort, every room or suite is a casita. And since the most basic level casita measures around 630 square feet, you definitely won't feel cramped or "boxed in" here. The Four Seasons also gives you the option of staying connected or "logging off:" The natural landscape and the other on-site amenities make it easy to leave the stressors of the outside world behind, but the complimentary daily newspapers and premium high-speed Wi-Fi internet are on hand whenever you need to stay connected (or at least, upload some banger TikTok and YouTube videos).
Honestly, I was so happy with my casita here that I may have shed a tear or two when it was time for me to check out. Not only are the plush bedding, the terry bathrobes, the spacious soaking tub, and the charming patio so warm and inviting, but the crew here gave it all to make me feel so welcome at my temporary "home away from home."
Nearest (full-service) airport: Albuquerque

Time: 60-90 minutes by car

Distance: 76 miles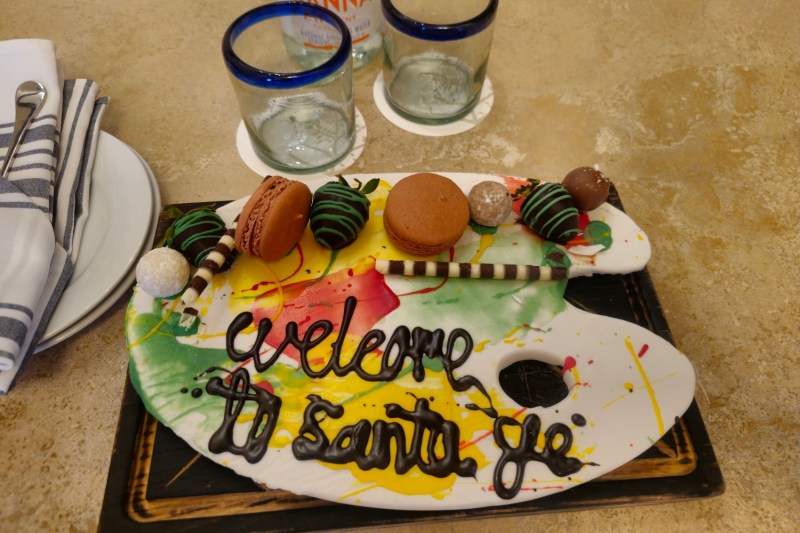 Where to dine
Though this resort is a bit of a drive from the heart of Santa Fe's culinary scene, that doesn't mean you'll go hungry or be bored here.
Price Key
"$"= budget-friendly or cheap

"$$"= average

"$$$"= expensive
Terra
Terra is the flagship restaurant at the Four Seasons. With breakfast, lunch, and dinner service here, you can enjoy round-the-clock culinary delights in a beautifully elegant atmosphere. If you're up early and you woke up with a heavy sweet tooth, make your way here for the best banana French toast and blue corn pancakes you'll find on this side of the Rocky Mountains. If you're looking for more authentically local cuisine, try the huevos rancheros or the sunrise burrito to begin immersing yourself in the proud New Mexico tradition of eating chiles with almost everything.
Later in the day, you can continue your green chile journey with tasty dishes like chile relleno, house-made green chile and bison meatballs, and Terra's take on paella. Carnivores will love chomping into Terra's signature steaks, but the restaurant is also quite accommodating to vegetarian and vegan guests. I can personally attest to the latter, as I tried the vegan parrillada and the blueberry cashew (vegan) cheesecake, and I was highly impressed with both plant-based dishes.
Best for breakfast, lunch, and dinner

$$$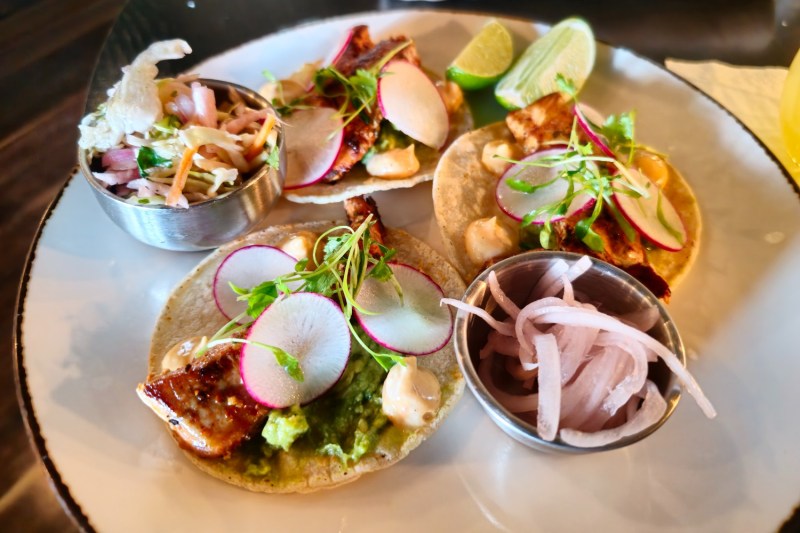 The Bar
If you merely want lighter nibbles to go with some stiff drinks, head to The Bar. If you're down for a casual happy-hour dinner, you'll have fun noshing on the Four Seasons' take on charcuterie. If you're hungry for more, try the trout tacos and prepare for a strong current of great flavors. To drink, you can enjoy anything from Japanese-style gin and tonics to mezcal-enhanced margaritas.
Best for cocktails and light dinner

$$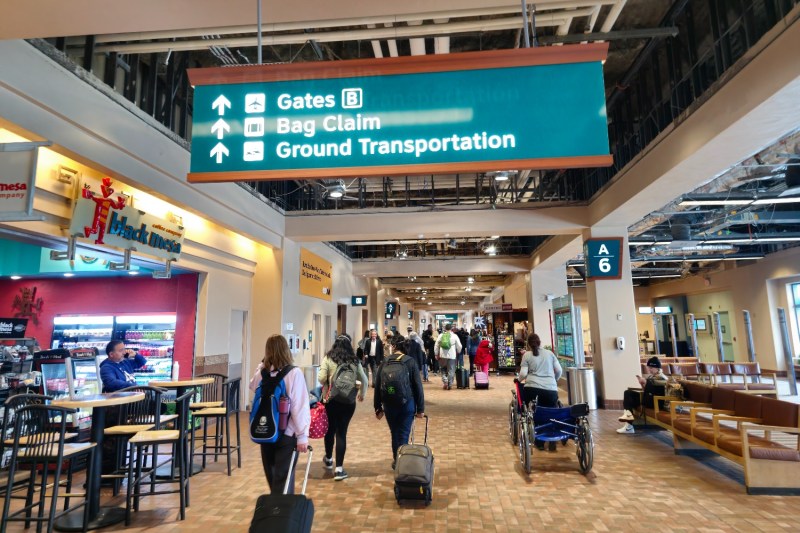 Getting to and from the Four Seasons
As we discussed earlier, this Four Seasons hotel isn't very far from Downtown Santa Fe, though it's not very close either. If you're driving your own car, get used to using Highway 84 to get to and from downtown, as well as to reach Los Alamos and Taos if you really want to venture out for day trips.
If you're traveling car-free, fear not, for you won't be hopelessly stranded. Though you'll have to prepare to pay for long Uber and Lyft rides, you can make your way downtown without having to worry about navigating the highways or finding parking. At Downtown Santa Fe, look for the Santa Fe Depot to catch the Sky Railway leisure train to Lamy and the New Mexico Rail Runner Express (NMRX) commuter rail line to Albuquerque and Belen.
If you're planning to fly here, Santa Fe Regional Airport does offer regional jet service to and from Phoenix and Dallas-Fort Worth via American Airlines, as well as jet service to and from Denver via United Airlines. But if you need more options, you'll have to use the Albuquerque International Sunport, especially if you're coming from a place where Southwest Airlines is your best bet to reach New Mexico with the fewest layovers.
How to plan like a pro
Though Santa Fe is close to the same latitude as San Luis Obispo (California) and North Carolina's Outer Banks, and though Santa Fe prides itself as a very Southwestern town, don't come here expecting warm weather year-round. While Santa Fe's higher elevation (as in, over 7,000 feet above sea level) means cooler summers than what you find in cities like Phoenix and Las Vegas, this also means winters are much colder here.
If you're coming during the winter season — even as early as October, and as late as April — pack winter clothes that will help you stay warm. Even if you're coming during the summer season, plan on packing a light jacket and/or sweater to use during those cooler mountain nights.
Finally, take full advantage of the Four Seasons Adventure Center if you need any more ideas on where to go and what to do during your stay here. Especially if you're traveling car-free, or even if you don't want to have to worry about navigating through Northern New Mexico on your own, the Adventure Center and the resort's concierge team are here to help.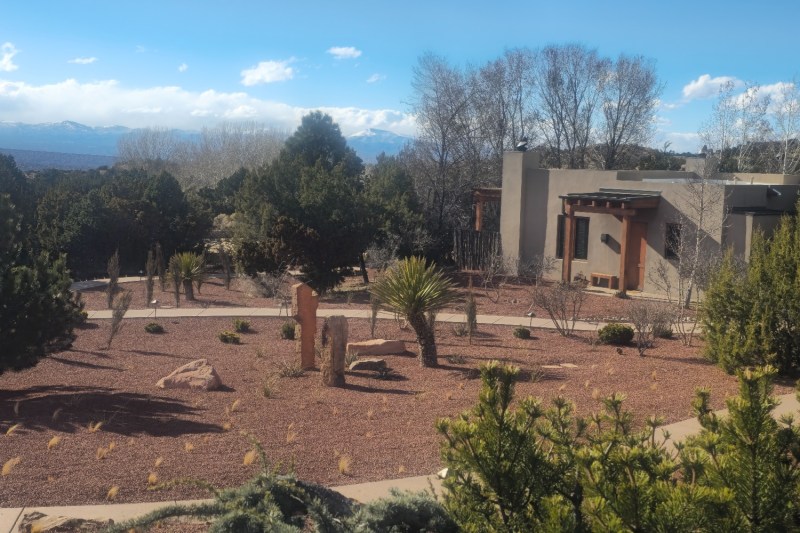 My assessment and final thoughts
If you want a hotel that's close to all the action in Santa Fe's historic downtown, then you need to look elsewhere. But if you want the ultimate combination of 5-star luxury and incredible adventures all around Northern New Mexico, then the Four Seasons Resort Rancho Encantado Santa Fe may truly be the perfect resort for your next trip to the "Land of Enchantment." I experienced a whirlwind of incredible outings, compelling art, thrilling excursions, and extravagant luxury during my weekend here, and it's one of those few hotels that I actually fell in love with during my stay.
We hope this helps you get some ideas on how to plan your own Santa Fe trip. For more great travel tips and ideas, take a look at our guide to discovering the masterful treasures of Augusta, Georgia, inside tips for the ultimate surf trip to Dana Point, California, our picks for the 25 best restaurants in the U.S., and the best national parks to visit this summer. Wherever you travel next, we hope you enjoy the journey and experience great new adventures.
Editors' Recommendations