When you hear "Augusta, Georgia," what comes to mind? Is it the tremendous musical and activist legacy of "Godfather of Soul" James Brown? Is it one of the American South's most vibrant and expansive art scenes? Is it a serene kayak journey along the Augusta Canal? I'm guessing you first thought of a certain famous golf tournament. While this golf tournament is certainly prestigious, there's a lot more to see and do in Augusta beyond those links.
Whether you're here for the Masters Tournament, you're looking for other stuff to do while your travel partners attend the Masters, or you're coming to town any other time of the year, there are plenty of things to do in Augusta, Georgia, and lots of colorful treasures beyond the greens. We'll also clue you in on where you can actually play golf in Augusta!
Let's get to know Augusta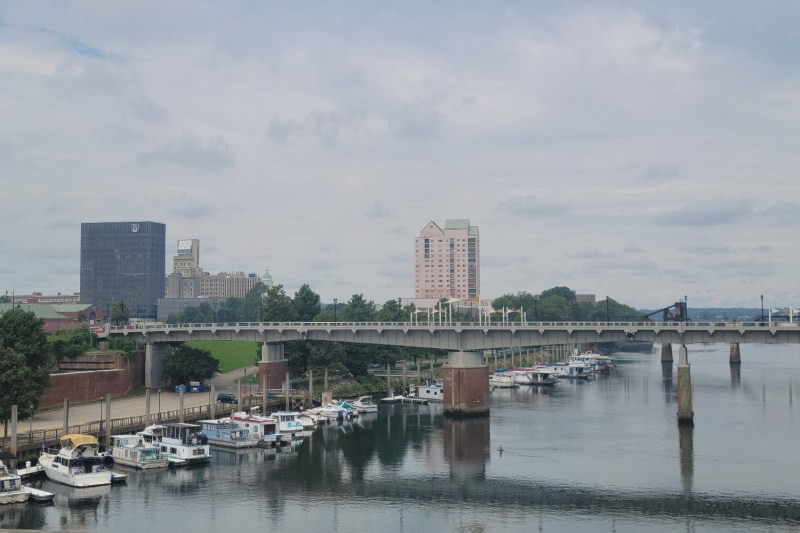 Located about 150 miles east of Atlanta, Augusta looks and feels more classically "Southern" than Atlanta. As Georgia's second-oldest city, Augusta has historically played a major role in Georgia's growth and development. It began as a military fort, then became Georgia's second state capital, then became the Black Belt's primary market town, and finally became a textile industrial powerhouse. Throughout town, and especially in Augusta's historic downtown, you can still encounter remnants from these phases of Augusta's history.
Of course, no discussion of Augusta's history is complete without mentioning the one and only "Godfather of Soul," James Brown. You'll notice shrines throughout town honoring the legacy of this rock n' roll legend. Later in this guide, we'll let you know where you can "get on up," "say it loud," and "feel good" with the ultimate James Brown experience.
More recently, Augusta has emerged as a hub for artistic creativity, artisan craftsmanship, and technological achievement. From the Augusta Market near the Riverwalk that happens every Saturday to the emerging dining scene at Surrey Center on the west side of town, you can sense the air of change across town. If you've ever wanted to see the next hot American city while it's still in the up-and-coming phase, now's a great time to either introduce yourself to Augusta or reacquaint yourself with this dynamic city as it balances historical traditions with new energy.
What are some things to do in Augusta?
At first glance, Augusta might appear to be one of those stereotypically sleepy Southern towns where everyone and everything moves at a snail's pace. Though Augusta's overall vibes are much more relaxed than other major Southern cities like Atlanta and Charlotte, that absolutely does not mean you're doomed to indefinite boredom here. Actually, you have plenty of things to do in Augusta, Georgia! Check out these go-to options to get out and experience the illustrious treasures of Georgia's Second City.
Two Dudes and a Boat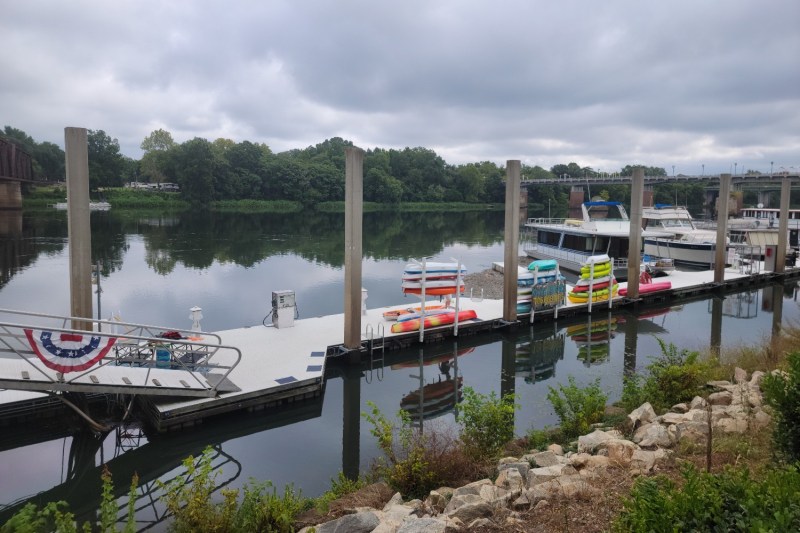 Two Dudes and a Boat makes it incredibly easy for you to get on the Savannah River and see Augusta from a whole new angle. Greg and Steven launched this business during the early days of the COVID-19 pandemic, and they've since grown it into one of Augusta's top local activities. Where else can you row a kayak on the Georgia–South Carolina state line and ride your way past scenic wetlands, the city skyline, a baseball stadium, and picturesque neighborhoods full of palmetto trees?
I have a confession to make: The first time I ever got in a kayak was here in Augusta with Two Dudes and a Boat. Thanks to their extensive aquatic knowledge, as well as their incredibly warm and personal service, I got in the boat and began navigating my way through the Savannah River in almost no time. I loved being out in the water, seeing the gorgeous riverside landscapes, and getting a different view of the city versus staying on dry land the whole time. Whether you're a nervous novice or an expert navigator, Greg and Steven will make sure you have a fun and safe time rowing your way along the Savannah River.
Phinizy Center and Nature Park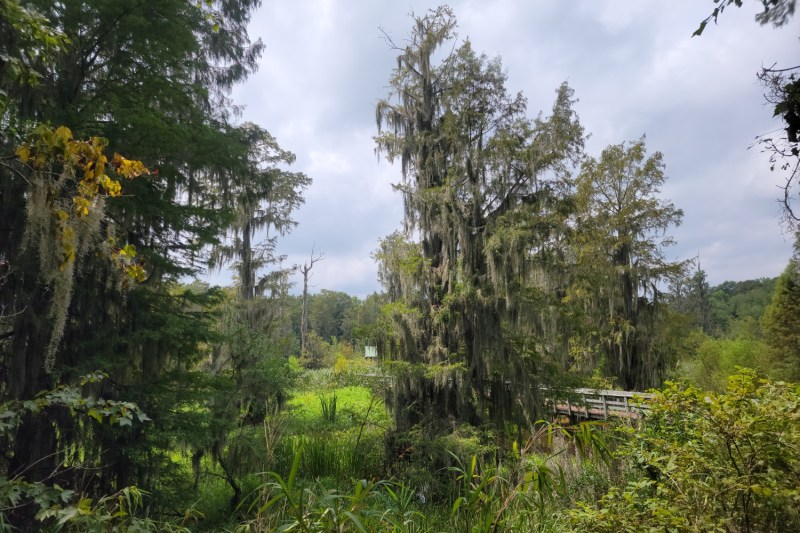 In many parts of the U.S., people tend to recoil upon hearing the word "swamp." At Phinizy Center, though, the swamp signifies Mother Nature's ultimate masterpiece. It all starts to make sense once you hit one of their trails and witness this ecosystem's remarkable biodiversity. While here, you can spot egrets, herons, woodpeckers, river otters, beavers, and even more animal species in the wild. In addition, the Spanish moss-adorned trees alongside the streams and marshes make for nature photographers' ultimate dream come true.
If you want an even more in-depth experience, make a reservation in advance to visit Phinizy's on-site Center for Water Sciences. Regardless of whether you and your crew are hydrology nerds, Phinizy's team of researchers will blow you away with its groundbreaking work to monitor and improve the region's water quality.
Forks Area Trail System
Located within Sumter National Forest on the South Carolina side of the Savannah River, the Forks Area Trail System is perfect for hikers and mountain bikers at all levels. This trail network provides up to 34 miles of pathways through lush forests for outdoor adventurers to enjoy. Riders and hikers will find stunning panoramic views at higher elevations, and the abundance of verdant vegetation provides a welcoming and scenic home for many birds and animals.
Though the Forks Area Trail System is about a 14-mile drive from downtown Augusta, it isn't too hard to find. Once you're there, you'll realize how rewarding this journey truly is.
Savannah River Brewing Company
If you like craft beer, you'll likely love Savannah River Brewing Company! They have a broad and fun variety of locally crafted beers, including my favorite "no jacket required" Czech-style pilsner that has a nicely balanced soft-yet-dry flavor. They also have my other favorite "Dynamite Brown Ale" that pays homage to Augusta's own Godfather of Soul with its delicious (yet not too sweet) notes of caramel and chocolate.
The tap room is typically open every day during afternoons and evenings, and it offers a wonderfully relaxed and intimate alternative to the hustle and bustle of the craft beer scenes in the big city brewery hubs.
Augusta Museum of History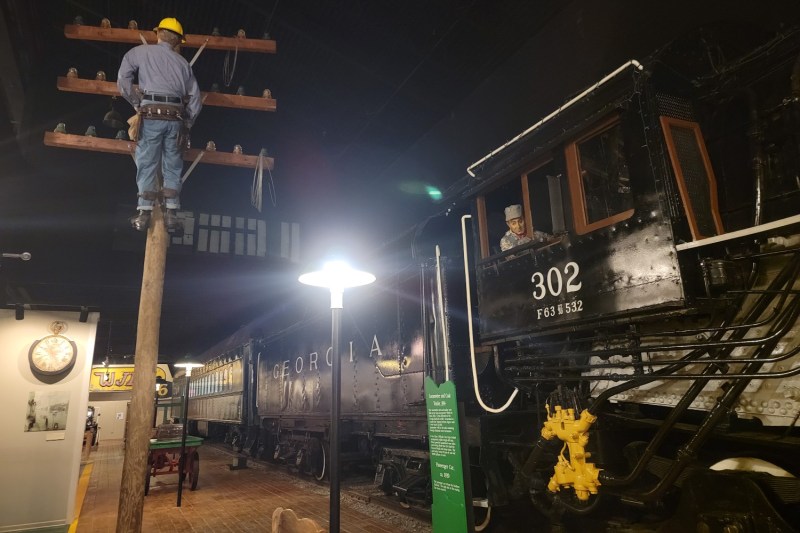 Whatever brings you to Augusta, the Museum of History probably has a lot of what you're looking for. If you're in town during the weekend, you can easily lose yourself in the museum's varied exhibits. The Augusta Museum of History has the world's largest and most comprehensive exhibit devoted to rock 'n roll pioneer James Brown, from intimate glimpses into Brown's early life to memorabilia from some of Brown's final concerts and festival appearances. This museum also has halls dedicated to sharing the story of Augusta's incredibly special relationship with golf.
Even if you're not really a "museum person," you still might want to pop over here. Whether you're moved by classic cars and trains or you prefer to move to the beat of classic rock 'n roll, this museum will really move you.
Morris Museum of Art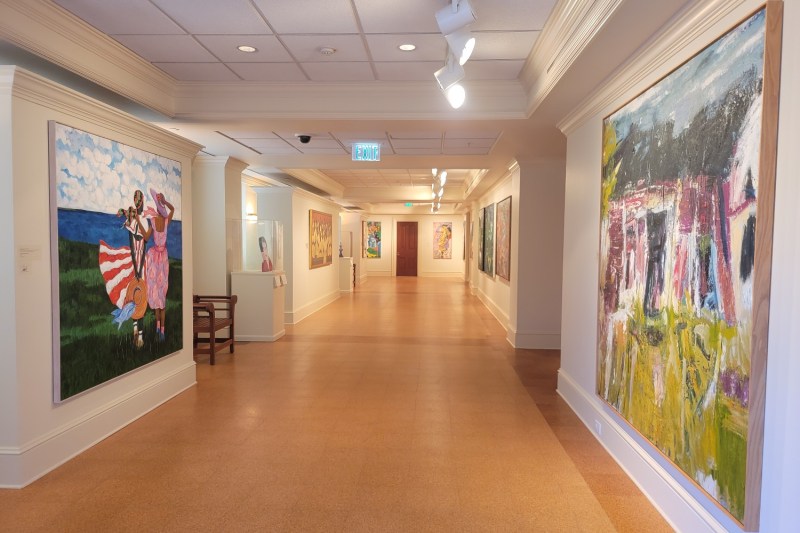 While it's easy to assume the worst about an art museum outside a major metropolitan region, this Smithsonian-affiliated museum actually packs a big artistic punch with its offerings. As the oldest museum dedicated to art from the American South, Morris's permanent collection includes over 5,000 works of art spanning from the 18th to the 21st centuries. Plus, it typically houses at least 15 seasonal exhibits every year. During my visit, I stumbled upon some remarkable works from Jonathan Green, Dale Pennington, Julyan Davis, and Ida Kohlmeyer. Whether you prefer realistic-looking landscape paintings or postmodern abstract sculpture, you're sure to find something here that catches your eye.
Sacred Heart Cultural Center
Though Sacred Heart is no longer a consecrated and working Catholic Church, it's still held sacred by many in the Augusta community. It was a critical community resource for Irish Catholic immigrants who came to Augusta in the mid-19th century and who turned to this church as a rare refuge in heavily Protestant Georgia. It also became a surprising community resource for Ashkenazi Jewish immigrants who came here from Poland and Russia and found in this church a minister who actually spoke their language.
While the red brick exterior fits well into the overall anesthetics of downtown Augusta, the Byzantine- and Romanesque-influenced interior of the church evokes the stately grandeur of the great medieval cathedrals of Europe and the Middle East. When the Diocese of Savannah decided to deconsecrate Sacred Heart to save money and consolidate parishioners into one inner-city Augusta church, the local community stepped up to save this church and rechristen it as a community cultural center in 1987. Now it's open for public tours Monday through Friday and community art galleries year-round, making it a favorite spot for community groups seeking an extra-special space for special events.
Where to stay
When it comes to tourism, Augusta's a little more off the beaten path, so you won't find the same variety of hotels you're accustomed to seeing in larger cities like Atlanta and Nashville. So what can you expect with Augusta, Georgia, hotels? There's really no shortage of hotels here, and you'll find some variety in hotel brands. You can find additional lodging options through vacation rental sites like Airbnb and Vrbo. Below is where I stayed during my most recent trip to Augusta.
Partridge Inn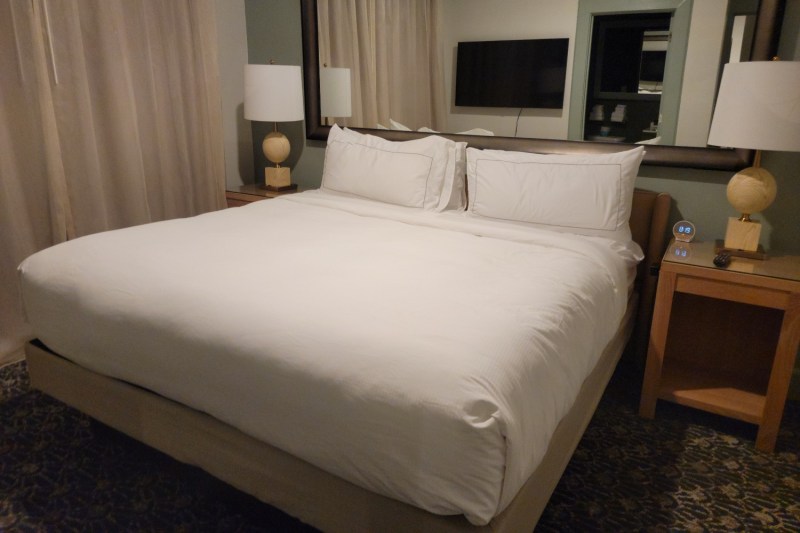 What began as a modest private residence in 1890 transformed into a major hotel two decades later. In 1978, the Partridge Inn was eyed for demolition and redevelopment, but locals managed to save this historic hotel. It reopened as a hotel nine years later, underwent major renovations in 2014, and was added to Hilton's Curio Collection the following year.
Now, the Partridge Inn sports 143 distinct yet beautifully updated guest rooms and suites that offer plush bedding, high-speed Wi-Fi internet, 52-inch flat-panel HD TVs, and refreshed bathrooms. In addition, some rooms and suites offer balconies with incredible views. The Partridge Inn has two restaurants on-site, and it's located right in between downtown and the world-famous Augusta National Golf Club.
Nearest airport: Augusta Regional
Time: 15–20 minutes by car
Distance: Eight miles
Hyatt House Augusta Downtown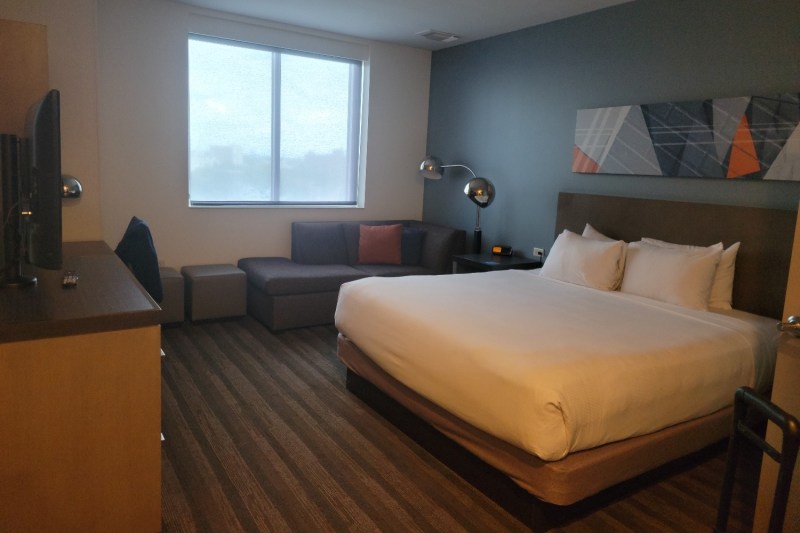 If you prefer a more central location and more contemporary style, you'll appreciate the Hyatt House downtown. The vibes are very cool and trendy, and the rooms feature a somewhat loft-like design with open floor plans, spacious bathrooms with rain showers, touchscreen temperature controls, and fast and reliable Wi-Fi internet. If you need food and/or drinks, Hyatt House has a bar and food market on-site, plus it's walking distance from quite a few downtown restaurants.
Nearest airport: Augusta Regional
Time: 15–20 minutes by car
Distance: Nine miles
Where to eat
How can I best describe Augusta, Georgia, restaurants? Of course, Augusta offers a whole lot of tasty Southern cuisine. With that said, you won't have to eat the same stuff all the time. Whether you prefer a plate full of old-school soul food or trendier spots featuring contemporary and international fare, you can find the grub you're looking for in Augusta.
Price key
"$" = budget-friendly or cheap
"$$"= average
"$$$"= expensive
The Brunch House of Augusta
If you simply need some honest-to-goodness down-home good cooking, come to the Brunch House downtown for breakfast or, well, brunch. This Black-owned and locally run restaurant serves up all the Southern favorites, including salmon croquettes, chicken and waffles, and shrimp and grits. We were especially impressed with the croquettes, though there are really no wrong choices here. The Brunch House is open every morning, so you have every reason to give this spot a try.
Best for: Breakfast and lunch
Price: $$
Bodega Ultima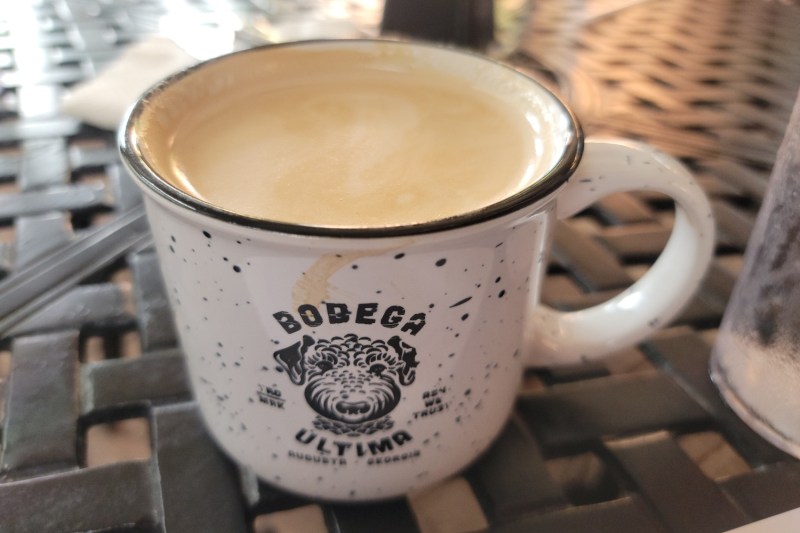 While Bodega Ultima looks and feels a bit like one of those quaint-yet-bougie cafes that would fit right in in one of the beachside neighborhoods in San Diego or Los Angeles, this Surrey Center café is very much an Augusta original. You can order a breakfast sandwich with avocado, tomato, fresh mozzarella, and omelet-style egg that tastes pretty West Coast, but the cheesy grits remind you that you're in the South. The La Colombe coffee adds a nice Northeastern touch too.
Best for: Breakfast and lunch
Price: $$
The Boll Weevil Cafe and Sweetery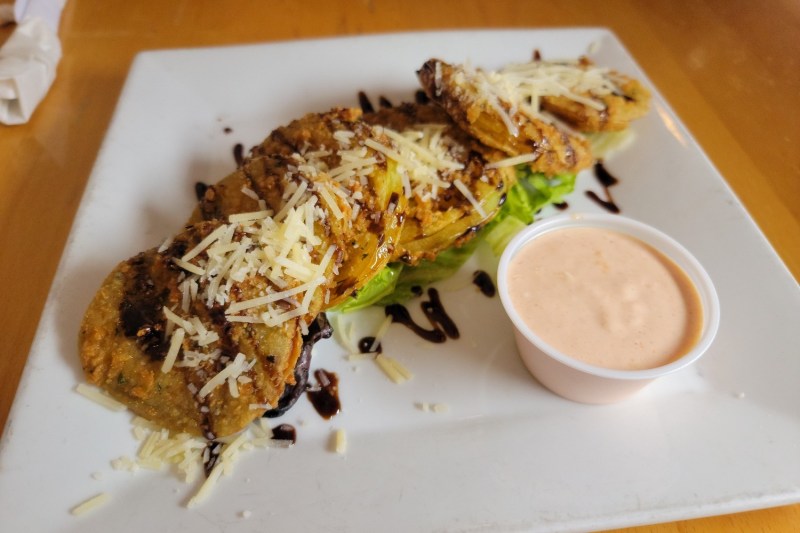 Think Cheesecake Factory, but much better — and you'll get the Boll Weevil. Like the national chain, this down-home downtown eatery offers plenty of generously portioned, savory dishes and house-made desserts. Unlike the national chain, the Boll Weevil is very Augusta through and through. Come for the sweet tea, stay for the fried green tomatoes and the grilled pimento cheese sandwich, and make room for the ultimate dessert. I particularly love the white chocolate raspberry cheesecake, but don't be surprised if you have a hard time picking one!
Best for: Lunch and dinner
Price: $$
Laziza Mediterranean Grill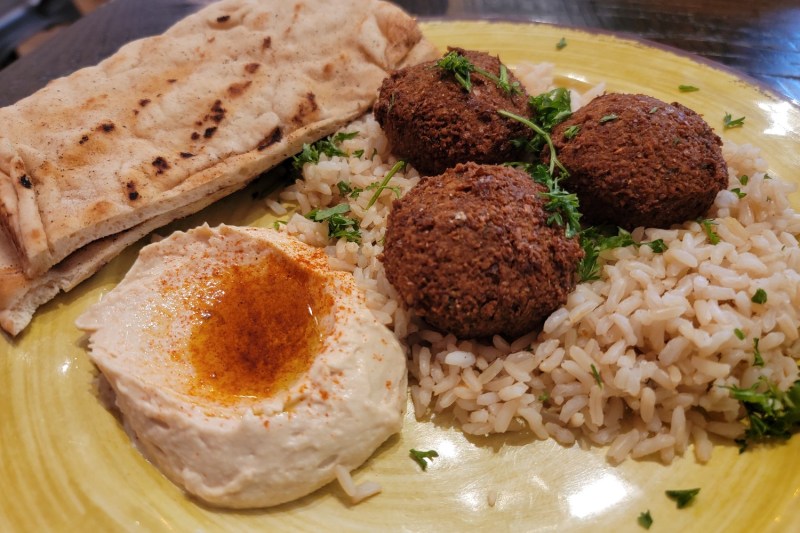 If you know anyone who recently took a trip to the Middle East and suddenly started to feel Levantine food withdrawal — like how this author felt after coming home from Israel and Palestine — bring them here. While there's no real substitute for authentic Middle Eastern food that's made and eaten there, at least Augusta has this culinary gem to enjoy. The lemony fried cauliflower with tahini is downright addictive, and the falafel with hummus is also incredibly delicious. If this is an adults-only lunch, you can also indulge in their selection of craft beers.
Best for: Lunch and dinner
Price: $$
The SolFood Kitchen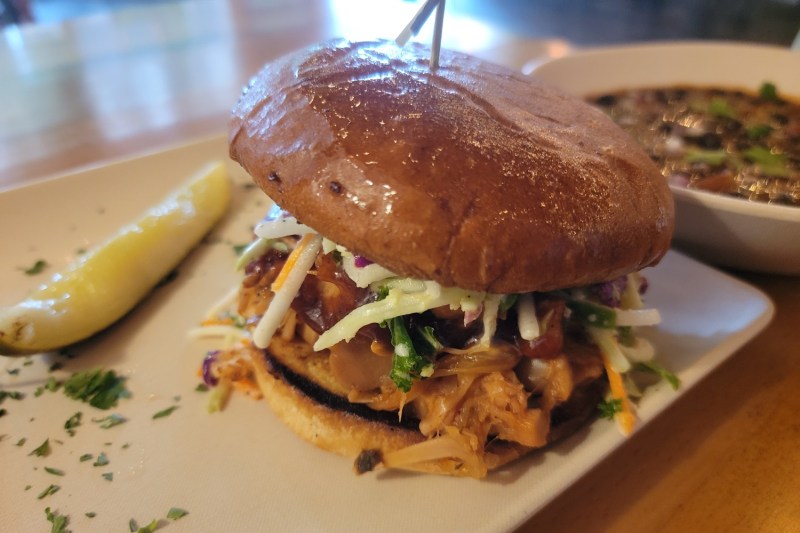 Whether you're vegan, low-carb, on a special diet, or simply trying to eat in a more health-conscious manner, The SolFood Kitchen at Surrey Center probably has what you're looking for. I really enjoyed the barbeque jackfruit sandwich, and the cobbler-style blueberry compote is surprisingly good.
Best for: Lunch and dinner
Price: $$
Soca Vegan Kitchen
Owned and operated by a mother-and-daughter Trinidadian-American duo, Soca Vegan Kitchen takes Caribbean cuisine to the next level with a robust menu that's full of amazing flavors. The aloo pies — fried hand pies filled with mashed potatoes — go great with their spicy tomato and eggplant chokas, and the paratha flatbread makes a perfect pair with their spicy spinach. If you're here for brunch, add the pancakes and/or the banana fritters to your order for the perfectly sweet finish. While it's a bit of a drive from downtown, trust me: The drive will totally feel worth it once you're here.
Best for: Lunch and dinner
Price: $$
8595 Restaurant & Bar at The Partridge Inn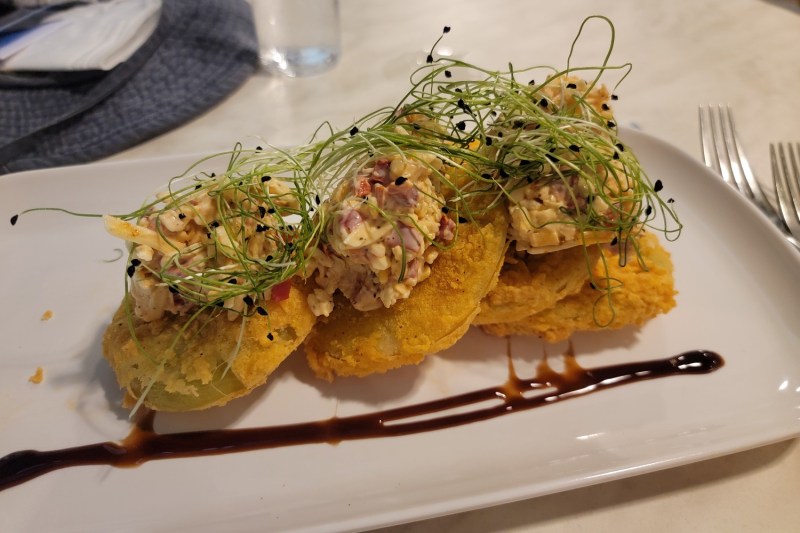 Located in the historic Partridge Inn, 8595 offers some tasty new twists on classic Southern cuisine. I also love their version of fried green tomatoes, which come with a hearty three-cheese pimento cheese dressing and a tangy balsamic glaze to provide a nice balance. If you want something on the lighter side, try the Scottish salmon or the Prince Edward Island mussels for a great seafood dinner. If you want to go all in on going all out, you can't go wrong with the Loaded Creole Pasta or the catfish and grits.
Best for: Dinner
Price: $$$
Abel Brown Southern Kitchen and Oyster Bar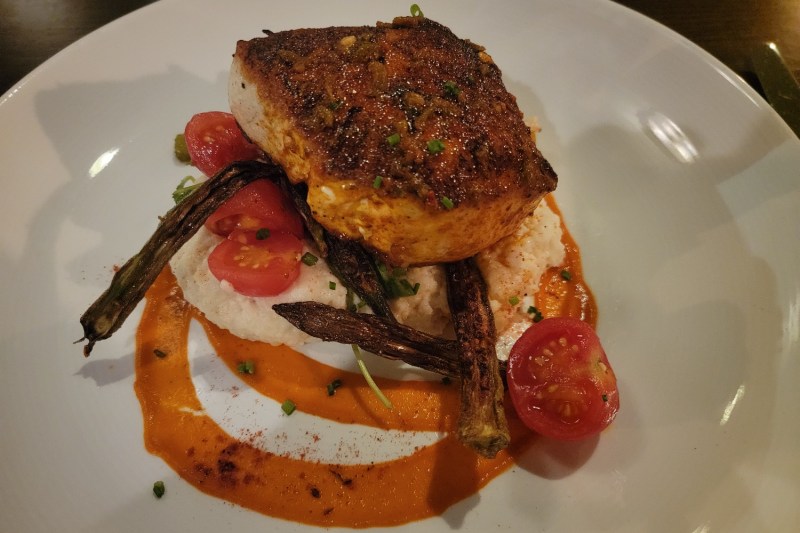 Whenever you want or need a more formal dinner spot in Augusta, you have to do Abel Brown at Surrey Center for dinner. While the chef and owner studied at the Culinary Institute of America and trained at several prestigious big-city restaurants, his hometown restaurant feels right at home here. If you like oysters, you'll love Abel Brown's rendition of Oysters Rockefeller. When you're here, make sure to listen to the waitstaff's reading of the daily specials. I ordered the brussels sprouts and the grilled wahoo that were offered as off-the-menu specials, and I was truly blown away.
Best for: Dinner
Price: $$$
Tips for planning a better trip
Weather
What's the deal with Augusta, Georgia, weather? Though Augusta has a mild climate when it comes to temperature, Augusta averages around 44 inches of precipitation per year, and rain falls pretty consistently year-round. Though the vast majority of Augusta's precipitation falls as rain, the occasional freezing rain might happen during the winter season, and light snowfall might occur in December and January.
If you're coming during the summer season, get ready for a heavy dose of humid heat. Though you'll still have plenty to enjoy around town, it helps to be flexible with your itinerary. If a storm is coming your way, it's probably not a good idea to plan a lot of outdoor activities for the day. Otherwise, plan on doing your most challenging outdoor excursions early in the morning or close to sunset to beat that scorching summer heat.
It's always a good idea to prepare for inclement weather. When you're packing, make sure to slip in at least a light jacket, an umbrella, and perhaps a raincoat if you have one on hand. During the colder winter season (November through February), you probably also want to pack some pants and warmer jackets to keep warm.
How to get around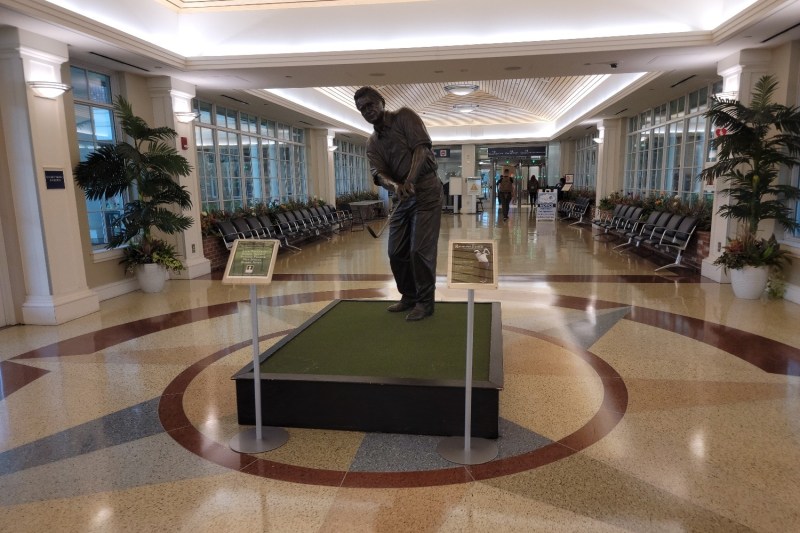 While Augusta has been without passenger rail service for nearly four decades, it does have a local bus service to help people get around. For longer-distance travel, Augusta has a regional airport, where Delta offers flights to and from Atlanta and where American offers flights to and from Charlotte, Dallas-Fort Worth, and Washington-National.
If you're driving to Augusta, you'll probably be using the I-20 freeway from Atlanta or Columbia (South Carolina). I-20 runs northwest of downtown while I-520 functions as a beltway that goes around the south and east sides of Augusta. While the streets can zig-zag around once you move out of downtown, if you take the Highway 28 exit from I-20 or I-520, or if you take the Highway 1 or Highway 78 exit from I-520, you can find your way downtown.
Notes on golf in Augusta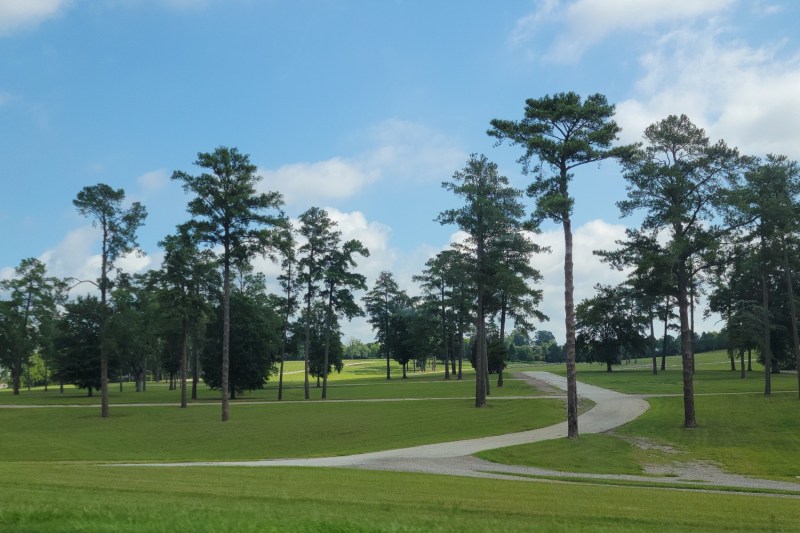 Though golf is the one sport that's most frequently associated with Augusta, the community actually has a complex and complicated relationship with Augusta National Golf Club. While the annual Masters Tournament brings in many millions of dollars and thousands of tourists to the region every year, the country club that hosts the Masters does its best to remain so private that non-members have virtually zero chance of ever playing the greens. Unless you're a billionaire corporate executive, an A-list celebrity, or a prominent national politician, you probably will never get to experience any tee time at Augusta National Golf Club.
So where can you go if you really want to play golf in Augusta? Fortunately, you do have options. Ironically, the closest publicly accessible golf course to downtown Augusta and Augusta National is actually The River Golf Club in North Augusta, South Carolina. In addition, the Augusta Municipal Golf Course almost always has tee times available, and you might have luck getting into Forest Hills Golf Club or West Lake Country Club if you and your group are visiting during Masters Week.
Notes on "Southern Hospitality" and culture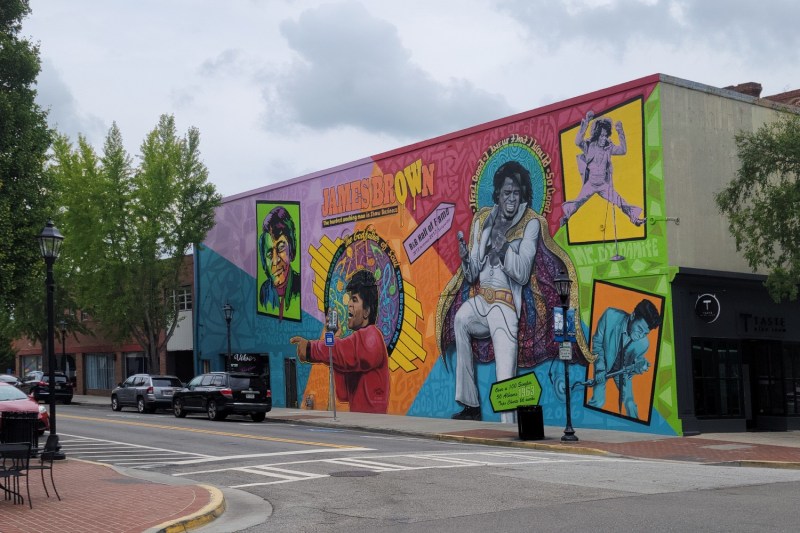 For those of us traveling from other parts of the country, it might feel awkward at first to have so many people smile, greet us, and initiate pleasant conversation. In Augusta, that's simply part of any day that ends in -y. Yes, really, people generally tend to be this nice and polite out here.
With that said, let's tackle something that doesn't feel so nice: Closed storefronts. Though Augusta's own city culture has grown more progressive in recent years, there are still remnants of "Bible Belt" culture all around, such as many businesses staying closed on Sundays — and Mondays. If you're planning to stay here on Sunday and Monday, check ahead on businesses' websites, Google Maps listings, and Yelp listings to see if they're open. If all else fails, call the phone number listed to make sure that wherever you want to visit will be open.
Final thoughts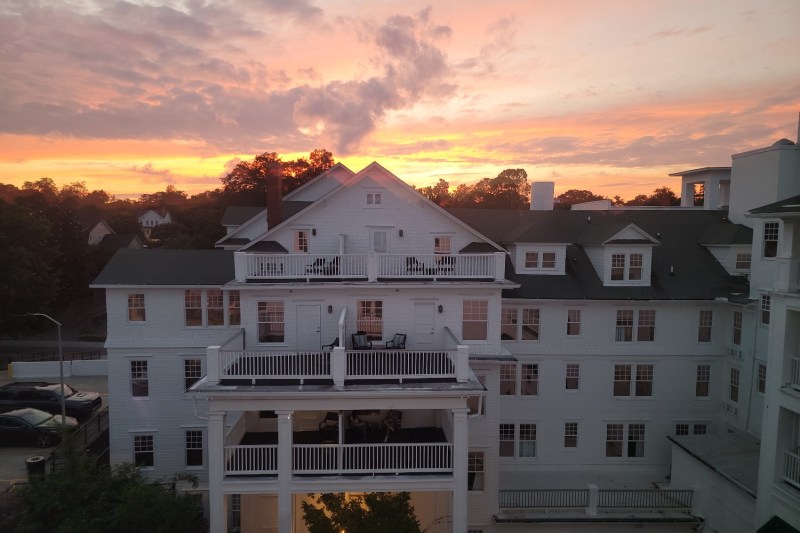 Augusta may seem out of the way and away from the action until you actually come here and experience the local action for yourself. Once you jump in the river, hit the trails, sample the specialty dishes and beverages, and discover locals' most cherished landmarks, you'll really see how special this town is. Augusta's downtown looks and feels like a real, working urban center. The Savannah River truly is the aquatic lifeblood of the region. The swamp abounds in natural beauty, and the forest is full of nature's finest adrenaline rush.
We're glad that you're here to discuss travel with us, and we hope we're giving you good ideas for your next trip. If you'd like more inspiration for your travel plans, go ahead and peruse our insiders' guides to the surprisingly fun Dutch Caribbean island of Bonaire, the best U.S. cities for foodies, our guide to Canada's "hidden gem" wine countries, our tips for surviving these turbulent times for air travel, and everything you need to know about the trendy Thai destination Chiang Mai. Wherever you go next, have fun and enjoy the journey.
Editors' Recommendations