With the city coming back to life, this is the perfect time to enjoy Chicago's vibrant art scene, diverse restaurants, and famed architecture. We've searched across the city to assemble a travel guide to the Windy City. Here is how you can make the most of your time in this lively city this summer while staying safe.
Related Guides
Where to Stay
In need of a getaway? A trip to Chicago can help feed your wanderlust. Explore these ideas for inspiration, then start planning your own Chicago experience. If it's your first time visiting Chicago, the travel from the airport to your chosen temporary home can take some time. That's why we've also taken into consideration the time and distance it takes to go from point A to point B.
Best Luxury: Thompson Chicago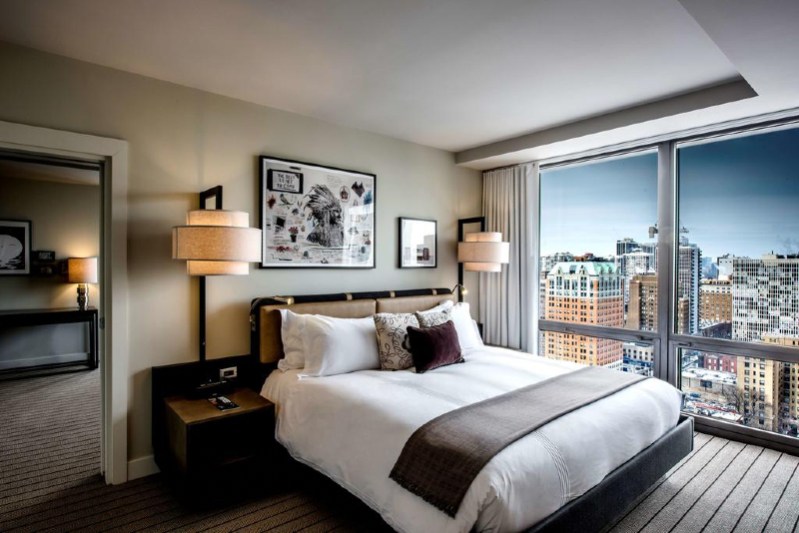 When in Chicago, Thompson Chicago is a sophisticated yet cool, timeless yet edgy, and energizing yet comforting place to be. This stylish boutique hotel has an urban industrial feel that starts in the lobby. The décor is filled with textures of leather, velvet, and flannel. The art and book collections are inspiring. The furnishings in the rooms mirror the hotel's public areas. Showpieces include indigo sofas and cabinets, whimsical contemporary art, and herringbone carpets. The bathrooms feature large walk-in rainfall showers, and many of the rooms have separate soaking tubs.
Time: 38 min by car from Chicago Midway Airport (MDW)
Distance: 14 miles from Chicago Midway Airport (MDW)
Best Budget: Hotel Julian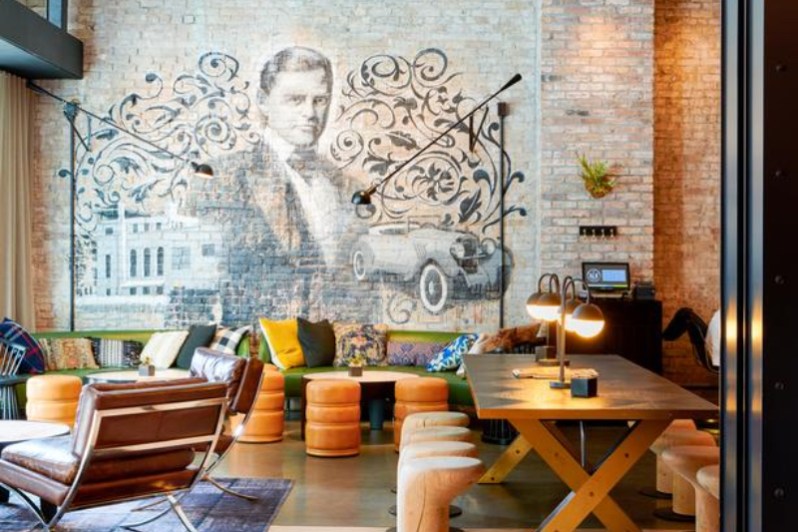 Hotel Julian, named for St. Julian, the patron saint of hospitality, provides a hip, modern hotel experience. Julian's classic Chicago architecture and spaces filled with natural light are inviting to any type of guest. Every room gives off major urban energy with high ceilings and sleek, trendy designs. The location of Hotel Julian is unmatched, as it places you steps away from Millennium Park, Navy Pier, Riverwalk, Monroe Harbor, and Grant Park.
Time: 34 min by car from Chicago Midway Airport (MDW)
Distance: 12 miles from Chicago Midway Airport (MDW)
Best Airbnb for Couples: Artist's Loft in The West Loop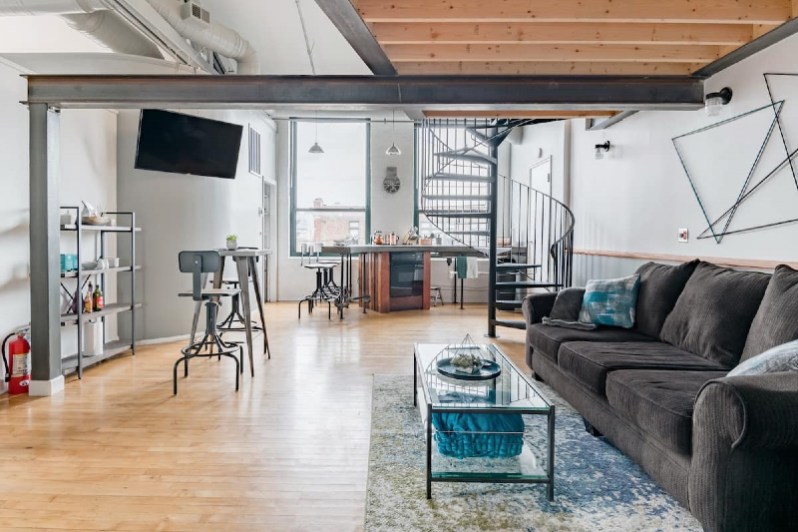 What better way to escape than by staying in an airy and bright artist's loft? The 1,250-square-foot industrial space flaunts exposed brick walls with ironwork elements. This custom-designed space has beautiful high ceilings with ample natural sunlight pouring in through the windows. This loft is definitely worth staying in when you make your Chicago trip a reality.
Time: 32 min by car from Chicago Midway Airport (MDW)
Distance: 13 miles from Chicago Midway Airport (MDW)
Book from $83 at Airbnb .
Best Splurge: The Langham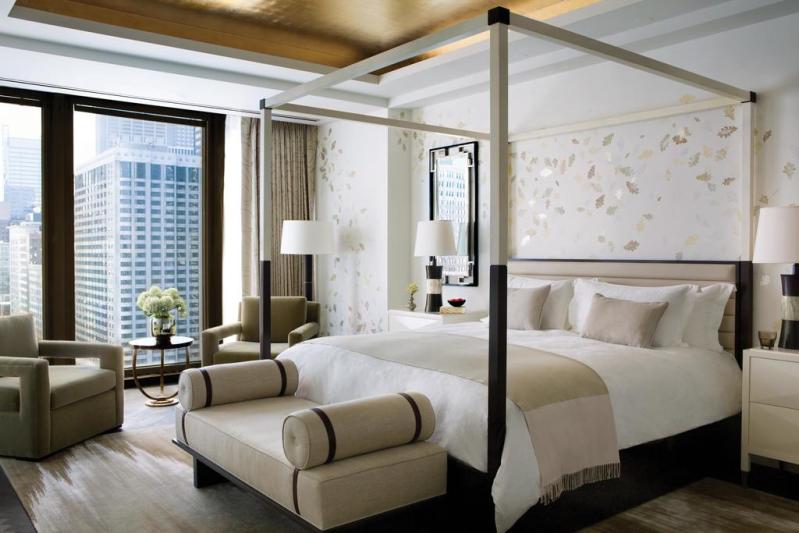 If you want your stay in Chicago to be an unforgettable one, you might as well go all out with your accommodations. The Langham is the place to be if you want a lavish haven that will give you the utmost comfort. The stylish and modern interior also makes it a picturesque hotel. Not only is it beautifully decorated, but it's also located near Michigan Avenue's Magnificent Mile. You can fully appreciate what downtown Chicago has to offer when you stay at The Langham.
Time: 38 min by car from Chicago Midway Airport (MDW)
Distance: 13 miles from Chicago Midway Airport (MDW)
Best Location: Chicago Athletic Association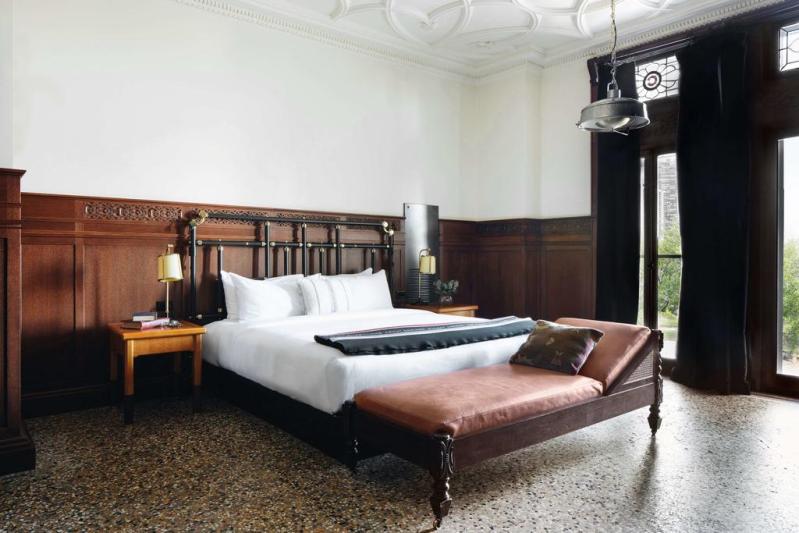 Situated in the heart of Chicago, the Chicago Athletic Association is the place to be. If you fancy a rooftop bar where you can see Millennium Park in its full glory, you should definitely consider this luxury hotel. You can also experience world-class dining and amenities. The rooms also have an elegant, vintage feel, where both modern technology and classic woodwork collide.
Time: 34 min by car from Chicago Midway Airport (MDW)
Distance: 12 miles from Chicago Midway Airport (MDW)
Best Modern: The Hoxton
Located in the heart of Chicago's bustling Fulton Market District with an abundance of art galleries, boutiques, and the city's best bars and eateries, The Hoxton is a hub for creatives and those that wish to see and be seen. Rooms are furnished with midcentury decor, modern bathrooms and floor-to-ceiling windows. If you're not truly taking a vacation, the hotel offers a variety of co-working spaces from library desks to daybeds. Throw the hotel's rooftop pool, Peruvian restaurant and live music cocktail bar in the mix, and you technically never need to step out.
Time: 29 min by car from Chicago Midway Airport (MDW)
Distance: 13 miles from Chicago Midway Airport (MDW)
Where to Eat
The unofficial capital of the Midwest's culinary grandeur should not be underestimated. This is your guide to a few of the best edible delights the city offers.
Aba
Aba offers Mediterranean-inspired bites like whipped feta, falafel, and warm, fluffy pita bread. Diners can also find larger dishes like short rib shakshuka and pan-roasted diver scallops with Turkish figs and black lentils on the menu. Don't skimp on the unique cocktails like 'cactus king' flavored with nosotros reposado, brovo pink, pink guava, honey, and soda.
Best for Brunch and Dinner
$$
Beatnik On the River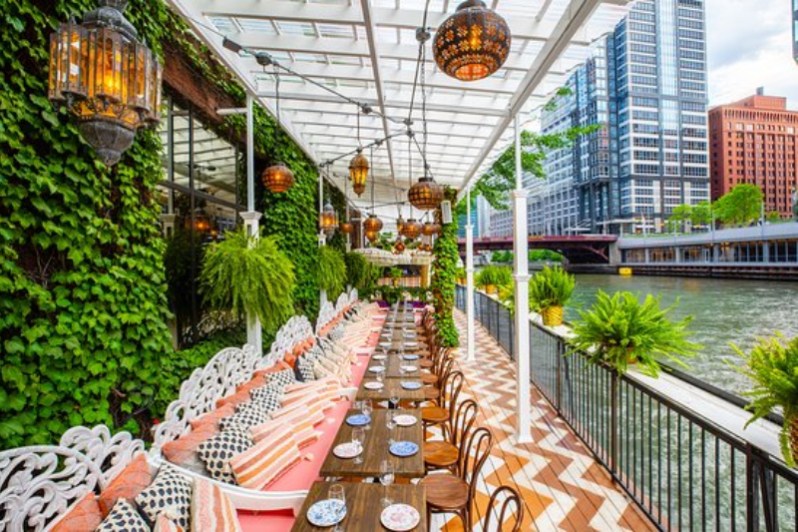 This boho-chic riverfront oasis makes you feel like you've been transported to an exotic destination. Beatnik On the River claims to have gotten its inspiration from the 1950s and 1960s. Dishes offered are from around the world. The colorful tile, ethnic daybeds, and fringe umbrellas make you want to lounge around all day.
Best for Brunch, Lunch and Dinner
$$
Etta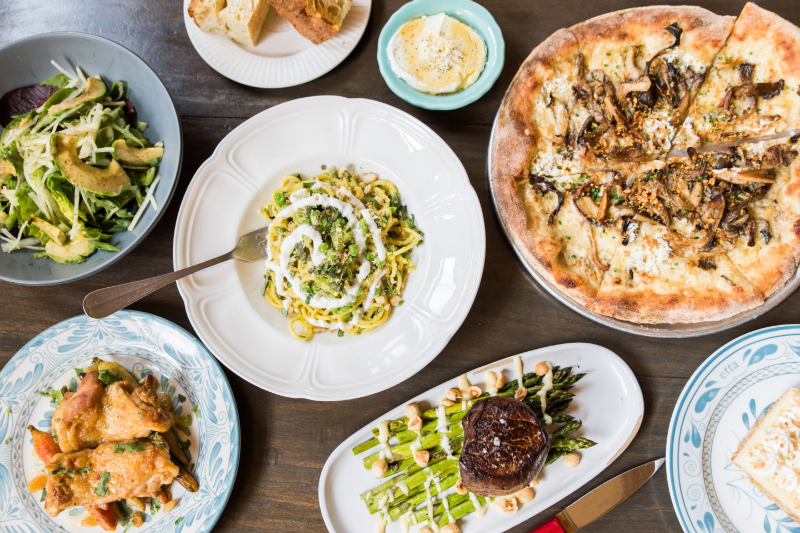 Dining at Etta may quite possibly be the best meal you will have in the city. Etta's menu exceeds diners' expectations. It would be a shame to experience Etta without ordering the fire-baked focaccia with ricotta, truffle and honey; the sweet corn agnolotti; and the summer corn and jimmy nardellos pizza.
Best for Brunch, Lunch, Happy Hour and Dinner
$$
What to Do
After a year indoors, fun still exists, we promise — you just have to look a little harder. Here are a few suggestions for things you should experience to make the most out of your Chicago trip.
Create-Your-Own Chicago Art Crawl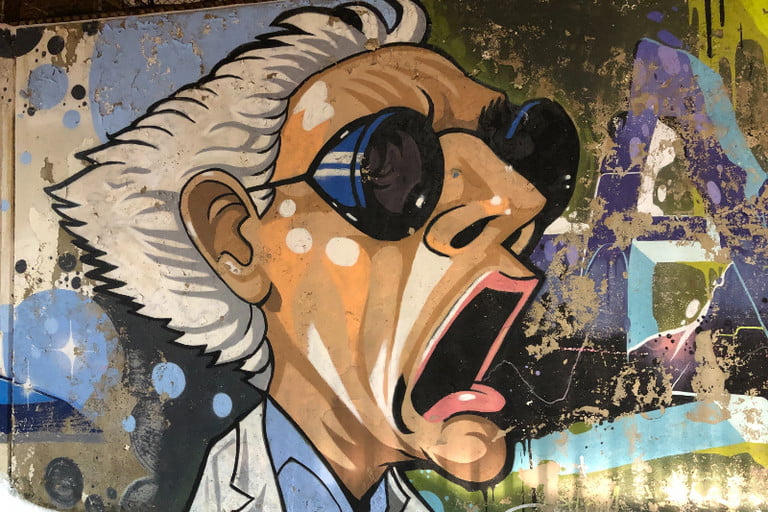 Chicago's street art scene will always be present and free to take in. Start your crawl in Pilsen, where there are numerous vibrant murals throughout the neighborhood and in alleys. Don't miss the Hector Duarte Studio. Make your way to Logan Square, then to Concord Music Hall, and take a photo in front of the Greetings From Chicago mural nearby. Finish your personal street art tour at Rogers Park, where there's a stretch of art along the Red Line wall path.
Vibe to Jazz by Candlelight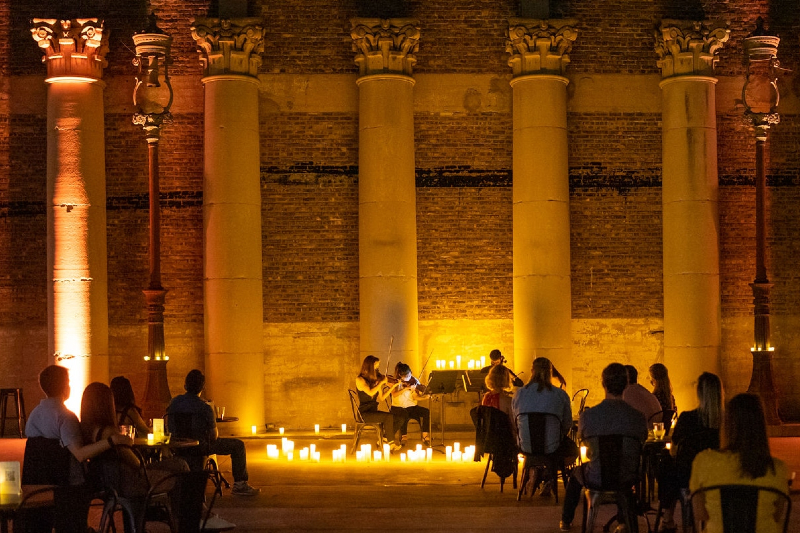 Experience being serenaded by talented jazz performances in an intimate ambience bathed in candlelight. Twice a month, Jazz by Candlelight transforms Chicago's most beautiful venues into intimate jazz clubs. Performers play tributes to iconic musicians in jazz, such as Ella Fitzgerald and Louis Armstrong. It's sure to be a romantic and awe-inspiring night of music.
Unplug in a Treehouse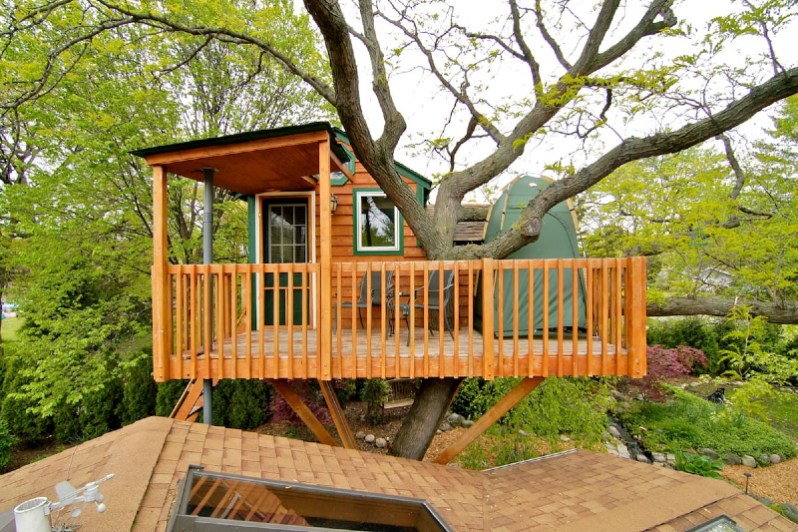 You won't have to drive far to get to an oasis; a half-hour, to be exact. The Enchanted Garden Treehouse in Schaumburg, Illinois, is the perfect outdoor escape during restless times like these. Besides being able to relax in the hot tub with a good book (or a drink), you can also lawn bowl in the yard or play tennis at the nearby tennis court. Snowshoe rentals are available at the nature center down the street. If you're really all about getting in touch with nature, the area offers amazing opportunities to birdwatch. With the fire table blazing and the moon and stars swirling overhead, this is the ultimate mini-getaway.
Cycle Your Way Through the City … on a Boat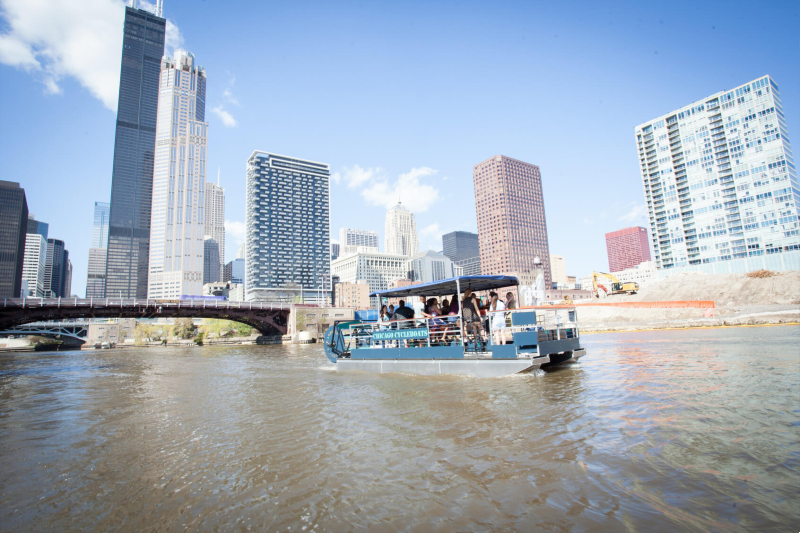 A fun way to explore the city is via Chicago's fist ever Cycleboat! Rides are 90 minutes long and take you along Chicago's scenic Riverwalk. Riders sit on bike seats at a table as they cycle at their own pace and passengers can sit or stand while they enjoy the view. Riders and cyclers can switch places at any time. The tour includes a Bluetooth sound system and coolers. Drinks are BYOB!
How to Save Money on Your Trip to Chicago
Experiences
From dinner cruises to visiting landmarks and museums, there is an abundance of options to choose from to make a memorable experience in Chicago. In fact, a bunch of unique activities is waiting for you once you visit the city such as kayaking down the Chicago river, doing skydiving, or even bathing in ancient baths. But with limited time and budget, it is essential to maximize your trip through careful planning. Luckily, there are apps available to help you with this one. Airbnb.com , for example, offers a wide variety of rental options at different price points.
Hotels
When traveling, the hotel or rental place you'll be staying at is probably one of the most important things to consider. Chicago is home to unique hotels that complement the city's cool vibe. So before you visit Windy City, check out Hotel Tonight, Airbnb.com , and Kayak.com , as they contain a plethora of impressive hotels that will surely fit your budget as well as your preferences.
Vehicle Rentals
There are a lot of unique activities and places to visit in Chicago that it is difficult to fit in a day or two, especially when you're taking public transportation. It eats a lot of time and burns some cash. If your budget is limited but still want to experience the beauty of Chicago, we suggest renting a vehicle both for convenience and practicality. Kayak.com is the best website to check out for rental cars as they have options that will not only fit your needs but also keeps you on your budget.
Editors' Recommendations