When you think about the many great food cities of planet earth, certain ones jump to mind. Places like New York, Paris, Barcelona, and Buenos Aires certainly make the grade. But what of Chicago, one of our country's largest cities?
There's plenty to enjoy on your plate in the Windy City and we don't just mean Deep Dish. Like NYC and Los Angeles, Chicago is home to some of the best restaurants in America. You can get it all here, from a sublime pasta dish to some incredible Mexican cuisine. Our third-largest metropolis should be on your radar, especially if you like to travel by letting your stomach lead.
Here are the best restaurants in Chicago, in no particular order.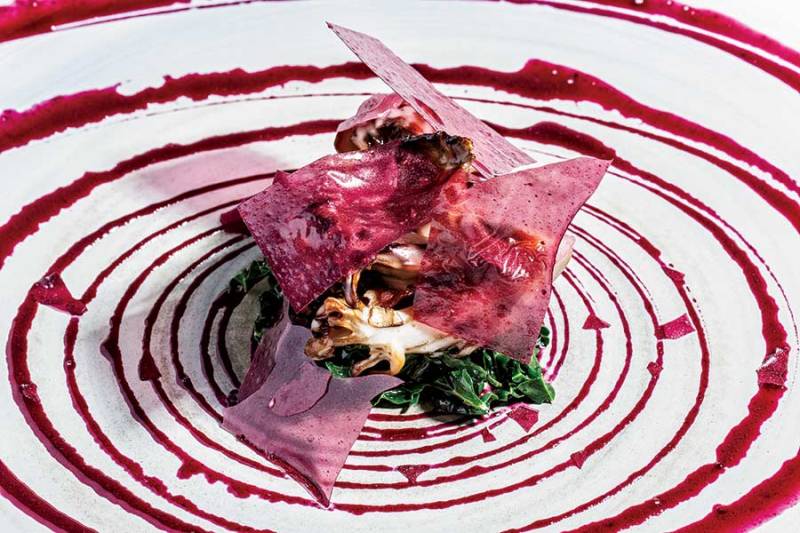 1. Alinea
It's hard to have a fine dining conversation about Chicago without dropping the Alinea name. The Lincoln Park restaurant was first awarded three Michelin stars back in 2010, and it remains the only restaurant in town with such a decoration.
This is modernist, experiential dining at its best, with three options offered: The Kitchen Table, The Salon, and The Gallery. Diners settle in and are treated to gorgeous works of art, often dabbling in molecular gastronomy. The name translates to "off the line," which pretty much sums up its incredibly unique and unconventional approach to dining.
2. Le Select
French brasserie Le Select is a stunning spot, home to one of the most elegant interiors in all of restaurant land. The food is orchestrated by chef Daniel Rose and delivers hit after hit, from Duck Breast a L'Orange and Saint-Jacques au Curry to Poulet Roti. The classic French dishes are deeply satisfying, matched only by the restaurant's incredible consistency and stellar service. And it's home to one of the most beautiful bars in America as well.
3. Kumiko
Located in the West Loop, Kumiko is a Japanese dining bar, meaning there's an equal reverence here for dish and liquid. That means excellent pairing options and crafty bar food, like Japanese potato salad, caviar, or seared mackerel with leak and apple miso and brown butter ponzu. There are great sake selections and incredible cocktails stressing Japanese ingredients, and the overall feel is that of a high-end izakaya, one you'll never want to leave.
4. Taqueria Chingón
This Bucktown restaurant is very authentic, a culinary trip deep into Mexico. It's built around Al Pastor, one of the stars of Mexico City street food. That means some of the best tacos around, from Yucatan-style barbecued pork to chorizo and even duck carnitas. The specials are not to be overlooked, ranging from the heavenly wagyu brisket to tempura shrimp tacos. Taqueria Chingón may be more than 2,000 miles north of Mexico's capital, but you'd never know it dining here.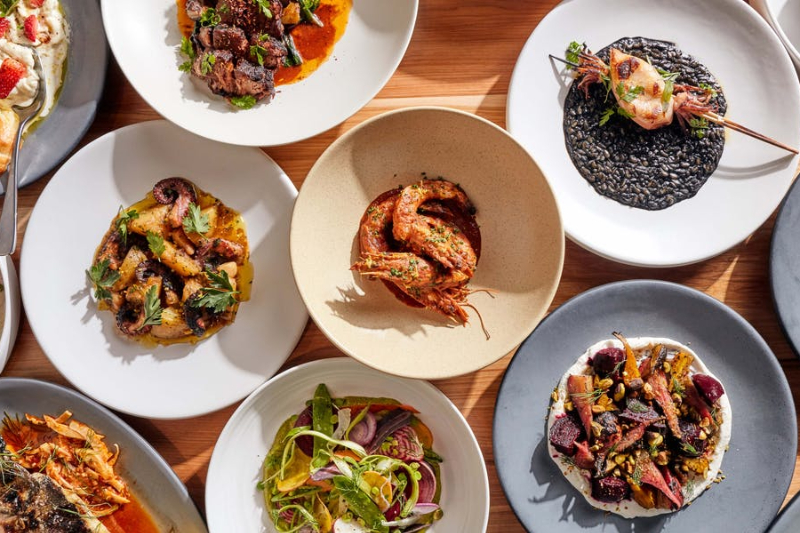 5. Rose Mary
Top Chef winner, Joe Flamm created a masterpiece when he created Rose Mary. The food is mostly Croatian, but many dishes have Italian influences. From great service to the considerate coursing (only dishes that complement each other arrive at the same time), you'll be frustrated that you don't have room to try everything on the menu. Check out the seasonal stracciatella, the coal-roasted beets, and the "peka style" octopus. There's even squid ink risotto and house-made pistachio gelato.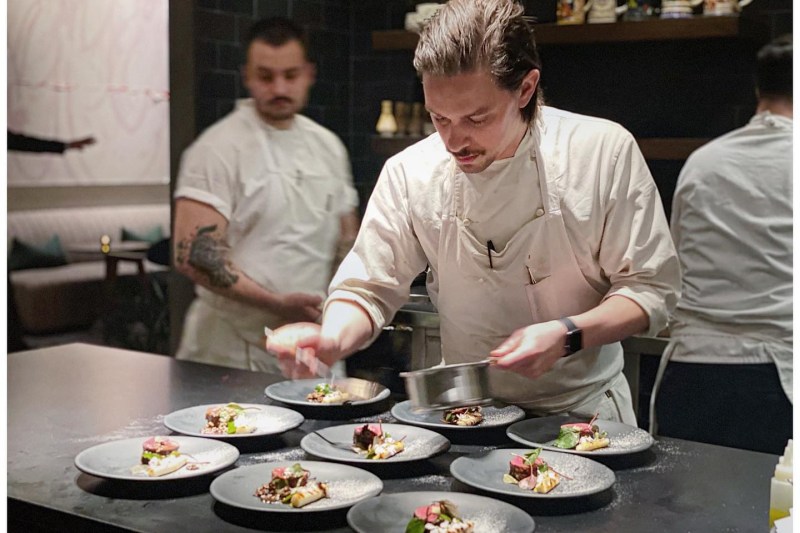 6. Oriole
Oriole launched in 2016 and has since become one of the city's best, beloved for its contemporary American cuisine. The beverage program is stellar, from the cocktails by Julia Momose to the well-curated pairings of either sake or wine (mixed and matched depending on what's for dinner).
This is the kind of place where you're just a passenger, at the whim of a talented culinary team that loves to impress. Which is no problem given that it has a pair of Michelin stars. The food is a mix of surf and turf plated with real style and grace. Buckle up and enjoy the journey.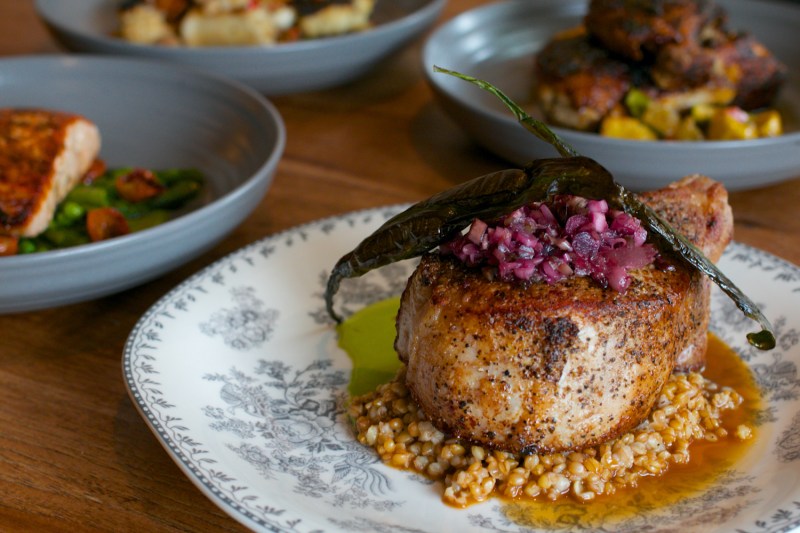 7. Virtue
This Hyde Park spot is all about southern cooking, with an open kitchen that just lures you in. Think chicken liver toast, mac and cheese, shrimp and crawfish, and short rib, all made to perfection. While the food and service are laid back, that's taking nothing away from the beaming quality on display. These are dishes deserving of white table cloth praise, but best enjoyed as they have been for generations, shared by the table with smiles all around. Virtue has nailed the many fine staples of the kitchen of the American South.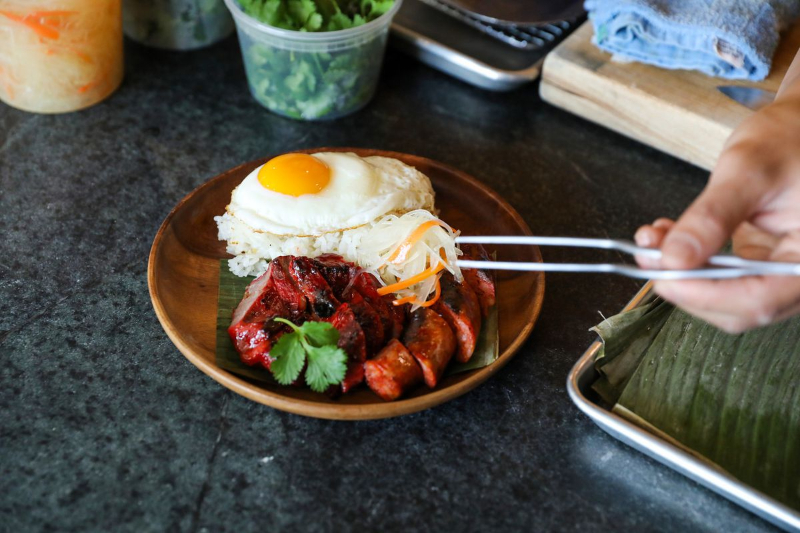 8. Kasama
Kasama, a Filipino restaurant in East Ukrainian Village, is a superb go-to spot for anything from pastries to meats. We love the barbecue platter, with perfectly made ribs and longanisa, or Filipino sweet sausage. Check out the Chicken Adobo, served with pickled papaya and garlic rice or the pork-filled lumpia, hit with sweet chili sauce. Save room for some of the best cheesecake ever, no joke. The dishes all click and seem in sync, which should perhaps be expected from a husband-and-wife chef team (with a Michelin star to their name, no less).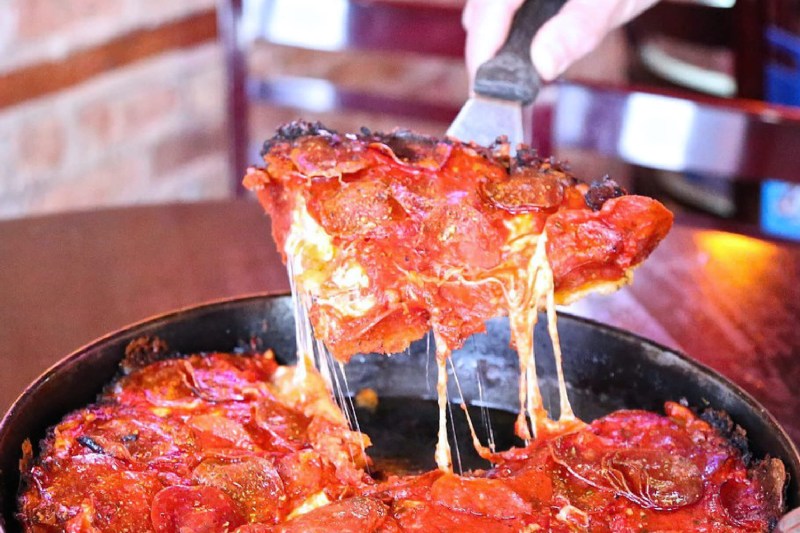 9. Pequod's Pizza
It would probably be criminal not to include a pizzeria. Pequod's Pizza stands the test of time, an institution that got its start back in 1970. This is Deep Dish in all its glory, in the city that made it famous. The caramelized crust is the work of the gods, something you'll try to replicate at home but will never quite get right. Sure, you can go the Goldbelly route now with this award-winning restaurant, but we suggest going straight to the source. Yeah, you can get salads and pasta dinners here, but stick with the pizza and see why it's so beloved.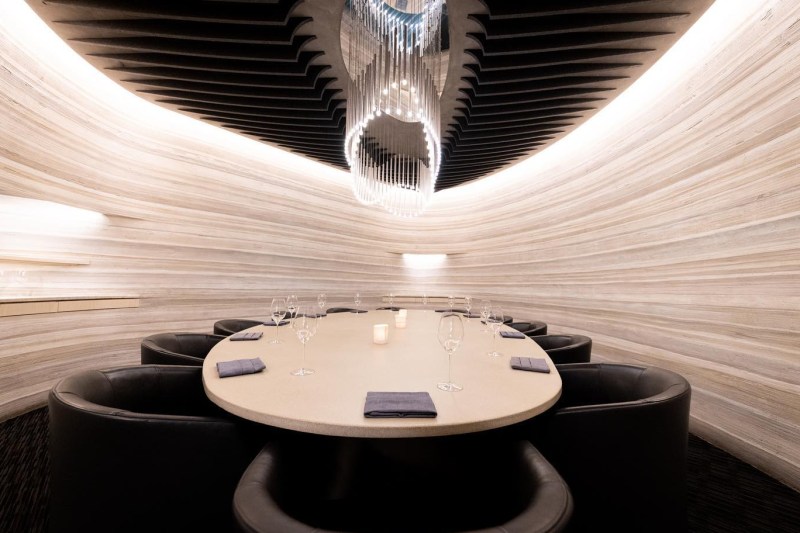 10. Ever
This Chicago restaurant is like the second coming of Grace, the only other Chicago restaurant to have earned three Michelin stars (which closed in 2017). Curtis Duffy's joint offers about the most refined experience you can imagine, to the tune of 8 to 10 courses made with a broad spectrum of seasonally appropriate ingredients. Ever is full of dynamic, thought-provoking dishes executed wonderfully and delivered in such a way as to win all the presentation points available.
Hungry? Us too. If you haven't been to Chi-Town or it's been a long time, think about a return trip. The Chicago dining scene is special, so show up hungry and consider extending your stay.
Editors' Recommendations