In the last few years, it seems the major airlines and TSA are collectively hell-bent on making commercial air travel as awful as humanly possible. Unfortunately, for most mortal men, private flying is well out of reach. But, one San Francisco-based startup is angling to change that.
Blackbird Air is a new on-demand smartphone app designed to make affordable private and semi-private air travel accessible to everyone. Once you've created a free account, the three-step booking process is remarkably simple. Users pick a destination, select a date and time, then choose any optional add-ons (like flying with a pet or how much luggage you'll be bringing), and receive their tickets instantly.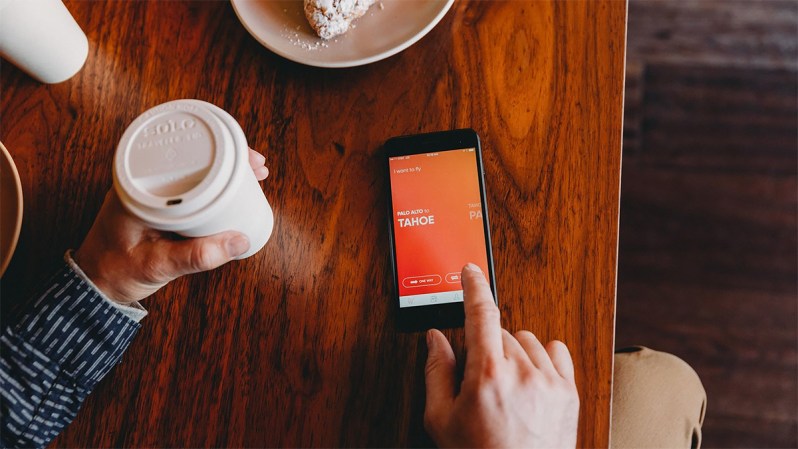 The app's three-tiered ticketing options add a great deal of versatility to the process. Scheduled flights are the company's cheapest option, allowing users to (wait for it …) book air travel for specific routes on pre-scheduled dates and times. Blackbird Pool is an on-demand option that allows flyers to "crowdsource" their own flights. Essentially, they pick a date and time during which no flight currently exists. If the app finds enough additional Blackbird users, the flight is automatically scheduled. The beauty of this option is that you only pay if sufficient flyers are found to make the trip viable. The company's flagship option, Blackbird Select is also its most expensive. It allows travelers to charter an entire small plane for private service to just about anywhere. Available aircraft include everything from a tiny, 4-passenger Cirrus SR-22 prop plane to a DMC-2 Beaver seaplane (seats 5) to a beautiful, 30-seat Embraer ERJ-135 jet.
Overall, Blackbird's pricing is often more expensive than flying a comparable route on a commercial flight. But, the additional cost is lower than you might expect. When you factor in how much your time costs — between arriving at the airport hours ahead of time, clearing TSA, collecting your bags (hopefully) on the other end, and finding transportation out of the major city where your destination airport is likely to be located — the convenience seems well worth the money.
The app is now available for download for both iPhone and Android. Regional service is available between select U.S. cities with one-way rates starting around $124 USD (Sausalito to Tahoe City). Having just raised $2.5 million in funding in mid-2017, it's clear that enough backers believe in the company that it should expand very, very quickly, however.
Editors' Recommendations