Mountain biking comes with a set of rules for the trail. Well, "rules" is too strong of a word—etiquette is more appropriate.
While those guidelines focus on how mountain bikers should interact with other trail users, there is another set of rules within mountain biking culture. Some unspoken rules are mainly for fun; others are more serious.
So, to be invited back to the next group ride, you should heed these warnings.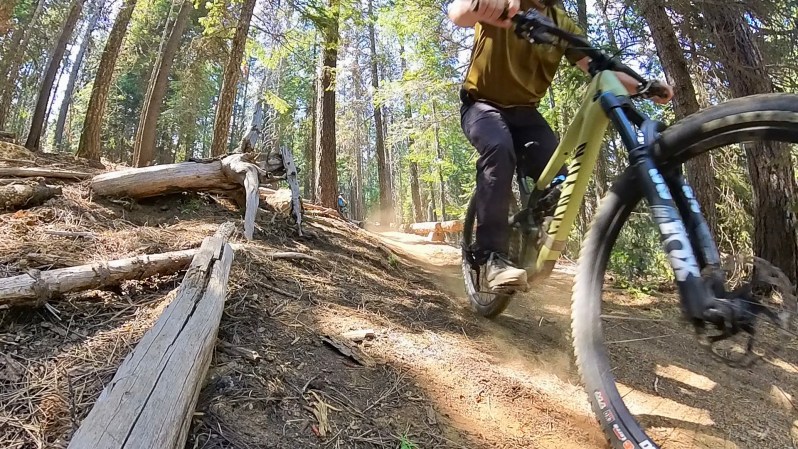 Unsanctioned mountain biking trails are serious business
Perhaps the biggest "no-no" in mountain biking is to disclose the location of unsanctioned trails. Disclosing secret trails is a surefire way to not only get uninvited back out to that trail, but you will probably also get the friend in trouble who invited you.
Unsanctioned trails are illegal mountain biking trails. There are many reasons why mountain bikers may illegally build trails. The trails in their area may be too dull. Maybe they don't have enough features, like jumps or drops. Or perhaps there just aren't any trails at all.
Whatever the reason is, trail builders take to the forest and start sculpting their dream trail. Since these trails are illegal, they can be demolished anytime, meaning months of work go down the drain.
This is why word of these mountain biking trails is often so hushed. Unless you stumble upon one, the only way to ride an unsanctioned trail is usually by invite.
If invited, that means the trail builders have a certain amount of trust in you. Leave your action cameras at home, don't drop any pins, and keep pictures off social media.
Don't mix mountain biking tire brands
Mountain biking tires come in all shapes and sizes—actually, only one shape. Lots of sizes, though.
Amongst that mountain biking tire variety is quite the assortment of different tire brands. Some have sworn their allegiance to one brand or the other, but, for the most part, mountain bike tires are all pretty good.
However, an unspoken mountain biking rule regarding tires is not to mix and match brands. In other words, don't have "Brand A" for your front and "Brand B" for your rear tires.
Why is this? There is something to say about particular tires working better with others. Many mountain bikers prefer different tires front and rear: more aggressive in the front, faster rolling in the rear. Different tires within the same brand are made to work together. That may be different with mixing brands.
Ultimately, it comes down to a style point. Most mountain bikers think mixing tire brands looks silly. You can expect to hear about it if you roll up with two different brand tires.
Mountain biking up, when most go down
Mountain biking etiquette indeed says that when on two-way trails, riders descending should yield the right of way for riders climbing. This is common knowledge for mountain bikers, but many argue it shouldn't always be followed.
At nearly every mountain biking trailhead, there are (technically) two-way trails primarily ridden in one direction: down. And when I say mostly, I'm talking about 99% of people.
The unspoken rule isn't that you can't pedal up these trails, but perhaps you shouldn't. Ultimately, it is unsafe. Riders usually don't expect others to come up when 99% go down. So, be watching, be listening, and be ready to pull over, which is counterintuitive to "regular" trail etiquette.
If climbing fire roads isn't appealing to you, and you must climb up a trail, go when the trails aren't busy, like a weekday morning.
Bottom line: use common sense. If the trailhead is full of cars, it may be a good day to go the same way as the masses.
Editors' Recommendations