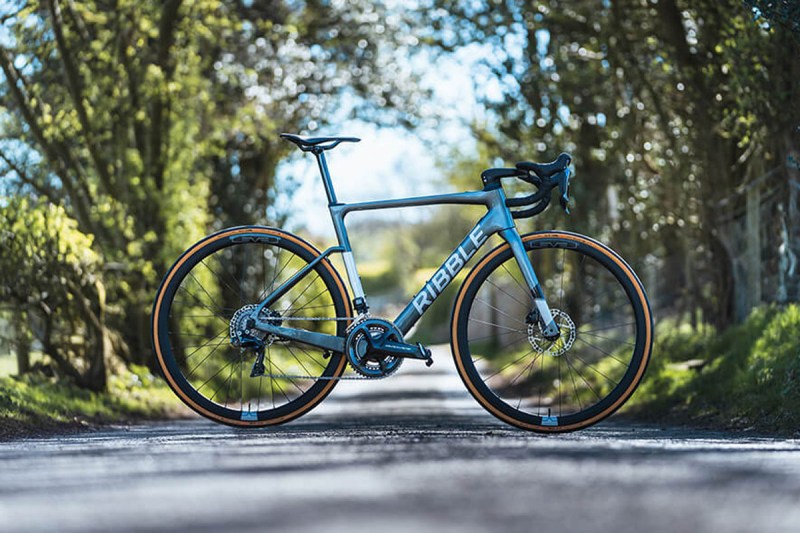 E-bikes can be a ton of fun, providing an extra assist or outright push when your legs are beat. But anyone who's ever ridden one will tell you that they weigh nearly as much as a car, thanks in part to big, bulky batteries that provide little in the way of innovation, and antiquated materials that, while resilient, might as well be concrete. Well, U.K.-based Ribble Cycles may have cracked the code with its new Endurance SL e – Hero, the lightest e-bike in production. Total weight? Just over 23 pounds.
While not exactly reinventing the wheel, the secret of the Endurance is its carbon frame, wheels, and integrated handlebars, which drop pounds off when compared to metal components traditionally used on e-bikes. Rather than approach its bike from a commuter perspective, this bike is much more in line with some of the lightest, fastest road bikes in the traditional space. While your fellow racers might sniff out your extra advantage, this bike is more at home on the crit course than it is on the way to the grocery store.
Related Guides
Ribble further emphasizes this performance category with its bike's components. The addition of a Shimano Dura Ace Di2 R9150 electric derailleur provides precise, one-touch shifting that many in the racing space have come to prefer. Granted, it's a modern amenity that many may approach with a healthy amount of skepticism — after all, mechanical shifters have been used for decades, and no one seemed to mind — but the reliability of these electro-dependent shifters quickly converts doubters. The package also includes a Fizik premium saddle and Schwalbe PRO ONE TT Evo Super Race tires.
Of course, there's the battery itself, which, on many e-bikes, seems sloppily glued to the frame almost as an afterthought. But you don't incorporate this many carbon fiber pieces into a bike and not put serious thought into battery placement. Its Panasonic 250-watt power source slips discreetly inside the down tube and provides up to 60 miles of assistance over variable terrain. Stone dead, it recharges in less than four hours, opening up bike commutes to those who otherwise believed the suburbs were too far to a city office. Access it via a sleek button on the top tube which not only adjusts its assist but also displays the total charge remaining.
For those traveling even farther (or who don't want to be worried about charging their bike while at work), the company also sells a range extender, which screws into the holes normally used for a water bottle cage. With this addition, it claims that the total range is extended by 70%.
But bottom line, what does the newest, lightest e-bike on the market cost? Well, it ain't cheap. While in the U.K. there are many "cycle to work schemes" that might offset some or all of this bike's price tag, in the U.S., unless you have a killer arrangement with your company, you're going to be paying quite a bit. Packages start at $8,227.33 and only go up from there. There's also the fact that at the time of this writing, Ribble doesn't have a U.S. distributor, and therefore you'll need to import the machine across the pond through the company itself. But where there's a will, there's a way, and if you're the type who looks at a 60-mile one-way commute as just another day to the office, then you won't mind navigating international shipping.
Editors' Recommendations