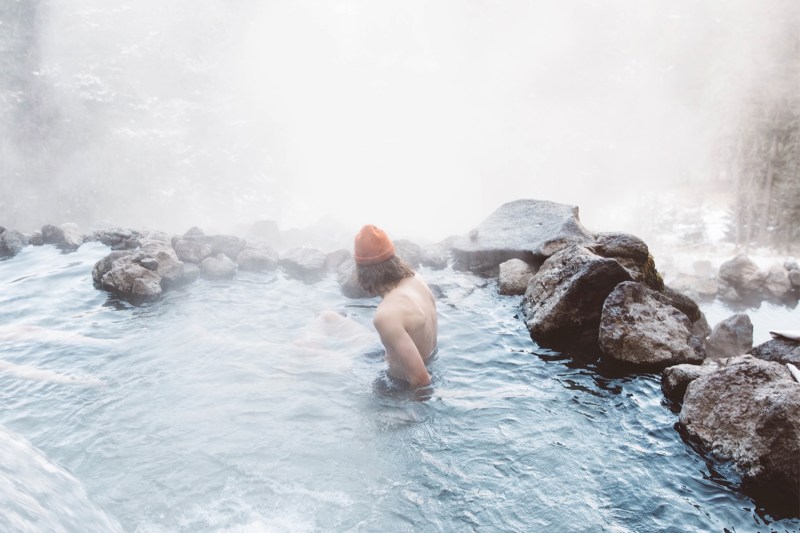 A hot spring is an exposed pool of water heated either by geothermal energy stored in the earth's mantle or by volcanic activity nearby. Many natural hot springs are far too warm for contact with your body and some are home to dangerous microorganisms that can cause harmful or even deadly infections. It's a good idea to trust the experts when planning your natural hot spring hike.
States with the Best Hot Springs
When you think of natural hot springs, you likely picture a deep blue pool surrounded by the rugged Icelandic countryside or a Japanese snow monkey immersed in the warm waters of a Nagano spring. In fact, America is home to 1,161 known thermal springs, and thanks to research conducted by CarRentals, you can now easily find your way to 71 of those.
Well, maybe not too easily — while many of the hot springs contained in the report are easily accessed via vehicle, others require hiking. Sidebar: many do not require clothing.
CarRentals' handy guide features five hot springs in Arizona, 14 in California, seven in Colorado, 12 in Idaho, 12 in Nevada, nine in Oregon, five in Utah, and six in Washington. They produced a helpful infographic that shows which springs are accessible by car and which require trekking on foot, which require a permit or fee, and which are clothing optional. "We weren't just referring to the type of spring when we said 'au naturel,'" CarRentals jokes.
As a heads up, all Arizona and Washington State hot springs listed welcome bathers in the buff. In Utah? Bathing suits required across the board. Each of the other states is a mix.
If the winter chill has you avoiding the trails, maybe a warm dip at the hike's end will entice? And even in summer, a good hot soak can soothe tired muscles after that vigorous trek. So grab your pack and a bathing suit (or not) and hit up some of the most easily accessible natural hot springs dotting the United States.
If you'd rather enjoy cooler water, check out the best natural swimming holes in the U.S. Swimming abroad? Here are the best hot springs around the world, according to The Manual crew.
Editors' Recommendations