The weather is cooler. The nights are longer. The tree leaves are starting to change colors. Finally, fall is here. And now, we have to think about where to go to find the best fall foliage.
Whether you need a quick weekend getaway, a nice change of scenery as you "work from home", or another good reason to travel for great fall foliage, we have you covered. As we enter into a new season, let's discover some new ideas for fall travel. Come for the colorful fall foliage, and stay for the stunning mountain views, the friendly locals, various pleasant surprises, and a whole lot of good vibes.
It's OK to not want to chase the "endless summer"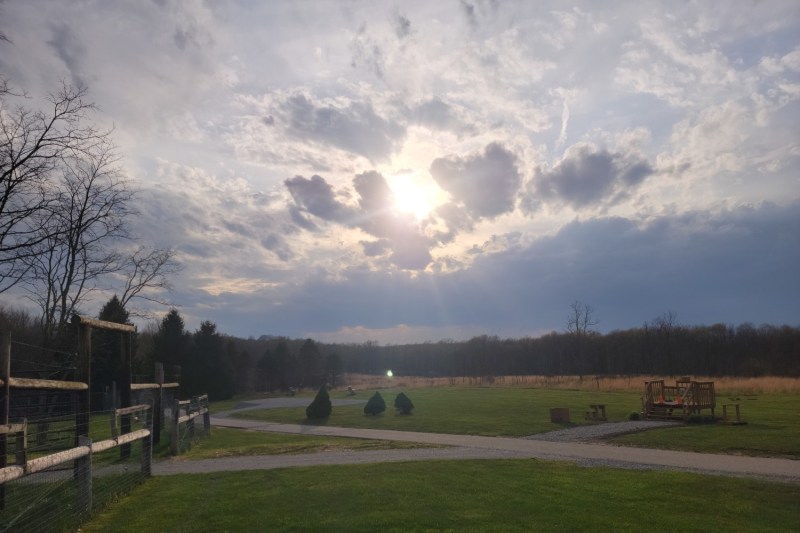 Summer may finally be concluding, but some of our friends still don't seem ready yet to ditch the board shorts, Hawaiian shirts, and hot beach vacations. If that's what they need to feel better, more power to them. But for us, we're ready to change it up. We're ready to embrace the crisper days, the cooler nights, the warmer sweaters and jackets, and the beautiful fall foliage outside.
So where can we go to experience the best that autumn has to offer? While you can find plenty of gorgeous fall foliage across the U.S., we've put together this shortlist of our favorite mountain destinations with phenomenal fall foliage. And to make your trip planning even easier, we're also cluing you in on the best time to catch peak fall foliage — or when you can find the most vibrant leaf colors before these leaves fall off the trees.
The Berkshires, Massachusetts
Forecast Peak Fall Foliage: First Week of October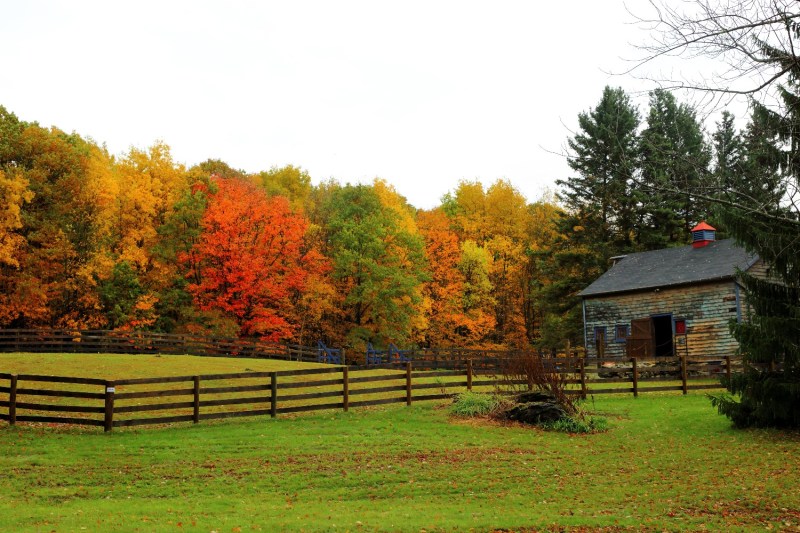 Though other parts of New England may garner more attention for their fall foliage, it's a huge mistake to sleep on the Berkshires. No matter how you prefer to experience it — while hiking, canoeing, ziplining, or simply driving — the Berkshires offer plenty of opportunities for you to enjoy the best of autumn.
For great hiking, try the Ashuwillticook Rail Trail — a former set of train tracks that got converted into a ten-foot-wide trail — for a scenic 12.7-mile journey through the towns of Chesire, Lanesborough, and Adams. If you prefer to paddle your way to beautiful fall colors, check with Berkshire Canoe Tours and Onota Boat Livery on boat rentals.
Laurel Highlands, Pennsylvania
Forecast Peak Fall Foliage: Fourth Week of October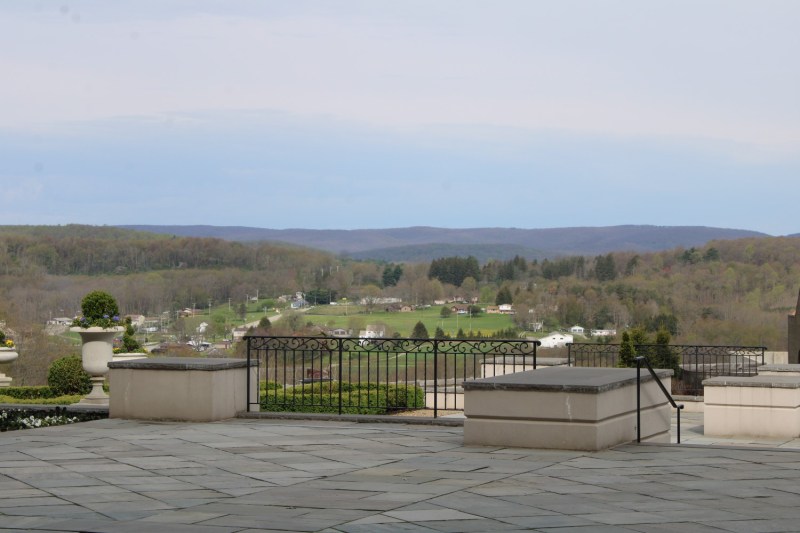 While this chunk of the Appalachians may feel so far removed from big city life, Pennsylvania's Laurel Highlands are surprisingly easy to reach from New York City, Washington D.C., and other major Northeastern urban regions. Even better, the Laurel Highlands has an abundant wealth of natural beauty for you to take in. From the spectacular waterfalls at Ohiopyle State Park to the simple serenity at Beam Rocks in Forbes State Forest, you should have no trouble finding amazing fall foliage to share with your friends on Instagram and TikTok… Or enjoy all by yourself.
While the Laurel Highlands has a wide variety of accommodations to suit all tastes, we particularly enjoy the whimsical elegance of Nemacolin in Farmington. This resort close to many of Southwestern Pennsylvania's top attractions, yet it has so much to offer on its resort grounds that it's very easy to spend an entire weekend relaxing on-premises.
Blue Ridge Mountains, North Carolina/Georgia
Forecast Peak Fall Foliage: First to Third Weeks of October (Depending on Elevation)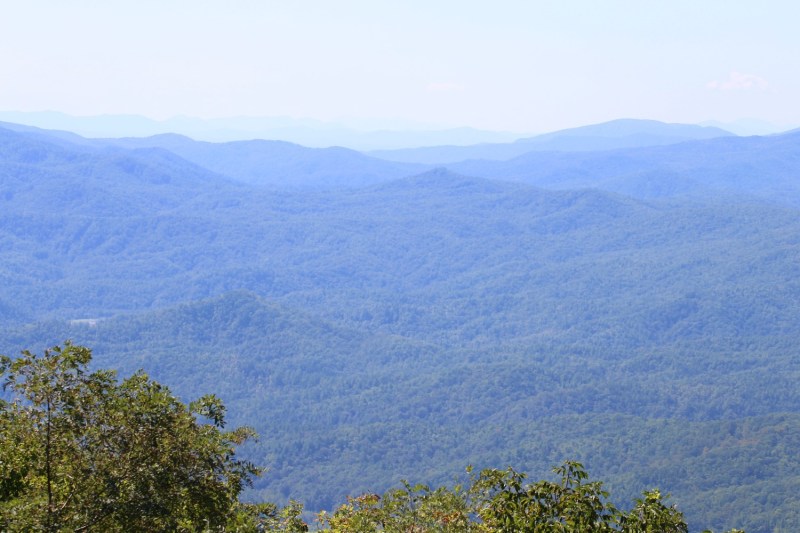 Heading down south, it's hard to talk about fall foliage without mentioning the Blue Ridge Mountains — or the southern stretch of the Appalachians. If you're coming up from Charlotte, Asheville and Boone make for great basecamps to drive the famed Blue Ridge Parkway and discover an abundance of hiking trails to get up close and personal with some amazing autumn scenery. If you're coming up from Atlanta, Fannin County (Georgia) offers 300 miles of hiking trails, 100 miles of trout streams, and plenty of great lodging options for you to choose from.
While there are plenty of cities and towns for you to stop and recharge after a long day of exploring, it's hard not to love the quirky charm of Asheville. With some of the East Coast's tallest mountains nearby, Asheville offers stunning fall colors alongside prime opportunities to spot Monarch Butterflies as they migrate to Mexico, pick the freshest apples, and explore the city's vibrant downtown.
Wisconsin Dells
Forecast Peak Fall Foliage: Second Week of October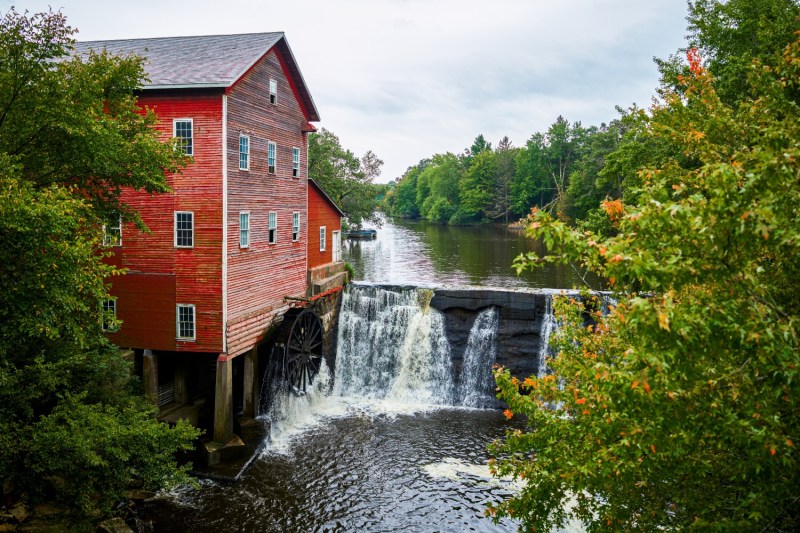 This may not be a mountain area, but we're including it here because it's a great spot for maximum autumnal beauty. Less than 60 miles north of Madison, the Wisconsin Dells are a long-time favorite destination for "in the know" travelers who love the surprising beauty of the glacial-formed gorge with sandstone rock formations dotted along the banks of the Wisconsin River. Though "The Dells" tend to attract the most visitors during summer, it's never a mistake to visit during autumn, when the fall foliage truly dazzles.
For some of the best fall foliage views, try Mirror Lake State Park for the remarkable combination of sandstone bluffs, tranquil waters, and vibrant fall colors. If you prefer to stay in town, the Wisconsin Dells Scenic River Walk offers prime views of the Wisconsin River, the bluffs, and plenty of deciduous trees experiencing their seasonal metamorphosis.
Taos, New Mexico
Forecast Peak Fall Foliage: First Week of October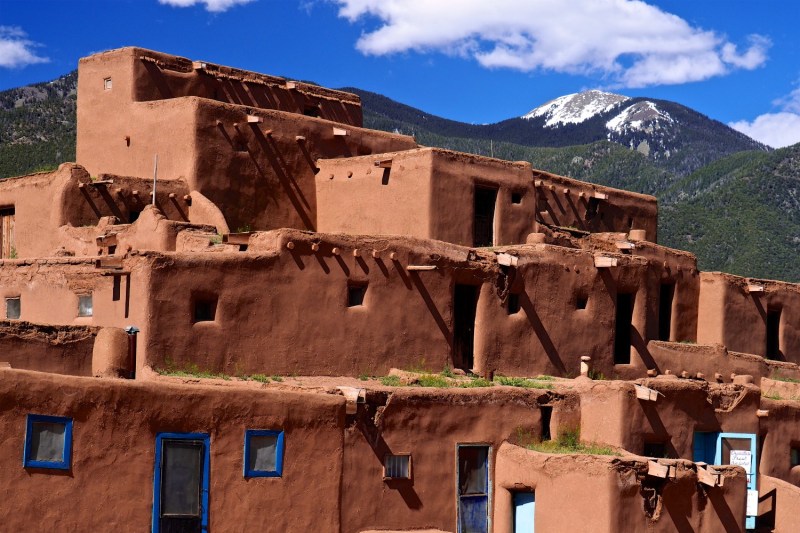 While Taos feels like the ultimate escape into the southern Rocky Mountains, Taos Air now offers nonstop public charter flights from Dallas, Austin, Los Angeles, and Carlsbad/San Diego, which makes getting here easier than ever before. Upon arrival, take your pick of three amazing routes — the High Road to Taos Scenic Byway, the Enchanted Circle Scenic Byway, and U.S. Highway 64 between Taos the village of Chama — to discover the Land of Enchantment's finest fall foliage.
If you want to stay in the epicenter of New Mexico's fall foliage action, you might want to check out the inns and lodges near the Red River Ski Area. If you have more time to explore the region, take a ride on the Cumbres & Toltec Scenic Railroad from Chama to Southern Colorado for the ultimate explosion of high-altitude fall colors.
Columbia River Gorge, Washington/Oregon
Forecast Peak Fall Foliage: Second Week of October
Starting just 30 miles east of Portland, the Columbia River Gorge offers some remarkably scenic fall foliage in true Pacific Northwest style. If you like waterfalls with your autumnal colors, you will be delighted by the Gorge's many waterfalls, such as Multnomah Falls and Beacon Rock (Washington) State Park. In addition, you can discover some amazing Native American pictographs and petroglyphs at Columbia Hills (Washington) State Park, and the Hood River Fruit Loop for tasty farm-fresh treats and jaw-dropping views of Mount Hood.
If you're in need of rest and refreshment after a long day of exploring, pop over to the town of Hood River for some award-winning wines at Cathedral Ridge Winery, fantastic restaurants like Pine Street Bakery, Celilo, and The Ruins, and comfortably posh accommodations at Columbia Gorge Hotel and Spa. If you're still in need of more thrills (and fall foliage), Portland's always a short drive away.
San Bernardino Mountains, California
Forecast Peak Fall Foliage: Third and Fourth Weeks of October (Depending on Elevation)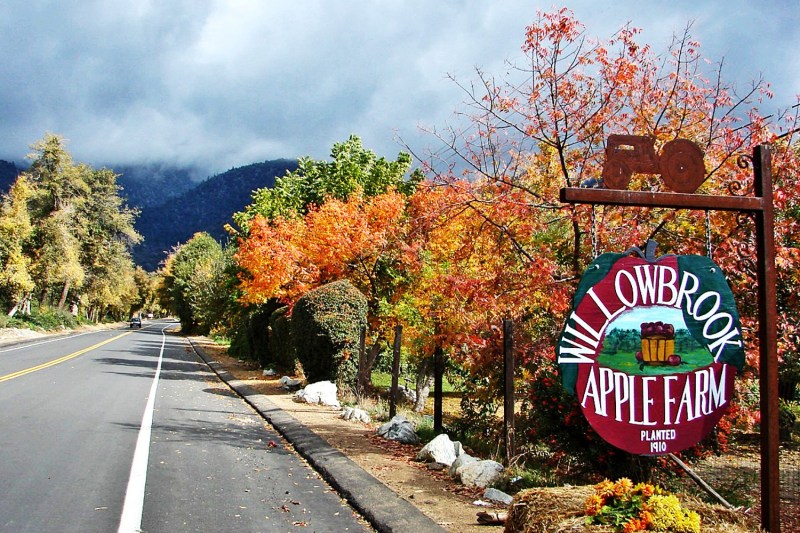 Amazing fall foliage… in Southern California?! Yes, it actually happens every autumn. While the low deserts and coastal areas usually have to wait until November for peak fall foliage, those who want the full palette of autumn sooner can head up to the mountains for autumn's full send up to a month early. While SoCal has multiple options for mountain-top fall foliage, we're particularly partial to the amazing sights of the San Bernardino Mountains.
Higher up, you can spot some gorgeous trees and scenery near Big Bear Lake along the Pine Knot Trail, the Castle Rock Trail, and the Aspen Grove Trail. If you want to time your trip closer to Halloween, you probably stand a better chance of finding peak fall foliage at the somewhat lower-elevation Lake Arrowhead and Lake Gregory. If you want to stay close to all this majestic fall foliage, the towns of Crestline, Lake Arrowhead, and Big Bear Lake tend to have the most lodging options.
Some closing thoughts
At first, the arrival of autumn might feel like a bummer because summer's over, deciduous trees' leaves start to fall off, and the weather starts to turn cold. But when we think about it, we need autumn. We need the old leaves to go in order for new leaves to grow next spring. We need the fall harvest season to gather all the ripened produce and grains. And really, we need to cool off after the hot summer and enjoy all the crisp shades of yellow, gold, orange, and red outside.
We hope you've appreciated our journey together, and we hope you now feel better about planning some awesome trips this fall. If you can use some more help in developing your travel plans, check out our handy list of top U.S. road trip destinations, our Las Vegas travel guide, our Iceland travel guide, and the eight best neighborhoods to stay in Barcelona. Now that we talked about all of this, it's time to head out and get back to traveling.
The cover photo was taken by Don Graham, licensed under Creative Commons, and made available by Flickr.
Editors' Recommendations