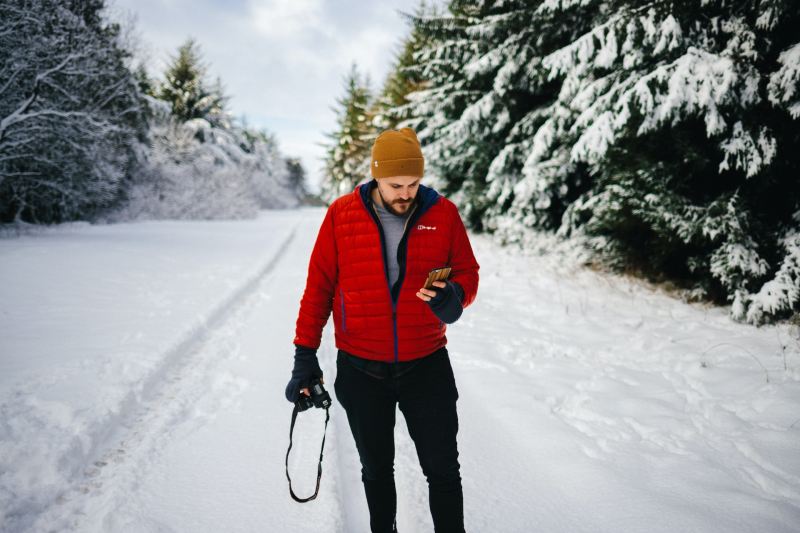 Camping in the winter is a great way to avoid the crowds. That said, one of the biggest differences between summer and winter camping is the temperature. Not only do you have to keep yourself warm, but there's also the added challenge of plummeting phone batteries.
Why do phones die in the cold?
Our trusty smartphones are essential to our safety when out camping, but when you camp in the winter, you might find that your phone doesn't last nearly as long. If you leave your phone lying around at night, don't be surprised to find it hanging on for dear life the next morning.
This is because batteries, such as the lithium-ion ones found in smartphones, rely on chemical reactions to produce electrical energy. Cold temperatures slow these reactions, reducing the battery's efficiency in moving ions between electrodes, thus lowering its power output and capacity. Cold weather also increases internal resistance, further limiting power delivery and causing a drop in voltage output and premature shutdowns. Additionally, cold weather forces the phone to work harder to maintain its operating temperature, increasing power consumption and affecting the display, a power-hungry component that requires more energy in the cold; this exacerbates battery drain. This means your phone may drain faster, shut down unexpectedly, or even suffer permanent damage in the long run if exposed to the cold for extended periods.
The camping hack to know
Fortunately, we've found a simple, everyday hack that makes a difference when you're out in the winter wilderness. This straightforward and effective trick will help to keep your phone warm and your battery alive at night: tuck it into the bottom of your sleeping bag.
This is a great option for several reasons: first, it's free! If you're going winter camping, you likely already have a great sleeping bag. If your sleeping bag is designed for cold-weather conditions, it can keep your devices at the right temperature, especially if you're tucked in too. Before you head to bed, just tuck your devices inside. Some sleeping bags even have a pocket for your phone, so look around for it.
Your body heat and the sleeping bag's insulation will keep your devices from freezing and dying on you. Take this trick a step further and put your phone in an inside pocket when you're out in cold temperatures. That way, your phone will always be charged for photos, navigation, or communication.
When camping in winter, staying connected is more critical than ever. This simple yet effective camping hack provides a convenient solution to keep your phone warm, charged, and ready to use when you need it. Whether you're embarking on a winter camping trip or simply braving a frigid day, implementing this easy trick will ensure your phone remains a reliable companion in the cold. The next time you bundle up for a chilly adventure, remember to tuck your phone into the bottom of your sleeping bag and stay connected throughout your cold-weather escapades.
Editors' Recommendations