If you live far enough south, winter may the furthest thing from your mind. However, the rest of us are already dusting off the winter equipment in preparation for the season ahead — and Burton Snowboards just announced that they are accepting pre-orders for their newest boot-to-binding interface, Step On.
Burton spent five years designing and developing this newest technology. "I challenged our hardgoods team to evolve the way snowboarders get in and out of bindings," said founder and chairman Jake Burton in a statement. "Personally, I was sick of sitting down to strap in and knew we needed more convenience, which is one area where skiing has been ahead of us. I had very high expectations and didn't want to compromise at all on performance or the ride feel."
The new Step On system locks the boot into the binding without the need for straps. There are three connection points — two by the toe and one at the heel —that will help deliver better board control.
"After hundreds of prototypes and thousands of hours of testing, Step On has exceeded everything I thought it would be. The convenience, comfort, and feel is next level. Step On is the only thing I rode last season, and you won't see me sitting down to strap in again," Burton continued.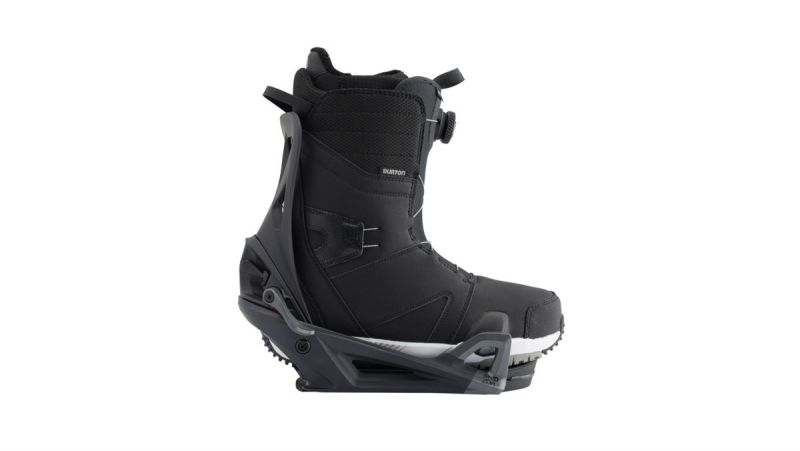 In addition to this revolutionary advancement in boot-to-binding technology, the compatible boots will feature a dual-zone BOA closure system. The new Step On bindings are also compatible with all current mounting systems, including 4×4, 3D, and The Channel.
The Step On system is available for pre-order on October 5, but it won't hit stores until November 2. This next step in the evolution of snowboard bindings will retail for $250, and Burton boots will range from $300-$400. We can't wait to get our hands on this new system and share our experience with you. Now, if we can just put in an order for an early winter …
Editors' Recommendations