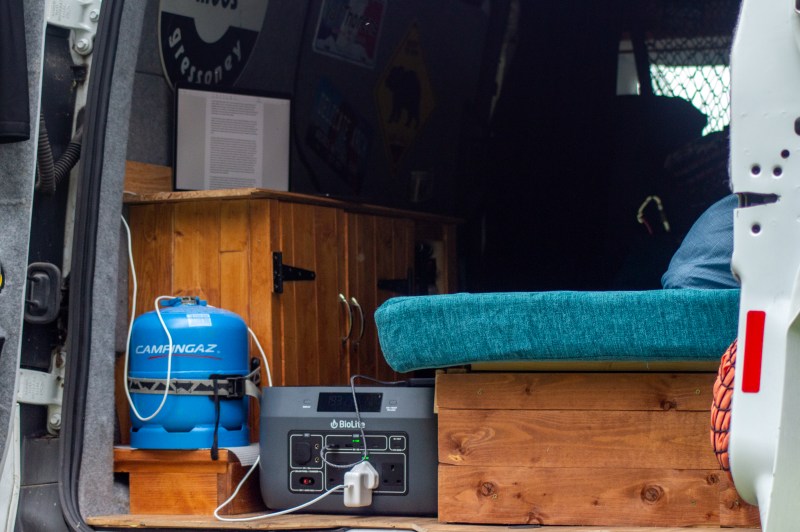 If you're anything like me — and I bet you are, or you wouldn't be here — you're always planning ways to spend more time in the backcountry. When it comes to spending time off-grid, power is usually our limiting factor. So it piqued my interest when BioLite released the Solar Generator 1500 Kit comprising the BaseCharge 1500 and SolarPanel 100. I'd tried just about everything in the past, from power packs to RV leisure batteries, and always found myself wanting something that wasn't there. Was this, then, the answer?
Just over a month ago, I took delivery of the BaseCharge 1500 unit and, more recently, the addition of the SolarPanel 100. I've used this portable power station in many different ways to put it through its paces, from running my off-grid home office in the back of my converted camper van, crewing my partner through her first 50-mile ultramarathon, and just plain old powering my camping trips. I wanted to see what these units were capable of, and here's what I discovered.
BioLite BaseCharge 1500 and SolarPanel 100; the tech specs
Before I get into my review, I'll pause for a brief interlude here and lay out what BioLite claims the BaseCharge 1500 and SolarPanel 100 are capable of.
BaseCharge 1500
1,521 watt-hours of battery life
Rechargeable lithium-ion battery, continuously monitored for safe charging
1,000 cycle life to 80% capacity
AC, DC, USB-A, USB-C, and wireless charging capabilities
Real-time readout for battery life, usage odometer, and battery condition notifications
14 x 12.2 x 8.2 inches
28.5 pounds
SolarPanel 100
100W power output
1,036 square inches of sun-facing panels
Chainable — up to four units
Sundial and kickstands for optimal solar placement
PTFE-lined panels for weather protection
Rear storage pouch and direct charge USB-A and USB-C ports
Folds down to 20 x 14.5 inches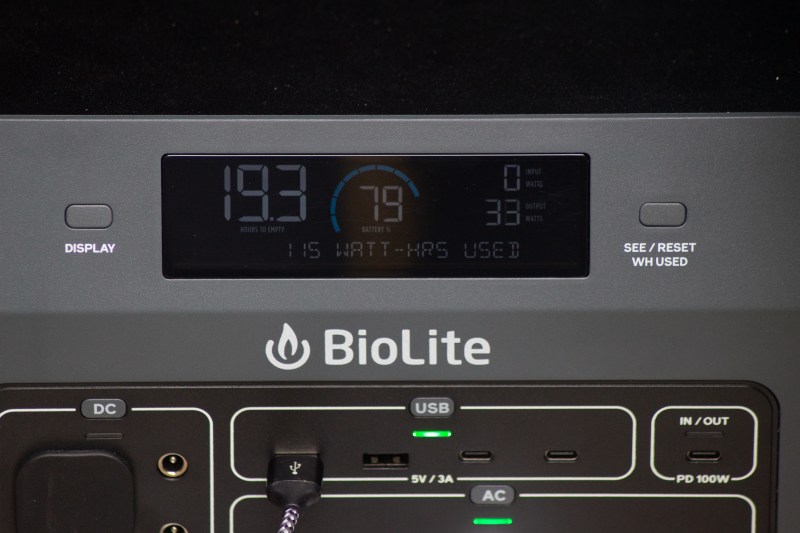 Using the Solar Generator 1500 setup
The world of outdoor technology is — in my opinion, at least — plagued with over-complication. Companies have a habit of attaching bells, whistles, waterproofing, compasses, and, most frustratingly, flashlights in places they don't need to be. I was surprised and tentative when I received the Solar Generator 1500 kit with a short instruction manual for each item. Impressively, these instructions weren't just short enough that I read them — we all know what happens to a weighty instruction manual — but they also succinctly covered everything I needed to know. The BaseCharge 1500 and the SolarPanel 100 are simplistic, but that doesn't mean they're basic.
The first to arrive was the BaseCharge 1500, packed neatly in form-fitting foam and minimalistic packaging. As the instructions suggested, I took it out of the box and charged it using the AC wall plug. Charging to 80% takes a little more than 13 hours, but as BioLite sends their units at 50% charge, I didn't have to wait that long before I could plug in. The ports are all easily accessible, conveniently on the same side of the unit, and you can turn each section — USB, DC, AC — on and off by pressing the button. The readout at the top of the unit shows how many hours you have until the unit is drained, the battery percentage, how many watt-hours you've used, and the current input and output wattage. Be aware that the internal cooling fan is quite noisy, and if the first time you hear it is while you're trying to sleep, there's a good chance you'll almost hit the roof of your tent — trust me.
The SolarPanel 100 arrived in a package so thin I wasn't convinced initially that I had been sent the right item. Once the SolarPanel is unfolded, you can use the fitted sundial and integrated kickstands to position the panel for maximum sunlight. The readout for the SolarPanel 100 will vary depending on the intensity of the sunlight, but it generally managed to produce upwards of 50 watts. Fitted carrying handles are a nice touch on the solar panel, though a strap to hold the folded system together might make on-the-road storage a little easier.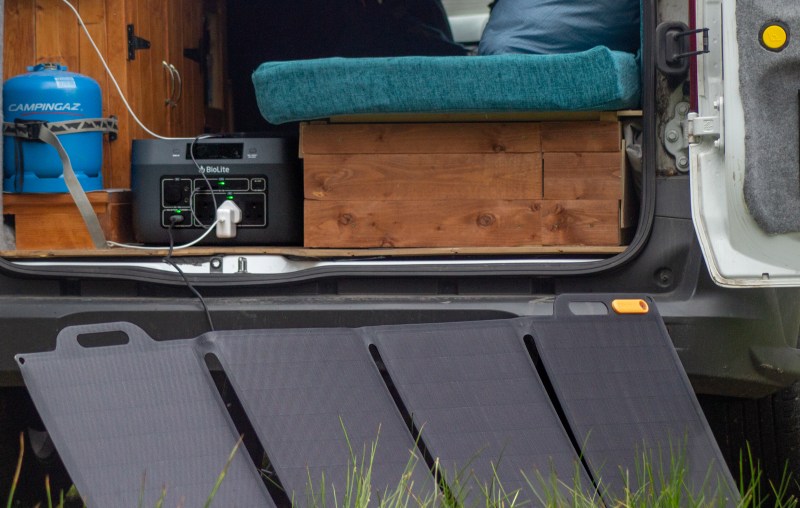 Has BioLite made a backcountry-ready system to take you off-grid?
I'll be the first to admit that my backcountry energy usage isn't exactly off the charts. I tend to power a few lights and charge my laptop, camera, phone, and headlamps; I struggle to break the 50-watt draw. If you're looking for that, though, the 1,200-watt output is enough to run projectors, gaming consoles, blenders, electric coolers, and anything else you may want to take into the backcountry. The Solar Generator 1500 is a setup that will cater to everyone, from the quiet camper to the full-blown RVer.
From my perspective, the upshot to this is that knowing I have plenty of juice to keep me powered up has allowed me to stay on the road and in campsites for longer without having to find somewhere to charge up. While I tend to charge the BaseCharge 1500 to full power each time I return home — just to be sure — the ability to charge from either the SolarPanel 100 or directly from my vehicle using a USB-C charging point means I'm unlikely to run out of power. I've even used the unit to charge small power banks before heading off on short thru-hikes.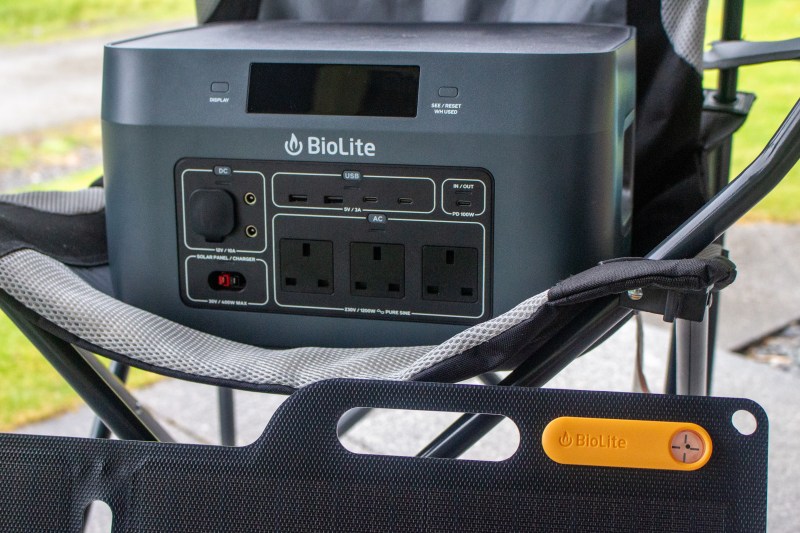 Should you buy the Solar Generator 1500?
In my opinion, yes, you absolutely should. Once again, BioLite has looked at what campers and RVers truly need and provided it in a package oozing with class. The BaseCharge 1500 and the Solar Panel 100 look and feel high quality while keeping things simple. The BaseCharge unit provides enough power for anyone looking to take their office on the road or keep a backcountry adventure going for longer.
Whether you need the whole Solar Generator system will depend on how long you plan to be on the road. The BaseCharge unit is available in this 1500 model or a smaller 600. The smaller unit is lighter and has a lower output, but it's still enough for campers looking for a unit to keep headlamps and phones charged up at camp. If, like me, you've spent many years camping charging your electronics in your vehicle, or you're using small power banks, this is an upgrade like no other. Setting up a base camp for your trip and knowing you've got all the power you'll ever need is a load off your mind and lets you focus on your adventure.
Editors' Recommendations