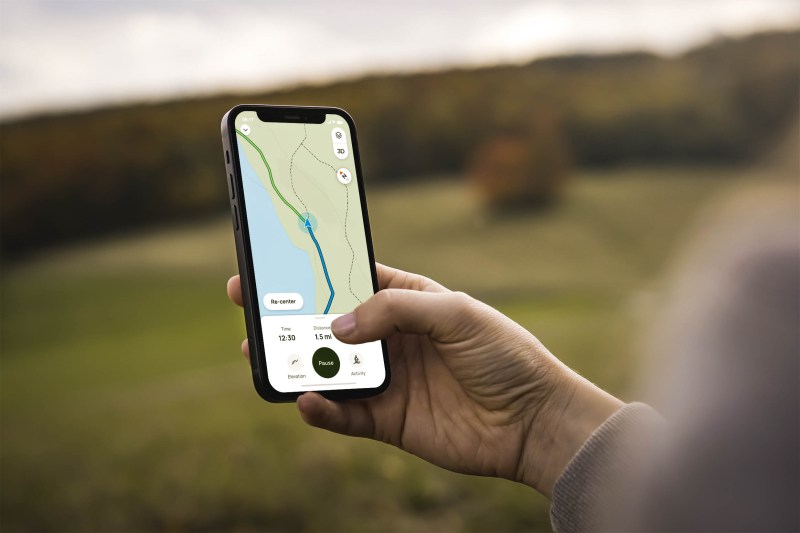 Going on a hiking trip is an exhilarating experience, but before you go, make sure that you have the right tools. Of course, this means wearing the right hiking clothes, packing the right essentials in your backpack, and making sure you have plenty of water, but it also means having the right hiking app on your phone. Part of the appeal of venturing into nature is escaping technology, but we won't pretend there aren't ways technology can enhance your experience. There are so many different hiking apps available, so let's check out some of the best ones on the market.
Best hiking apps in 2023
AllTrails
AllTrails is undoubtedly one of the best apps for hiking. It offers an extensive range of features to enhance your hiking adventures. With a user-friendly interface, AllTrails allows you to search for hikes based on various criteria such as difficulty, length, elevation gain, route type, and user ratings. You can also discover hikes with specific tags like trail running, dog-friendly paths, or wildflower trails. Download the free version of AllTrails, or subscribe for $2.99 monthly or $35.99 annually.
Avenza
Avenza Maps is a must-have app for hikers seeking comprehensive map coverage. They claim to have the world's largest map collection, and they allow you to download maps for offline use. With real GPS positioning, even offline, you can track your location accurately. Additionally, you can record your GPS hikes directly through the app and save photos and notes specific to each location. Avenza Maps also differentiates private land from public land, offering you valuable information about the areas you're exploring. Download the free version or subscribe for $29.99 per year.
Gaia GPS
Whether you're discovering new trails, recording your routes, or monitoring hike statistics and performance, Gaia GPS has got you covered. The app even provides weather forecasts and assists you in finding nearby camping options, ensuring you have a seamless outdoor experience. While the free version of Gaia GPS is suitable for most day hikers, the paid version ($35.99 annually) offers additional features. With both topographic and satellite maps, as well as the ability to track your hike with cell service, Gaia GPS is a reliable companion for your hiking expeditions.
Spyglass
Designed for more experienced hikers, Spyglass is a feature-rich app that takes your adventures to the next level. With augmented reality overlay, you can precisely locate points of interest on your hike. Spyglass also offers elevation tracking, a Rangefinder to measure waypoint distances, trail photos, and Tactical GPS functionality, including Civilian and Military coordinate options. However, keep in mind that Spyglass has a slightly steeper learning curve. Purchase for a $5.99 one-time fee.
Google Maps
Chances are, you're already a pro at using Google Maps. Did you know that you can use this platform for your hiking adventures too? Yeah, there's no need to learn a whole new app. One awesome thing about Google Maps is that it keeps working even when you're off the grid, as long as you download the maps beforehand.
In order to download the maps beforehand, make sure the entire trail is visible on your screen. Then, tap your profile icon at the top of the app and scroll down to "Offline Maps." Tap "Select your own map" and tap "Download." Google Maps will then start downloading that section. These maps expire, so make sure that you double-check your maps before you do the same trail again.
Whether you're a novice hiker or an experienced adventurer, these top five hiking apps can revolutionize the way you explore nature's wonders. Have fun exploring!
Editors' Recommendations