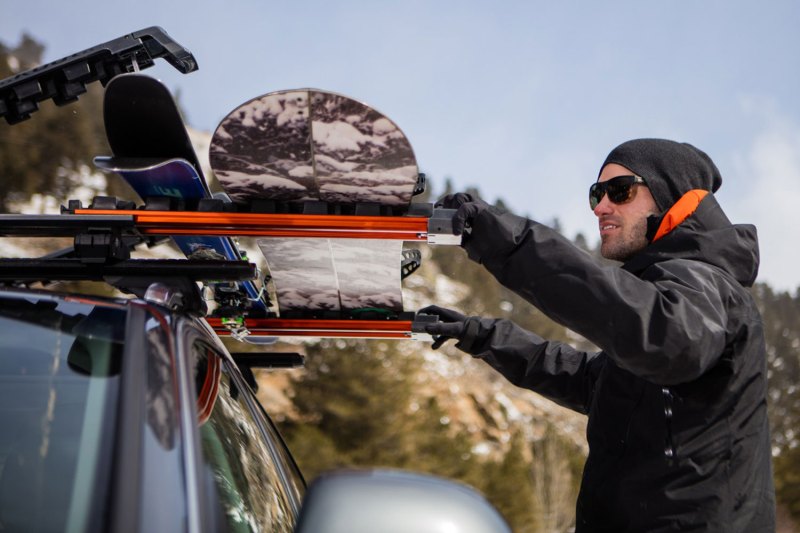 Planning a skiing or snowboarding trip almost always requires more gear than you have room for. Between skis and boots and snowboards and poles and the family dog, winter sports require a ton of "stuff." Even with an extra-large SUV, transporting all that gear can prove to be a challenge. Plus, you have to consider the ride home, because nobody wants to share the car with wet skis, muddy boots, or soaked coats and gloves.
Keep the great outdoors where it belongs with the help of the best ski and snowboard racks from Thule, Yakima, and more for hauling your gear this winter. Of course, if you're planning a longer trek into the great outdoors, take a look at the best rooftop tents for transporting yourself.
Best Rooftop Ski and Snowboard Racks
Kuat Racks Grip 6 Ski/Snowboard Rack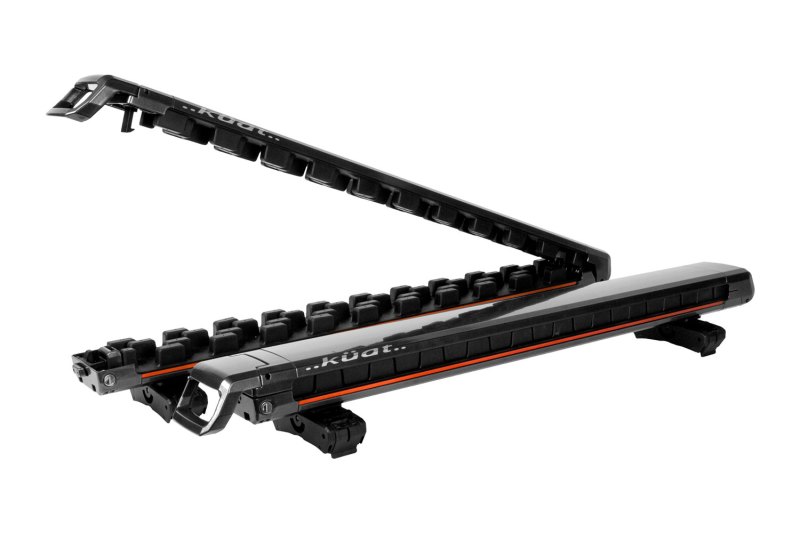 Kuat Racks' premium Grip 6 is our new go-to ski and snowboard rack this winter season. The metallic shell and powder coat finish provide rock-solid durability and look great to boot. The brand's GripLock rubber system ensures that your skis and snowboards stay put, no matter how rough the road gets on your way to the slopes. A large handle and clever slide-out design make loading and unloading your gear a snap. Plus, the entire system is fully lockable for added security.
Yakima PowderHound
As one of Yakima's best budget roof racks for skis and snowboards, the PowderHound still manages to offer a ton of great features. The roof-mounted system is wide enough to haul up to four snowboards or six pairs of skis (96mm wide at the tips). The dead-simple design means access to your winter gear is just a single button-push away. An integrated SKS (Same Key System) locking system delivers added security for your skis and snowboards. Plus, a tool-free install means no drilling, power tools, or hassle to get it mounted on day one.
Rhino-Rack Ski Carrier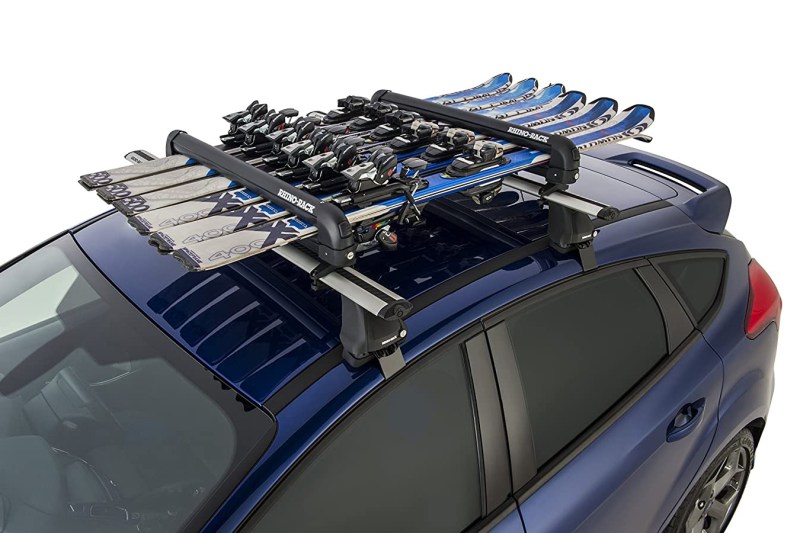 Like many of its much-loved racks, Rhino-Rack's Ski Carrier is space-saving, easy-to-install, and offers universal mounting to most factory and aftermarket roof racks. The 27-inch footprint provides enough room for carrying up to six pairs of skis or four snowboards (and fishing rods too). The clever design also allows for easy gear release and key locking, even with gloved hands. Heavy-duty aluminum construction ensures it'll last for years, rust-free. Plus, at around $150, it's one of the best values on this list.
Thule SnowPack Extender Ski/Snowboard Rack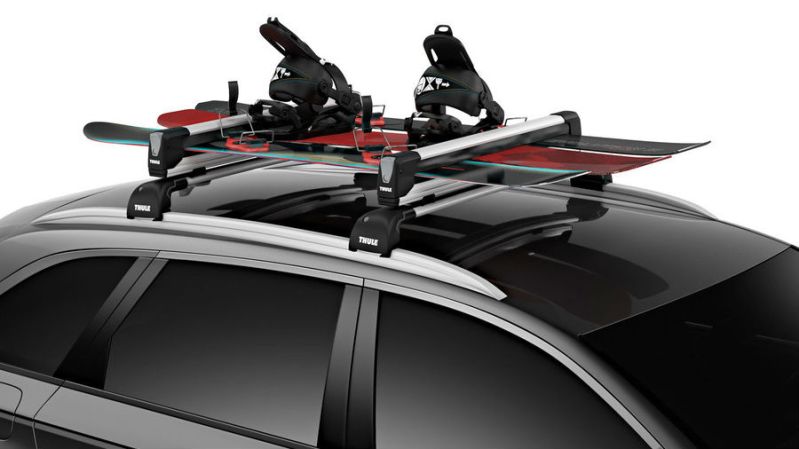 As one of Thule's most adaptable and expandable ski/snowboard haulers, the SnowPack Extender fits virtually any roof rack. It has the added convenience of extending along the track to make for easy loading and unloading of your winter equipment. Additional features include oversized push buttons and locks that lock the rack to the car and skis to the rack. The rack accommodates up to six pairs of skis or four snowboards.
Yakima FatCat 6 EVO Ski/Snowboard Rack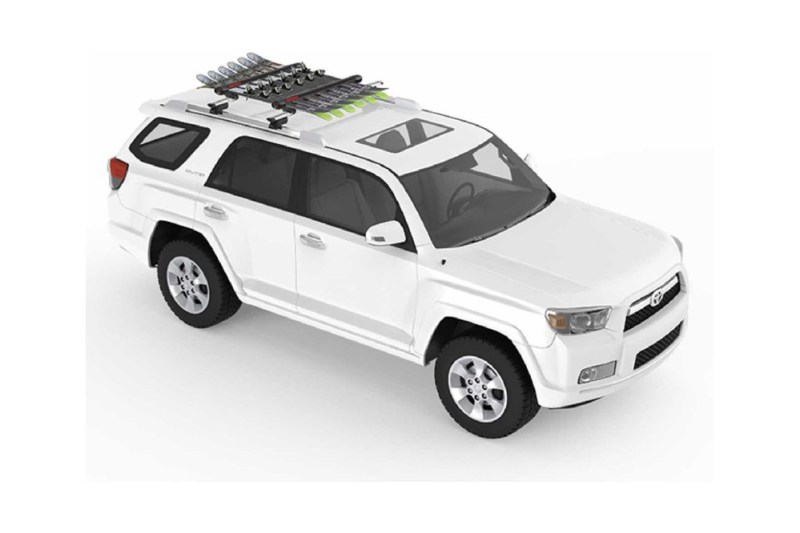 Yakima's FatCat EVO line mounts tool-free to almost any vehicle roof rack. The wide footprint accommodates up to six pairs of powder skis or four snowboards. With an aerodynamic design, it delivers a quiet ride on the highway, while large buttons allow for smooth, easy access even while wearing winter gloves or mitts. It also features integrated SKS (same key system) locks for added security.
TMS J-Bar Rack HD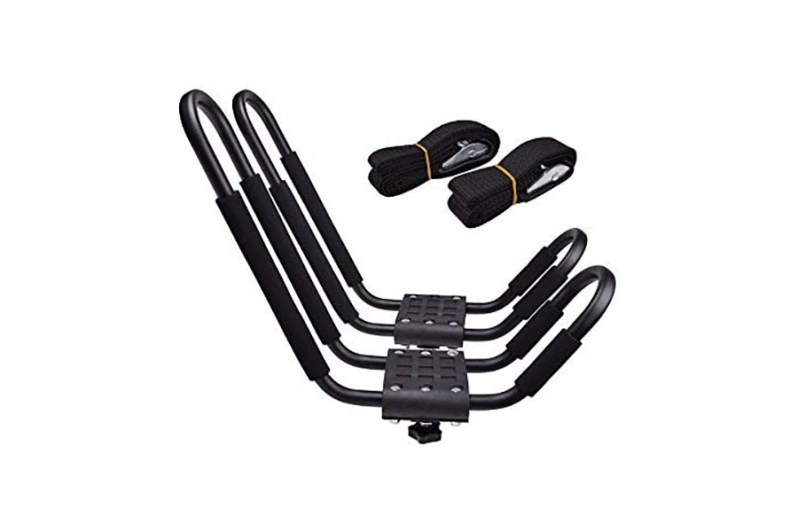 TMS's J-Bar Rack HD is a departure from the others on this list. Lashing your skis or snowboards to this requires a bit of planning and perhaps knot-tying skills (and probably ratchet straps). But, it makes up for that inconvenience with sheer versatility. This is truly a four-season roof rack, capable of hauling not just skis and snowboards, but kayaks, canoes, surf gear, and more with aplomb. At less than $50, it's a steal, especially for outdoor adventurers on a budget.
Adaptable Options
If the space atop your vehicle is limited or you'd prefer to keep everything 'round back at the hitch, there are plenty of options. These clever alternatives convert your traditional hitch-mounted bike rack into a legit ski or snowboard carrier to maximize its utility.
BuzzRack Buzzski Hitch-Mounted Ski & Snowboard Rack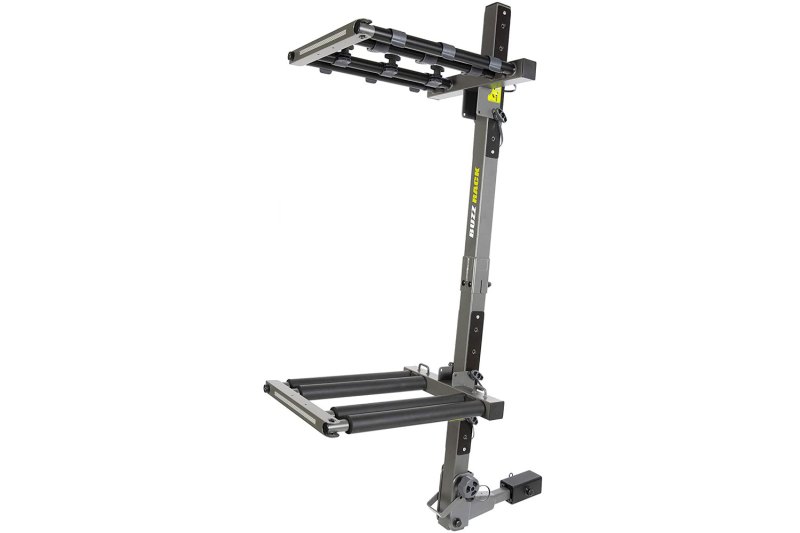 This option from BuzzRack offers all the same durability and features as most brand-name racks. It easily mounts into either 1.25-inch or 2-inch hitch receivers standard in most trucks and SUVs with a factory tow package. The main pole tilts away for better tailgate access and easy trunk clearance for most vehicles. Plus, dual anti-theft top locks provide added security for your precious winter gear.
Still Need More Space?
Bulky items like ski and snowboard helmets and boots take up a ton of space. When carpooling to the slopes or packing an entire family into one SUV for a long weekend away, all of this gear adds up. And when the vehicle is packed with snow enthusiasts, space is critical. Splurge on one of these roof-mounted cargo carriers to wrangle all that winter gear.
Thule Motion XT L Roof Box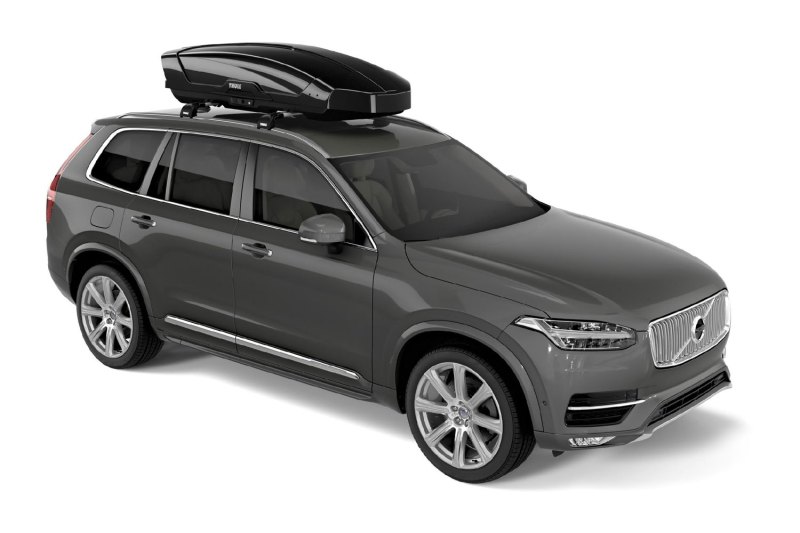 Thule is renowned for its options in the ski-compatible cargo box category. One of the brand's largest and swankiest cargo carriers, the Motion XT L Roof Box, is worth every penny of its $750 price tag. The interior protects all your gear on bumpy alpine roads. Bespoke display systems offer visual cues to ensure that you not only mounted and locked the box securely, but that you know that you did so. The Motion XT's forward positioning also means that opening your trunk doesn't result in unwanted contact with the cargo box. Plus, it has to be said, this thing just looks sleek and freaking badass atop almost any vehicle.
For all-purpose gear-hauling solutions, check out our picks for the best roof racks available right now.
Editors' Recommendations