I started kayaking at the age of 15, cruising around the local rivers and ocean bays where I grew up. Since then, kayaking has taken me around the world, exploring coastlines, rivers, and lake networks. I was drawn in by the adventure and the ability to see the world from another angle. Kayaking can be a high-octane experience, or it can be a sedate, relaxed day sitting in the sun on your local lake.
Whether you're a seasoned angler, or just starting your fishing journey, a quality fishing kayak is a surefire way to elevate your day. Sure, there's more to it than just buying a kayak and heading out on the water. You need a few other bits of kayaking gear — a PFD and a paddle, at least — as well as some kayaking knowledge. These are the fishing kayaks you need, whether you're taking your first paddle strokes on the water, or whether you've been kayaking your whole life and need a new rig.
Perception Pescador Pro 12
The Perception Pescador Pro 12 is established as one of the best beginner-friendly angling kayaks on the market. The Pescador range is designed to have all the stability that beginners crave without compromising on speed and mobility across the water.
The Pro 12 is the longest of the range, and therefore, the fastest, but it also has the most space to hold fishing bags and accessories. The Pescador Pro 12 is best suited to lakes, gentle rivers, and calm ocean bays, but if you're looking for an out-and-out ocean kayak, then look elsewhere.
Perception Pescador Pro 12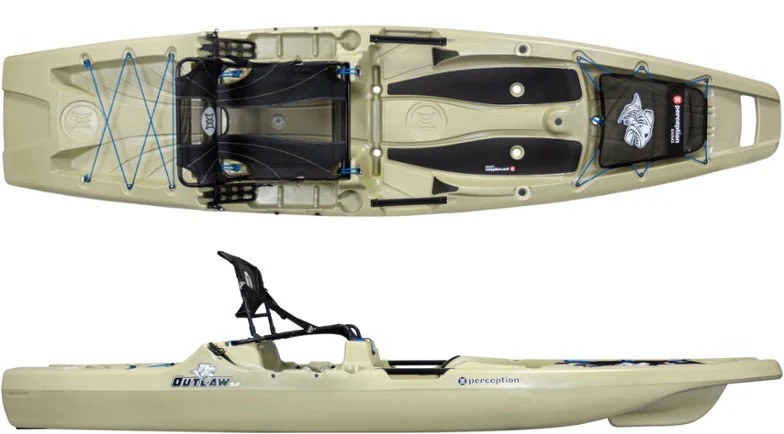 Perception Outlaw 11.5
Billed by perception as so good it should be outlawed, the Perception Outlaw is one of the most stable fishing kayaks on the market. This lake and river kayak is designed for you to be able to stand up and move around while you cast without fear of capsizing — the large open deck is fitted with EVA foam pads for grip and stability.
You can even fully stow away the seat for a true open-deck design. This is a boat with serious storage potential, too, so you can haul your fishing gear, food, and even a few beers with you out on the water.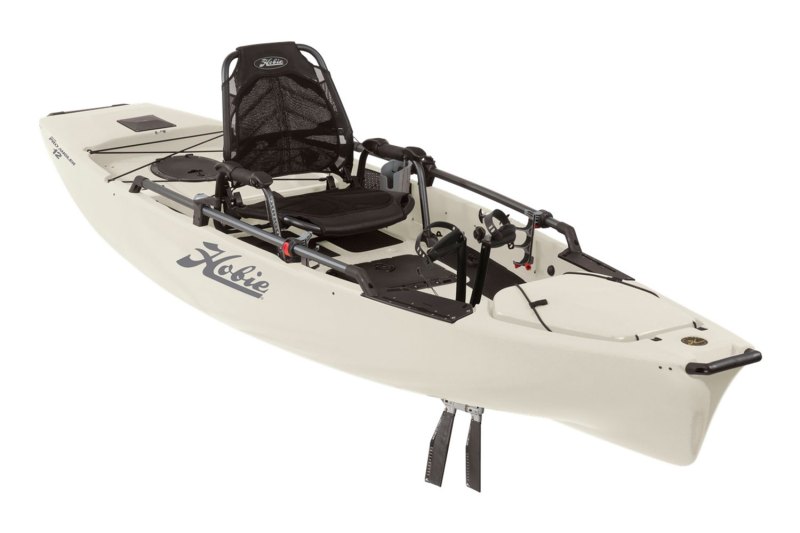 Hobie Mirage Pro Angler 12
Hobie has a history of making some of the best kayaks for fishing that you can buy, and the Mirage Pro Angler 12 is no exception. Let's start with the drive — it's awesome. While most pedal systems rely on a propeller, the Mirage drive uses two fins to give clean and powerful propulsion. Even better is that they raise when they feel any contact with the ground, so you won't snap them off as you pedal along.
This kayak is serious business. The pedal drive lets you cast as you cruise from the comfort of one of the most supportive seat systems on the market.
Hobie Mirage Pro Angler 12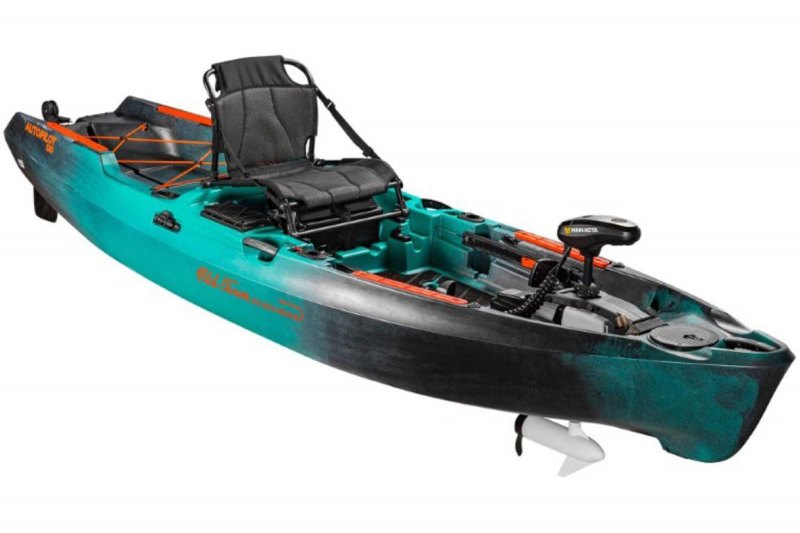 Old Town Sportsman AutoPilot 120
What's the step up from a pedal-powered fishing kayak? What about a kayak that takes out all the effort completely and lets you get on with the fishing? The 45-pound thrust motor not only gets you to your chosen fishing spot fresh and not needing a rest after paddling yourself, but with the Spot-Lock system, you stay there, too.
What's the use in hunting for those fish just to have your kayak drift away in the wind? This system means you don't need an anchor. While the motor holds you in place, you can stand to cast or sit on the raised seat with a huge command over the water as you bring in your haul.
Old Town Sportsman AutoPilot 120
Sea Eagle 385fta
When it comes to inflatable kayaks, there are few companies that know more than Sea Eagle. This rugged, fishing-ready inflatable is made from 1,000 denier PVC, with 2,000 denier reinforced panels. For reference, this is the same as white water rafts, and if it can survive bouncing down huge rapids, it will definitely withstand a few fishing hooks.
The 385fta is part of Sea Eagle's fast track series, fitted with its Needleknife Keel. This series is designed to have the speed and control that have often been lacking in inflatable kayaks. The best thing about the 385fta? Deflate it to fit it into the trunk of your car and stow it in a cupboard at home. No bulky storage issues with this.
Pelican Sentinel 100X Angler
The Pelican Sentinel 100X Angler is a budget-friendly, sit-on-top kayak that proves you don't have to break the bank to hit the water. The Sentinel series has long been a fan favorite. The lightweight, stable design suits first-time paddlers while still having enough about it to cater to those who have a bit more experience.
The Angler is fitted with rod holders and a central console, as well as the genius EXOPAK storage system. This removable compartment can be packed at home, loaded into the trunk of your car, and then added straight into the kayak once you reach the water to save you from transferring your gear.
Pelican Sentinel 100X Angler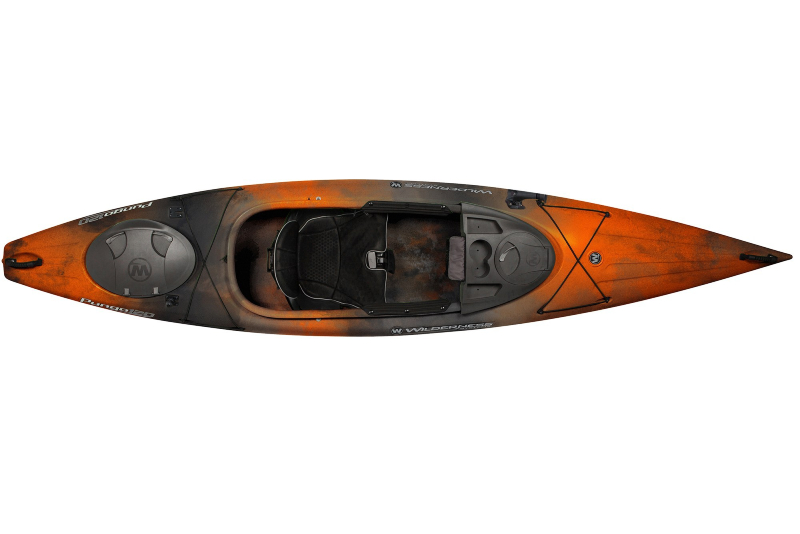 Wilderness Systems Pungo 120
The Wilderness Systems Pungo 120 is renowned as one of the best recreational kayaks on the market. Its efficiency over the water, as well as the stability and easy paddling, has kept the Pungo on the market for years.
The newer addition of the kayak dashboard has upgraded the Pungo to be a versatile kayak that now suits fishing, too. This dashboard is fully customizable, with cupholders, a removable dry storage box, a battery holder, and a SlideTrax mount system, so you can add rod holders to your setup.
Wilderness Systems Pungo 120
Perception HiLife
The Perception HiLife doesn't look like your traditional kayak, and that's because it's not. This is a crossover between a sit-on-top kayak and a stand-up paddleboard, but it might just be the most open cockpit on the market.
Standing and casting is no problem on a craft designed for standing and moving around, and there are plenty of storage opportunities onboard, too. This is a great choice for anglers who want easy access to the water and a versatile kayak they can also use on non-fishing days.
Editors' Recommendations