Labor Day Weekend is finally here, and for many of us that means letting go of our waistlines and eating endless amounts of burgers, hot dogs, and whatever else ends up on the grill. It doesn't have to be that way. You can enjoy your Labor Day festivities without the extra calories. Here are a few health-conscious Medifast recipes from their new Simply Well™: An Everyday, Healthy Cookbook. Instead of greasy burgers, try out Greek Chicken Burgers with Tzatziki Sauce. Don't want all the calories of regular nachos? Have a Mini Pepper Nachos instead. So enjoy Labor Day the healthy way.
Greek Chicken Burgers with Tzatziki Sauce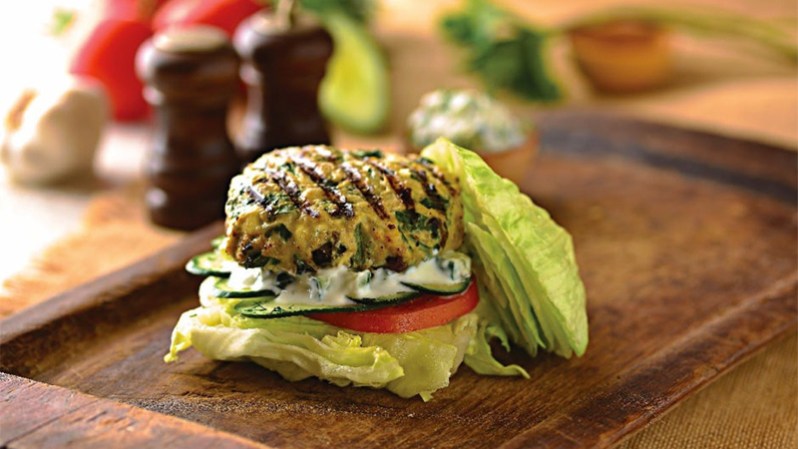 PREP TIME: 20 MINUTES | COOK TIME: 10 – 15 MINUTES | YIELD: 4 SERVINGS
1 Leaner 3 Green 1 Healthy Fat 3 Condiments
For the Tzatziki Sauce:
1 small cucumber

½ Tbsp chopped fresh mint

1 Tbsp chopped fresh dill

½ Tbsp lemon juice

1 clove garlic, minced

1 cup plain, low-fat

Greek yogurt
For the Chicken Burgers:
2 oz crumbled, reduced-fat feta cheese

1 egg

1 cup fresh spinach, chopped

10 Kalamata olives, chopped and pitted

1 Tbsp cornstarch

1 tsp dried oregano

2 cloves garlic, chopped

½ tsp salt

¼ tsp pepper

1 lb 95 – 97% lean ground chicken

2 tsp olive oil

2 tomatoes, sliced

1 small head iceberg lettuce, cut into eight bun-sized pieces
Directions
Chop half of the cucumber into small pieces, and place in a small bowl. Slice remaining cucumber into thin slices for sandwiches, and set aside. Add remaining sauce ingredients to small bowl, and refrigerate until ready to use.

In a large bowl, combine the first nine burger ingredients. Add chicken, and mix lightly but thoroughly. Shape into four burger patties.

Moisten a paper towel with oil, and, using cooking tongs, rub on grill rack to coat lightly. Add burgers, and grill covered, over medium heat, until a meat thermometer reads 165° F (about 5 to 7 minutes on each side).

Serve on iceberg lettuce "buns" with tomato slices, remaining cucumber, and sauce.
Mini Pepper Nachos
PREP TIME: 15 MINUTES | COOK TIME: 5 MINUTES | YIELD: 4 SERVINGS,
1 Leaner 3 Green 1 Healthy Fat 1 Condiment
¼ cup chopped jalapeño pepper

Cooking spray

1, 12.5-oz can low-sodium chicken breast (in water), drained

6 oz avocado, mashed

½ cup plain, low-fat Greek yogurt

2 cups shredded, low-fat cheddar cheese, divided

1 tsp chili powder

24 mini bell peppers, halved with stem, seeds, and membranes removed  

¼ cup chopped scallions
Directions
Sauté the diced jalapeño in a lightly greased skillet until tender.

Mix the jalapeño, chicken, avocado, yogurt, one cup of cheese, and chili powder in a medium bowl.

Arrange the mini bell peppers in a single layer in a large casserole dish. Fill with chicken mixture, sprinkle with remaining cheese, and broil until cheese has melted, about 2 to 4 minutes.

Garnish with scallions and serve with salsa, if desired.
Editors' Recommendations