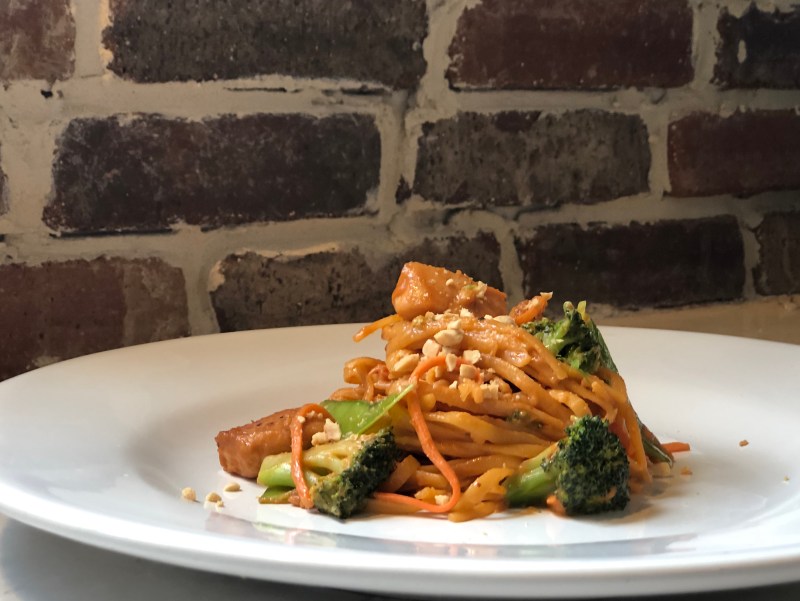 We love a good pad thai for all of its savory, nutty umami, fish sauce funk, fresh assortment of vegetables, and peanuty crunch. The delicious dish is a takeout superstar, ready to satisfy and provide crave-worthy leftovers for days. But if you've ever made pad thai in your own kitchen, you know that it can be somewhat of a lengthy, ingredient-heavy process. And while the traditional pad thai recipe dish is a worthwhile effort, we don't always have the time or the ingredients handy. That's why we love this take.
Our shortcut version of pad thai is every bit as delicious as your local takeout spot, and you can have it on the table in about 20 minutes. Furthermore, this four-ingredient pad thai sauce recipe is one you'll love to have on hand for many dishes to come.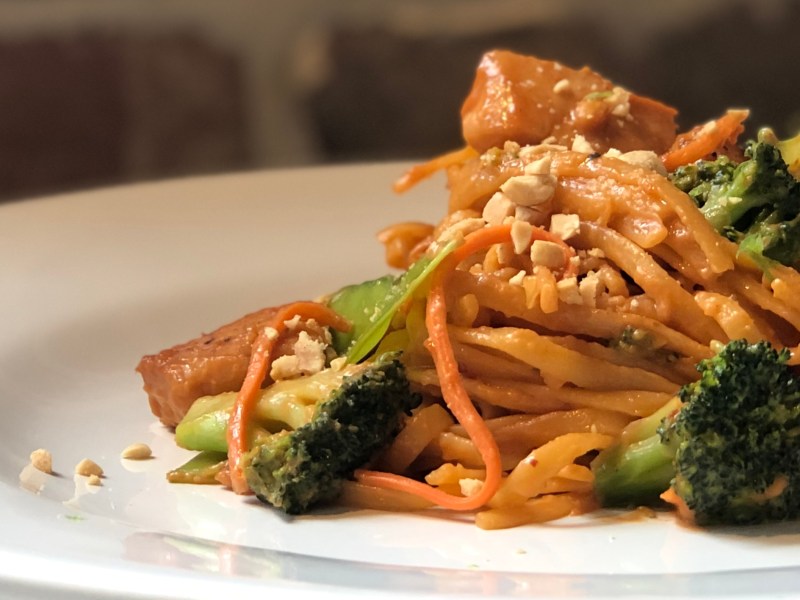 Easy pad thai recipe
The sauce for this dish is made of just Catalina dressing, peanut butter, soy sauce, and red pepper flakes. It's wonderful for this noodle dish, but also makes a perfect easy dipping sauce for grilled chicken or steak.
Ingredients:
1 pound fettuccini

1 pound chicken breast, cut into 1-inch pieces

2 tablespoons vegetable oil
2-3 cloves garlic, minced
1 small crown broccoli, chopped
1 cup snow peas
1 cup carrots, shredded
3/4 cup peanut butter
1/2 cup Catalina dressing
1/4 cup soy sauce
1/2 cup reserved pasta water
1/2 teaspoon red pepper flakes
1 lime, juiced
Salt and pepper to taste
1/4 cup peanuts, chopped (optional garnish)
Method:
Cook pasta per the package instructions.
In a small bowl, mix together peanut butter, Catalina dressing, soy sauce, and red pepper flakes. Set aside.
While the pasta is cooking, saute the chicken in oil over medium heat, adding the garlic when the chicken is nearly cooked. Cook until the chicken is no longer pink in the middle, set aside.
When the pasta is about 2 minutes from being al dente, add the vegetables to the pasta water to blanch.
Drain the pasta and vegetables, reserving about 1/2 cup of pasta water to use later.
Return the pasta and vegetables to their pot, adding the peanut butter mixture and the cooked chicken.
Toss to combine, adding lime juice to the mixture.
If desired, add pasta water a bit at a time to thin the sauce's consistency to your preference.
Easy pad thai tips and tricks
This recipe works beautifully with any pasta, but our favorite is fettuccini.
If you aren't in the mood for chicken, shrimp, pork, beef, or tofu also work very well in this dish.
You can use either creamy or crunchy peanut butter for this recipe, but we like the added texture that comes from the crunchy variety.
Editors' Recommendations