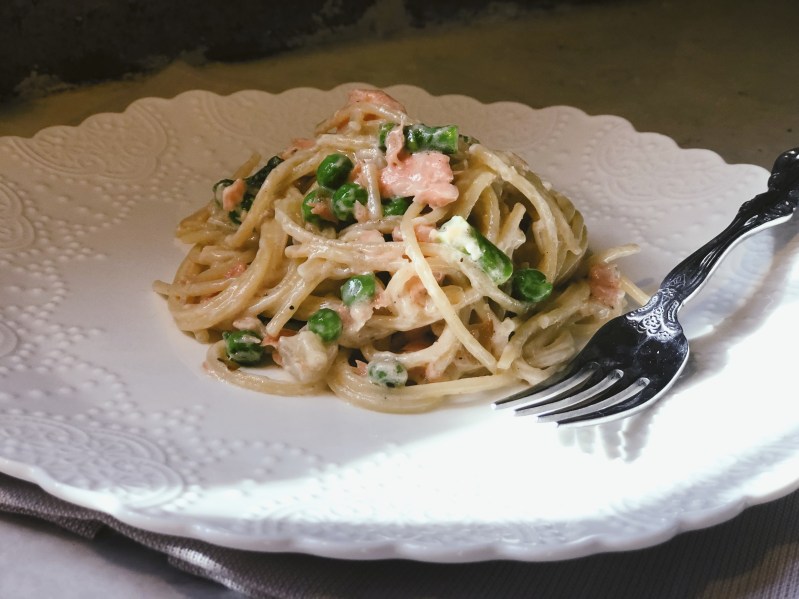 Sometimes, the best dishes are born from a place of desperation. Those moments when lunchtime rolls around, and you find yourself hangry with nothing but leftovers in the fridge. Leftovers you have no interest in eating for the third day in a row. But, in the interest of frugality and prudence, you decide to eat them anyway. But then, a stroke of creativity hits and you wonder if you can somehow transform that humdrum piece of leftover salmon into something rich, velvety, creamy, and wonderful. It turns out, you absolutely can. Because those are the exact circumstances under which this salmon pasta recipe was born.
What to do with leftover salmon can be a tricky thing, but if you happen to find yourself with a makeshift foil packet full of this incredibly versatile and delicious fish, all you need are a few added pantry ingredients to make yourself a rich salmon pasta dish that's ready to satisfy, and impress. This is a salmon recipe perfect for your leftover.
Salmon pasta primavera in lemon garlic cream sauce recipe
Ingredients
6-8 oz. cooked salmon (if you have raw salmon on hand, simply bake on a sheet tray at 400 degrees for 10-14 minutes, seasoned with olive oil, salt, pepper, and a hint of cayenne pepper)
4 tablespoons butter
1/2 yellow onion, chopped
2-3 garlic cloves, minced
2 tablespoons all-purpose flour
1/2 cup heavy whipping cream
Juice from half a lemon
4-6 asparagus spears, chopped
3/4 cup frozen peas
8 ounces spaghetti
1/4 teaspoon red pepper flakes
Salt and pepper to taste
Method
Put a large pot of salted water on the stove to boil. Cook the spaghetti. About two minutes before the pasta is ready, add the asparagus and frozen peas to the pasta water. Continue to cook for two minutes, and drain.

While the pasta is cooking, shred salmon into flakes using two forks, and set aside.
Melt butter in a large pan and sauté onions on medium-high heat until onions are translucent. Add garlic and continue to cook until onions are caramelized, and garlic is just slightly golden.
Add flour to onion and garlic, and stir until flour is incorporated.
Add heavy cream to the pan and reduce heat to low, stirring until the sauce thickens. Season with red pepper flakes, salt, pepper, and lemon juice.
Pour cooked pasta, asparagus, and pea combo into the saucepan and cook for a minute to combine the sauce and pasta. Add shredded salmon, and stir gently to combine.
Salmon pasta tips and tricks:
This dish is completely customizable to your own personal tastes. Chances are, any protein you have in the fridge would work beautifully. No salmon? Try some leftover rotisserie chicken or pork tenderloin.
Because this is a time-saving meal, we've skipped the shocking of the vegetables in this particular dish. But of course, if you'd like to maintain a vibrant green color in your vegetables, a plunge in ice water after cooking will help to do that.
This recipe calls for caramelized onions, but if you prefer them to taste less sweet, you needn't take them all the way to the point of caramelization.
Editors' Recommendations