Warmer weather means music festivals, pool parties, beaches, and road trips. It's also a great time to spice up your drink: a hint of heat makes gin, beer, and tequila cocktails feel even more refreshing and creative.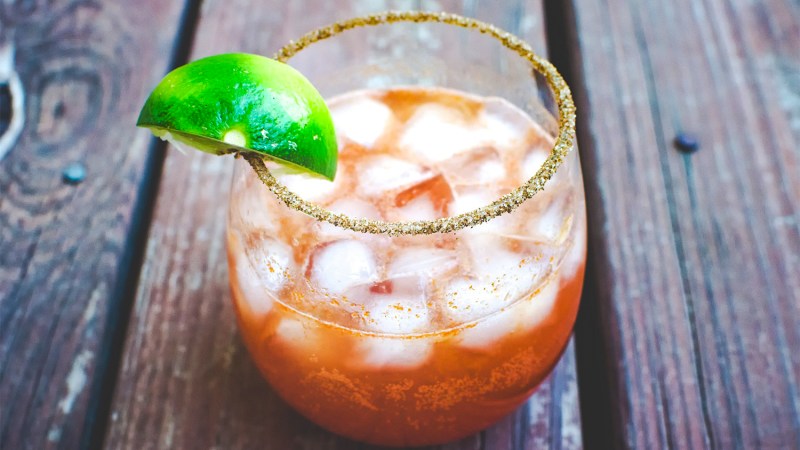 While micheladas, Bloody Marys, and even margaritas are are practically begging for a little Tabasco or sliced jalapeños, why limit yourself? I recently had the opportunity to help judge 15 beautifully crafted spicy cocktails for the national finals of the Booze & Infuse competition at the annual NYC Hot Sauce Expo, an homage to all things capsaicin-driven. The variety of drinks — riffs on Martinis, Daiquiris, even Tiki themes — was astounding. "There's so much more to spicy cocktails than a Bloody Mary," says Hot Sauce Expo founder Lisa Seabury.
The Expo allows chili-heads the opportunity to sample hundreds of (mostly indie) labels, ranging from sweet to smokey to volcanic, at six cities throughout the country each year. The 15 finalists brought their A game, producing artful, well-balanced drinks under a 90-second speed clock in front of a crowd of about 1,000 hopped-up fans. "We're like the Slayer concert of cocktail competitions," Seabury jokes. The winner (New Jersey's Carlos Ruiz for 2018) scored $5,000. The newest round of regionals are slated for in June at Chicago's first Hot Sauce Expo.
Drinks are heating up at more buttoned-down spots as well. Liquid Lab, a New York-based cocktail consulting company, offers a very popular Tomato Basil Martini (recipe below) with touch of heat at its private events according to co-founder Parker Boase. At New York's La Contenta Oeste, bar manager Alex Valencia offers up a wide range of agave-based cocktails all with extra heat. The Mayan (coconut-infused Milagro tequila, housemade corn purée and lime juice) features habanero bitters.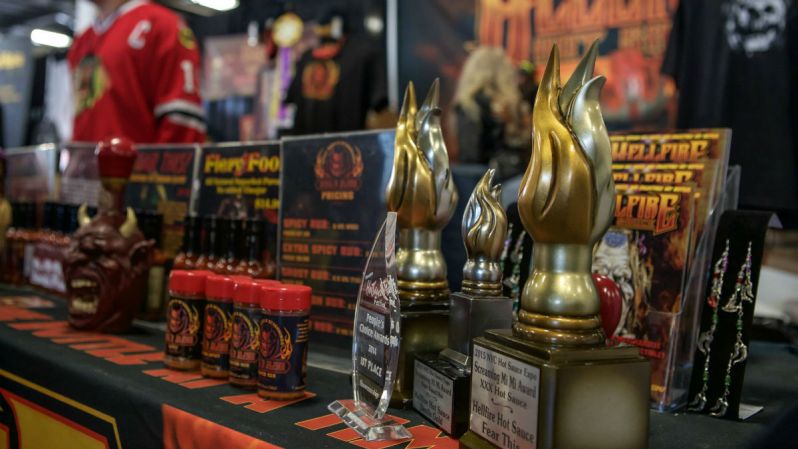 "Hot sauce is a great way to balance out fruity cocktails and give them more depth," says Boase. "With the martini, we experimented with a bunch of hot sauces, and Tabasco worked the best. I personally put Sriracha on all my food, but for this drink it was too mealy."
Ready to get creative with your own spicy cocktails? Keep these tips in mind:
Each sauce is different: Anyone who's tasted through the carousel of options at their local taqueria knows that hot sauces come in a wide range of flavor profiles. According to Boase, "vinegar-based sauces like Tabasco tend to go better with more savory cocktails, while richer sauces like Cholula or Frank's [Red Hot] work well with fruits like pineapple and watermelon." Also consider texture (is it a smooth liquid or does it have chopped bits in it?), and any potential food allergies.
Think about making your own sauce: Get creative! Tailor it to your favorite drinks! According to our very own Steven John, it's "laughably easy."
Fresh fruits and vegetables are a plus: Cucumber, tomato, watermelon, and pineapple all counterbalance heat nicely.
Spice can come from the booze: Many of the alcohol sponsors for NYC's Hot Sauce Expo offered up spirits that bring their own heat. Fireball was there, natch. Tanteo Tequila has tasty jalapeño and habanero-infused expressions. And Rock'd, a new vodka (backed in part by Symphony X and Trans-Siberian Orchestra rocker vocalist Russell Allen), has a Sweet Ghost Pepper flavor. Rather than muddling jalapeños into, say, a Spicy Tequila Sunrise, you could use infused tequila. Ancho Reyes, a spicy-sweet Mexican liqueur made using dried poblano peppers, is another excellent means of turning your drink up to 11.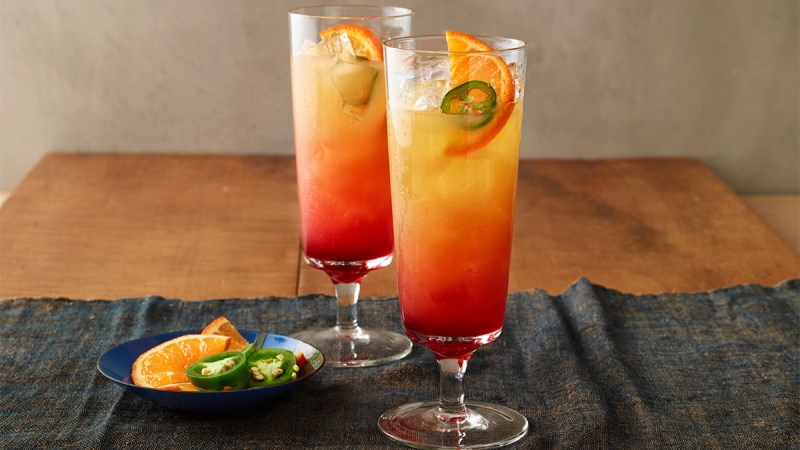 Consider other heat-inducers: Ginger, curry powder, fresh peppers, and black pepper all lend bite (and their own character) to a drink.
Don't overdo it: You don't want the sauce to overpower the drink. Treat it the way you would bitters, or an Islay whisky rinse/float. "I usually say less is more, when it comes to hot sauce," says Boase. "Two or three dashes is usually enough."
Don't forget the ice cream: Especially while taste testing and experimenting. Sometimes even the most jaded chili-head faces a lingering pain that just won't die. Good old vanilla ice cream is the best way to soothe a burning tongue. Added bonus: It's ice cream!
Let's get started with a simple recipe you can make at home:
Tomato Basil Martini
(Created by Parker Boase, Liquid Lab, New York City)
2 oz vodka
1 oz lemon juice
1/2 oz simple syrup
4 grape tomatoes, sliced in half
3 basil leaves
2-3 dashes Tabasco (or similar sauce)
Pinch of salt
Method: In a cocktail shaker, muddle tomatoes, basil, and salt. Add the rest of the ingredients. Add ice, then shake and strain into a Martini or coupe glass. Garnish with a fresh basil leaf and grape tomato.
Editors' Recommendations