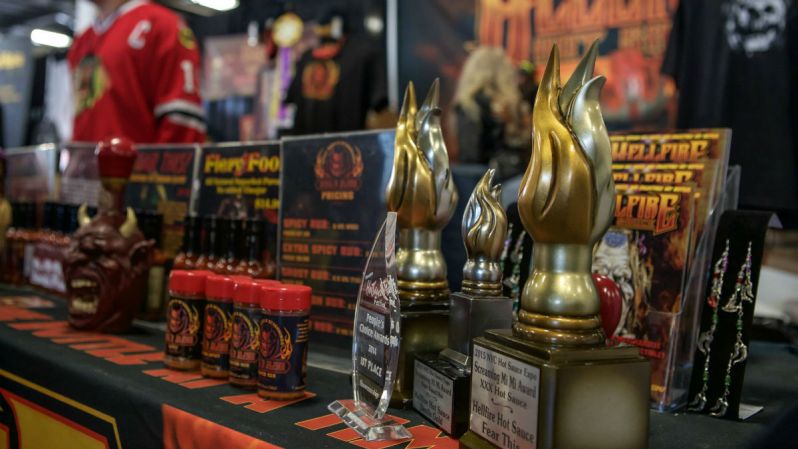 I'm a man who loves his hot sauce. I spice up my eggs and hash browns in the morning, I add a dash or 10 to soups and sandwiches at lunch, and whether dinnertime involves Thai, Mexican, Americana, or just about any cuisine around, you can bet I'll be topping it off with something spicy. (Need a recipe with hot sauce? Check out these amazing deviled eggs). Do I frequently overdo it and sweat my way through the meal? Hell yes I do. And I'll never learn, either.
If you're like me, then there's a place for us, friend, a place called the 6th Annual NYC Hot Sauce Expo, which takes place in Brooklyn on the April 21-22, 2018. Dozens of different hot sauce makers will descend on the venue, having traveled to New York City from across America and around the world. There are hot sauce brands coming in from the UK, Mexico, New Zealand, and more. And as you would probably expect to find at any good food-based expo in the year 2018, there will also be plentiful craft beers, cocktails, food vendors, demonstrations, music, and eating competitions, including The Ring of Fire Challenge.
(On the challenge, I recommend you spectate rather than participate if you want to taste anything other than burning for the rest of April. But since it's your mouth and the rest of your body, it's your call.)
Tickets to the NYC Hot Sauce Expo range from $10 to $100. The cheapest ticket still allowing for hot sauce taste tests from every vendor on site. A mid-level $50 ticket will also net you a few beers and a generous Texas barbecue platter lunch. The $100 ticket comes with plenty of drinks, eats, VIP area access, and a swag bag full of goodies. (My advice? Go with the $100 ticket. You'll probably spend almost that much on beer to cool your tongue down anyway, so you might as well prepay and get your money's worth.)
You can get tickets to the 6th Annual NYC Hot Sauce at the gate, but buying ahead of time is a lot easier. The extravaganza runs from 10 a.m. to 6 p.m. both days, and takes place at the Brooklyn Expo Center at 79 Franklin Street, Brooklyn, NY, 11222.
Editors' Recommendations