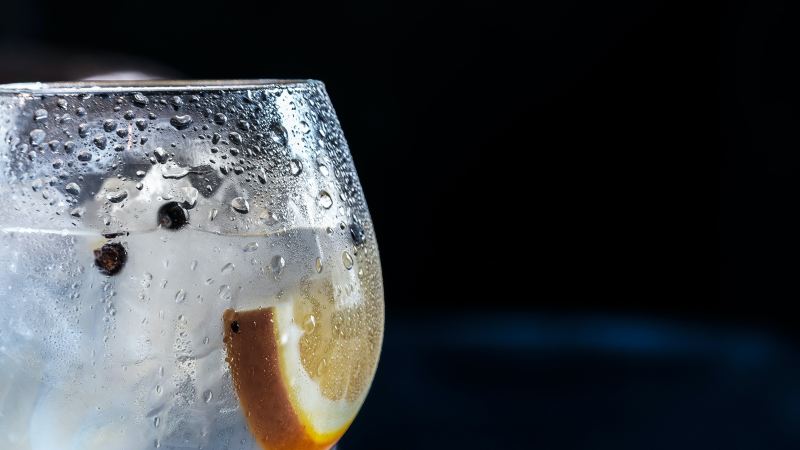 When it comes to classic mixed drinks, there are few more well-known than the gin and tonic. This highball cocktail, at its simplest, is made with gin and (you guessed it) tonic water. If you want to go the no-frills route, you'll simply add three parts tonic water to one part gin in an ice-filled glass (or as much as 50/50 if you're feeling a little wild). Often a lime wedge is added for garnish. It's simple, elegant, and perfect. But it's also not the only way to make a gin and tonic.
If you've never had a Spanish gin tonic (it's important to note that they omit the 'and'), what are you waiting for? Well, maybe you've never heard of it. In that case, let us enlighten you with a new, fresh way of looking at the classic highball cocktail. You'll never look at this mixed drink the same way again. Sure to be your new summer go-to, once you try one, traditional gin & tonics will feel so pedestrian and boring.
What is a Spanish gin tonic?
While you might enjoy the simplicity of the classic gin and tonic, in parts of Spain, it's so much more than that. This is because, instead of simply opting for gin, tonic water, and a lime wedge garnish, there's a whole world of ingredients and flavors at drinkers' and bartenders' disposal. But it all starts with the glass. Spanish gin tonics aren't served in highball glasses or rocks glasses. Instead, they're served in extra-large wine glasses and balloon glasses. Not only is this visually appealing and lets everyone know you're not messing around with your over-the-top cocktail, but it affords you the ability to add more ingredients as you see fit.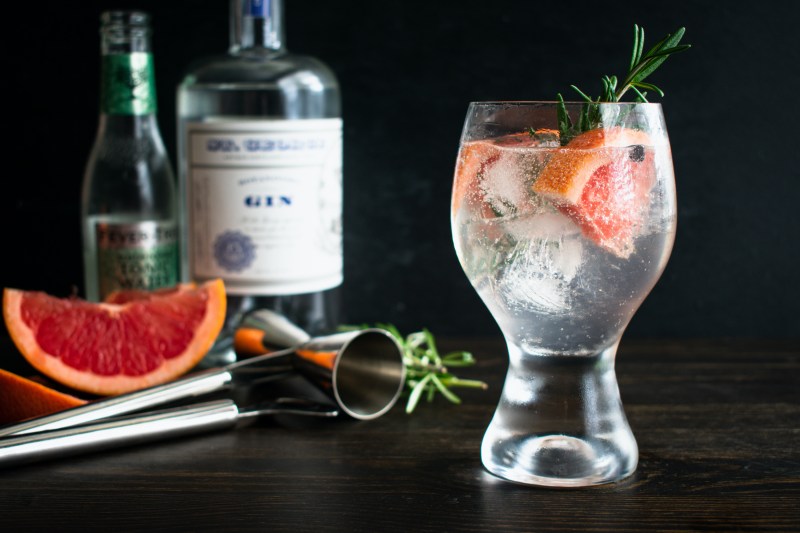 What's in a Spanish gin tonic?
As we mentioned earlier, the Spanish gin tonic is an elevated version of the classic. It's not just two (or three) ingredients. While the base is still gin and tonic water, it's garnished with a seemingly endless number of herbs, fruits, and other ingredients. Juniper berries, lime wheels, rosemary, lemon, thyme, berries, and various other ingredients can all be on the recipe list. Simply, pick a great gin (London dry is likely your best bet), a great, flavorful tonic water, and add your favorite ingredients to taste. Part of the appeal is the versatility and the fact that you can make the drink to fit your particular tastes.
Here's an easy Spanish gin tonic recipe:
2 ounces gin
4 ounces tonic water
Your favorite garnishes
Preparation:
Fill a balloon or extra-large wine glass with ice. Add your gin and juniper berries, lemon wheel, berries, rosemary, or other fruits or herbs you prefer. Stir it together. Top it with tonic water.
Why is it great for summer and fall?
We already know that the traditional gin and tonic is exceptionally refreshing on a warm (or downright scorching) summer or early fall day. The flavors of juniper-driven gin, quinine-filled tonic water, and a hint of lime from the addition of the lime wedge garnish are perfect for summer heat. But there's a reason they say that there's no such thing as too much of a good thing, right? The addition of actual juniper berries, herbs, and other fruits only makes the drink even better. It's fresh, fruity, thirst-quenching, and well-suited for a hot day. Go make one right now. We're going to.
Editors' Recommendations