It's almost Father's Day, and that means it's time to show dad he didn't raise a bum loser. How do you do that? Well, you could get him a nice gift — highly advisable — but if you really want to impress him, you should cook for him. Namely, you could grill him up some pork chops and serve' em with a side of baked beans and cornbread. You don't have to be from the South to appreciate that combo, that's for sure.
This recipe comes to up from Tavern at Bobby, located in Nashville, Tennessee. Even if your father is the kind of guy who might say "Sor-what?" it doesn't matter. Serve him one bite of this meal and he will tell stories in the future of your pork chop prowess, just like he does about the time that he caught that fish. You know, the one that was the biggest on record for that lake.
Note: If your father is still the grillmaster in the house, you might want to instead print out the recipe below and hand it to him, deferring to his almighty grilling prowess while you get working on the sides.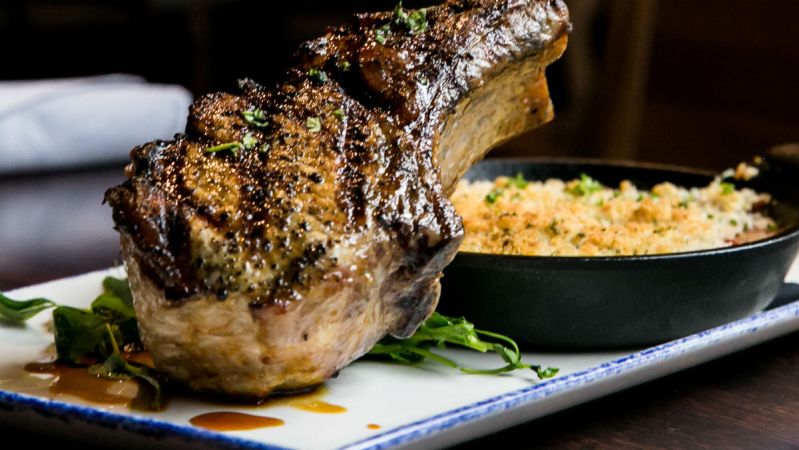 Sorghum-Rubbed Pork Chop
(Serves: 4)
Sorghum Mop
(Yield: 2 cups)
Ingredients:
1 cup sorghum molasses
2 tbsp ketchup
.5 cup apple cider vinegar
.25 cup Crystal Hot Sauce
1 tsp salt
Method:
In a small sauce pot, combine all ingredients and bring to a simmer, whisking occasionally.
Once mop comes together, it can be reserved for a later use or used immediately.
Grilled Double Cut Pork Chops
Ingredients:
4 pork chops; thick-cut, double bone-in; .75lb to 1 lb each
2 tbsp kosher salt
2 tbsp coarse ground pepper
2 tbsp olive oil
Method:
Preheat a grill to medium.
Brush chops with olive oil on a baking sheet and coat generously with salt and pepper.
Place the chops directly over the flame and grill until marked and slightly charred on the first side (3-5 minutes).
Turn chops brush grilled side with sorghum mop then repeat on the opposite side.
Once chops are marked and slightly charred on both sides move to a cooler section on the grill and turn heat down slightly letting the chops cook through and internal temperature is between 130-145 degrees Fahrenheit (15-20 minutes).
During this final cooking process brush occasionally with sorghum mop on both sides.
Before serving, let the chops rest for 15 minutes; this will allow the chops to continue cooking and retain its natural juices and moisture.
Baked Beans
(Yield: 2 quarts)
Ingredients:
1 smoked ham hock
4 cups water or chicken stock
2 cups Great Northern beans, soaked overnight in salty water
2 tbsp brown sugar
2 tbsp bacon fat
2 tbsp Crystal Hot Sauce
1 tbsp salt
.25 tbsp apple cider vinegar
3 poblano peppers
3 yellow onions
2 garlic cloves, crushed
1 red bell pepper
Method:
Soak the white beans overnight in salty water. Rinse and reserve.
Cut the peppers and two of the onions into a small dice. Peel and halve the third onion.
In a small pan, melt 1 tbsp of bacon fat and place the onion in the pan face down.
Cook the face of the onion on medium high heat until it begins to blacken and take on a very dark caramelized color.
In a large pot, melt the rest of the bacon fat and sauté the diced onions, peppers, and crushed garlic until translucent.
Add the rest of the ingredients, loosely cover, and simmer until beans are tender.
Skillet Corn Bread
(Yield: one 10-inch cast iron skillet)
Ingredients:
5 cup yellow cornmeal
.5 cup all-purpose flour
.25 cup sugar
.25 cup whole-fat buttermilk
4 tbsp lard
4 tbsp butter
2 tsp baking powder
1 tsp sea salt
.5 tsp baking soda
3 eggs
Method:
Place skillet in oven and pre-heat to 425 degrees Fahrenheit.
Allow an extra 10 minutes after the oven says it is ready
In a microwave safe dish, melt 3 tablespoons of lard and 4 tablespoons of butter
In a large bowl, combine the cornmeal, flour, sugar, baking powder, soda, and salt
In a separate bowl, combine the eggs and buttermilk.
Remove the skillet from the oven and place on high heat. Add the lard. While lard is melting, add the egg mix to the dry ingredients. While mixing, pour in the fat. Once mixture is combined, add it to the skillet.
Immediately place in the oven and bake until golden brown.
Editors' Recommendations