One of our favorite activities here at The Manual is to go out to a restaurant that we've never been to before. (Remember those gold wings? We do.). Recently, we had the opportunity to check out Kyma, a new Greek restaurant located in the Flatiron district of New York City. In addition to a raw bar, Kyma serves up a wide variety of Greek specialties, ranging from stuffed calamari that you'd sell your soul for to numerous classic Greek dishes, such as the savory, melt in your mouth short rib youvetsi.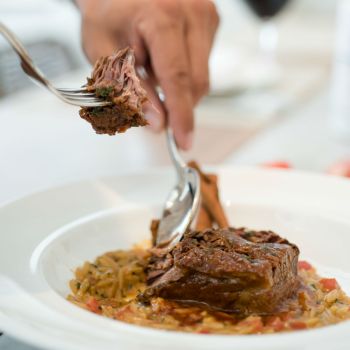 Once we had it, we were hooked. The meat falls apart in your mouth and the sauce that it's cooked in is rich in herbs and spices. If it weren't inappropriate to lick one's plate in public, you can bet that we would've. We had to know how to make it. Thankfully, Kyma obliged. Yes, it does in a way take away from the joy that we get from going out places, but this was too good to not learn how to make. Plus, we'll be headed back to Kyma anyway to eat our way through the rest of their menu.
Back to that youvetsi, though.
The first thing we learned about the dish is that it's incredibly easy to make. It isn't set-it-and-forget-it easy, but it's pretty close. Second, we learned that the name (which is also spelled Giouvetsi) comes from the Turkish word güveç, a term for a type of earthenware pot and the dishes (usually casseroles or stews) that are baked in said pot. You don't need a güveç to cook this dish, though. All you need is a pot big enough to hold all of your ingredients.
Note: If you're having trouble finding the kefalograviera cheese to serve with your short rib youvetsi, you can always order it on Amazon.
Short Rib Youvetsi
Ingredients:
5 lbs short rib
2 celery sticks, chopped
2 bay leaf
2 garlic cloves
2 cinnamon sticks
1 large carrot, peeled and chopped
1 white onion, peeled and chopped'
1 bunch thyme
1 packet orzo pasta
1 can plum tomatoes
1 quart red wine
4 tbsp tomato paste
Nutmeg
Salt and pepper
Method:
Season the short rib with salt and pepper and sear (sauté) on all sides in a large pot, medium to high heat.
Once lightly browned, remove the short rib and add your vegetables. Once the vegetables are browned, add the rest of the ingredients (not the short rib) and simmer for 20 mins.
Place the short rib in a roasting tray, cover with the simmering liquid and braise in a 350-degree Fahrenheit oven for 2 hours.
Add the orzo and more stock if need be. Braise for another hour till the orzo is al dente.
Serve with kefalograviera cheese.
Editors' Recommendations