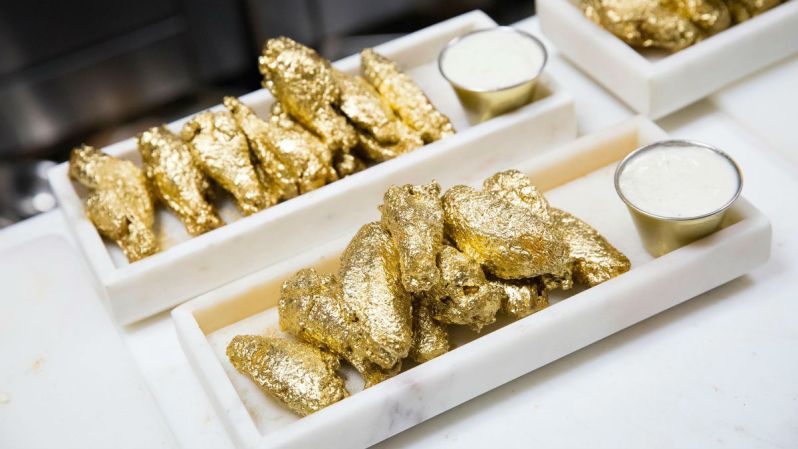 It seems that gilded food has become quite the trend these days. People are splurging on $1,000-bagels sprinkled with gold flakes and ordering steak dinners that come with gold-foiled potatoes. It's gaudy, ridiculous, and we are totally into it.
We naturally had to try the latest dish in the gold food craze: 24-karat gold chicken wings (you know how much we love our chicken wings, after all). Served at The Ainsworth, a New York-based restaurant with locations in New Jersey, Kansas City, and Nashville, the gilded chicken is a collaboration with Jonathan Cheban, who refers to himself as @foodgod on Instagram.
The wings are covered with gold dust, brined for 24 hours, then cooked in a gold coconut butter honey chipotle sauce. They're served with a side of blue cheese and can be purchased in a basket of 10 ($45), 20 ($90), or 50 pieces ($1,000), the last of which is served with a bottle of Ace of Spades champagne.
These wings look damn good and are social media fodder of the highest order. But for that price, the taste has to live up to the glistening exterior, so we saddled up to the bar and ordered the 10-piece. Though we were excited, our expectations are never high when it comes to gimmicky food (here's looking at you, Oreos).
Photos by Amanda Gabriele/The Manual
To our surprise, the wings were delicious. The sweet honey barbecue flavor was very apparent upfront, but the spicy chipotle notes came through more and more with each bite. Our mouths were tingling by the end of the 10-piece basket thanks to a spice level that we'd consider medium.
The Ainsworth is something of a high-end sports bar, but the food there is quite good, and the wings were no exception. The service was great, too, and the happy hour lasts all night during the week, so it's worth a visit even if you don't plan on leaving with gold-dusted fingers.
While the 24-karat gold wings are fun and tasty, we don't see ourselves ordering them again for the price because so many restaurants serve wings that are just as delicious (albeit sans metallic sheen) for a way lower price. But, if you have $45 to spare and the desire to show off your love for everything gold, this shiny chicken is worth the splurge.
Editors' Recommendations