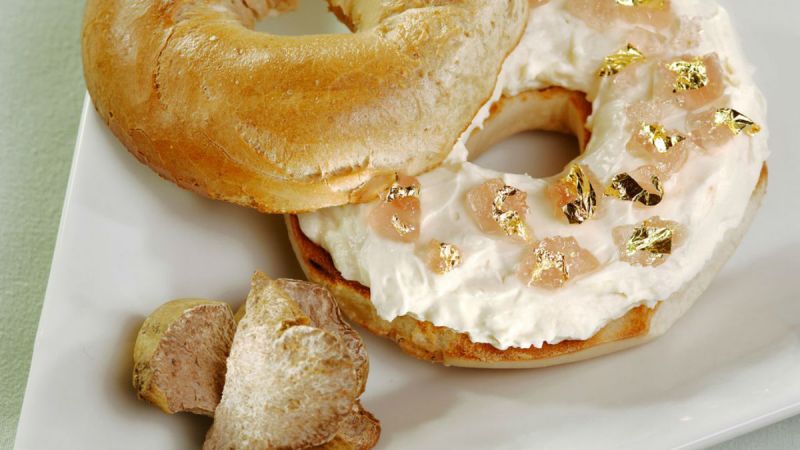 Last week, the Washington Post reported that the Westin New York Hotel in Times Square is bringing back its $1,000 bagel. When it first hit the menu way back in 2007, the $1,000 bagel was popular among Manhattan's upper crust and, one lone recession later, it's apparently still in demand. After years of requests from Westin guests and brunchers alike, the costly consumable is back and still true to form.
Available either through room service or at the Westin's restaurant, the $1,000 bagel costs so much because it's covered in truffle cream cheese and gold flakes. This is not the first time we've seen a gold-flake filled edible on The Manual. Previously we covered the story about the $25,000 taco from the Grand Velos Los Cabos resort in Baja California, which brought more controversy than pleasant conversation. And the same will probably occur with this open-faced frivolity.
So what makes this bagel so expensive? Truffles.
The $1,000 bagel is smeared with a cream cheese infused with Alba truffles, a delicacy found only in northern Italy's Piedmont region around the city of Alba. These truffles are so rare and difficult to come across, that they are foraged with trained truffle pigs and dogs. The result? A single ounce of white Alba truffles can cost upwards of $250. According to those who have tried this particular truffle, the taste is earthy and delicate with a pungent aroma.
The truffle cream cheese is paired with a goji berry-infused Riesling jelly and topped with gold flakes, because why the hell not? We know from our visit with Alma Chocolates (and Goldschläger-fueled youthful indiscretions) that gold is inert, has no flavor, and is simply there to add a final layer of luxury.
If you're thinking this is too decadent for any self-respecting person (even billionaire!) to eat without remonstrance, just know that all proceeds go to a good cause: the Holy Apostles Soup Kitchen.
You can get the $1,000 bagel November 1 through December 15. Orders must be placed 24 hours in advance.
Feature image courtesy Westin New York Hotel.