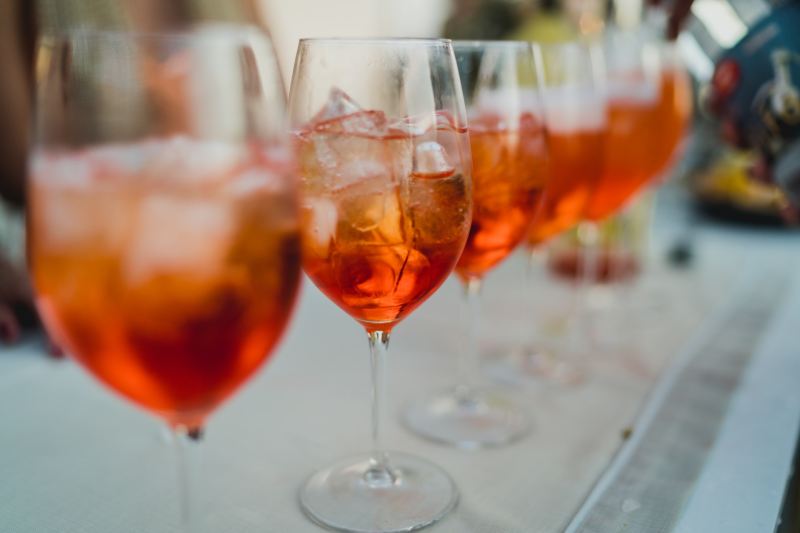 If you live under a proverbial rock, don't spend your days on social media, or simply aren't up to date on the trending cocktails du jour, you might not know that the Aperol spritz is going through a renaissance right now. First created for Venetian palates back in 1920, this more than 100-year-old aperitif (before-dinner drink) is commonly made with prosecco (Italian sparking wine), Aperol (an herbal, Italian digestive liqueur), and soda water. While always popular in Italy, it's become one of the most popular before-dinner, afternoon, or anytime cocktails of the last few years.
But while the classic recipe is an outstanding, refreshing, bittersweet way to whet your appetite before a nice lunch, dinner, or evening snack, it's the kind of versatile mixed drink that shines even brighter when its ingredients are mixed and matched and even switched out for other complementary flavors. Today, we're specifically talking about the addition of rhubarb. Who doesn't love more rhubarb recipes, right?
All about rhubarb
If you didn't know it already, rhubarb is the meaty, fleshy stalk of another plant called Rheum. Cooked, it's used as an ingredient in pies and other recipes. It's known for its almost celery-like consistency and flavors of tart, acidic citrus peels, and a light sourness. If you haven't guessed it already, these flavors are perfect for a refreshing, crisp, easy-drinking cocktail. It's a way to easily update your spritz recipes.
And since your drink wouldn't be very tasty if you simply whipped it up and plunked in a few chunks of rhubarb, you have to make rhubarb simple syrup before you get started even thinking about the other ingredients:
To make it, add 2-3 stalks of chopped rhubarb to a saucepan.
Add a cup of granulated sugar and a cup of water.
Turn the heat to slow and slowly stir.
When everything is incorporated, remove the rhubarb and add the rhubarb simple syrup to a squirt bottle for later use.
The quality of the drink hinges on the rhubarb simple syrup. Simple syrup on its own is made with water and sugar to make an extremely sweet flavoring that's used in a multitude of cocktails, including a classic old-fashioned or mojito (if you don't have time to muddle a sugar cube). The addition of rhubarb will make the syrup a mix of tart citrus and sweet sugar. What could be better?
The best part? This tart, lightly sour, semisweet cocktail doesn't completely lose its popular Aperol addition. Instead of being the showcase liqueur, it's a side flavor that's used to enhance the other included flavors. This drink is fresh, refreshing, thirst-quenching, and just might become your new go-to aperitif.
Rhubarb spritz recipe
Ingredients:
2 ounces of rhubarb syrup
3 ounces prosecco
A few dashes of Aperol
Sparkling water topper
Orange wheel garnish
Preparation:
Add ice to a large wine glass.
Add rhubarb simple syrup, prosecco, and a few dashes of Aperol.
Top with your favorite sparkling water.
Gently stir to combine.
Add an orange wheel garnish.
Maybe add a rhubarb stalk or two as a garnish as well? Or better yet, don't.
Editors' Recommendations