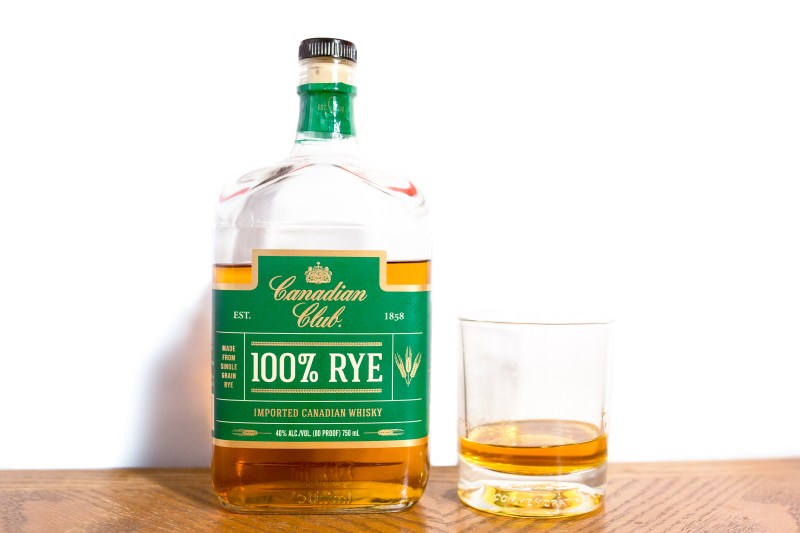 We know. When you think Canadian Club, you're thinking blended Canadian whiskey that you've picked up because the liquor store is out of what you really want. This is why we will admit that we were surprised when we got Canadian Club's 100% Rye Whiskey. Made from a single grain, the rye helps to represent the rye component of what goes into Canadian Club blended whiskey.
Follow us on this, though. At 40% ABV, this rye whiskey definitely needs to be considered when you're thinking about your next bottle of rye.
Nose: Butterscotch notes predominate the nose, followed by hints of vanilla, almond, and toffee. A little bit of ethanol on the end, but it doesn't really take away from the nose.
Palate: Sweet again, mostly coming in the form of butterscotch and honey. Not what you might expect from a rye whiskey, as it is not as nearly as spicy as you would get from other ryes. The spice that is there is overcome by caramel, vanilla, and the slightest hints of cinnamon. Very little burn overall.
Finish: Fairly short finish. Sweet honey notes that fade quickly into nuttiness and a little bit of grainy rye flavor. Very little burn, as the overwhelming feeling is syrup.
Final Thoughts: This isn't what you might expect from other rye whiskies. It lacks the hallmark spiciness that most other ryes have. That being said, this is a good introduction if you haven't had rye before (both for price and for flavor). Most importantly, though, is the price. Canadian Club Rye Whiskey retails for $18. When you consider what other ryes go for, you really can't go wrong with this.
At just $18, the Canadian Club Rye Whiskey definitely falls in the cheap whiskey category. That makes it a decent option for making whiskey sours and other related cocktails. Considering this is a solid beginner rye whiskey, you'll likely want to mix it with something rather that sipping it straight — but it's up to you.
Looking for even more reviews? We've gathered our top picks for the best cheap whiskey, rye whiskey under $50. and whiskeys for an old fashioned.
Editors' Recommendations