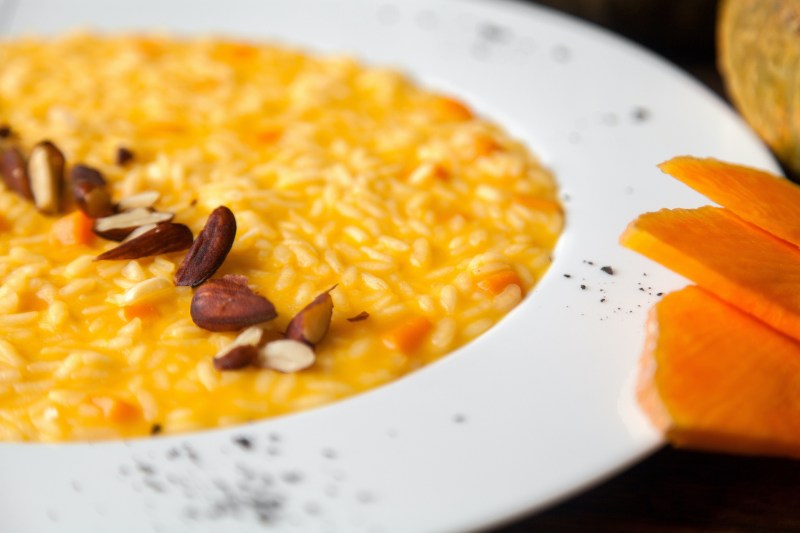 Risotto is one of those dishes that's gotten a reputation for being something of a diva. This comfortingly creamy and cheesy rice dish is made by lovingly tending to it with warm stock ladled in a bit at a time rather than simply dumping all the ingredients into a pot and calling it a day.
So while it does require a bit more care than a simple white rice or pilaf, it doesn't deserve the high-maintenance reputation it has. And let's be honest — even if it were more than a little bit challenging to make, the rewards would be well worth the effort. Risotto is a meal that feels luxurious and rich. Its creamy, velvety texture is absolute heaven on earth. And when this dish is given an earthy autumnal upgrade, it becomes the meal everyone craves at the end of a long, cold fall day.
This pumpkin risotto recipe is one of our favorites of the season. It highlights the subtly sweet flavor of pumpkin with fall spices and savory cheese. This dish is absolutely exquisite — and if you take the time to follow the steps — it's very easy to make.
Pumpkin risotto recipe
Ingredients
2

tablespoons

of bacon fat (or

olive oil)

12 ounces pumpkin, peeled, seeded, and cut into 1-inch pieces

1

onion, diced

2-3

cloves

garlic, minced

1 1/2 cups arborio rice
1/2 cup dry white wine
1 teaspoon fresh thyme leaves
3 cups vegetable stock, warmed

3/4 cup

freshly grated pecorino Romano

1/4 teaspoon nutmeg

2

tablespoons

butter

Salt and pepper to taste
Crushed almonds, toasted (optional garnish)
Method
Heat bacon fat over medium heat, and add onion. Cook until translucent.
Add garlic, pumpkin, thyme, and nutmeg, and cook until the vegetables are completely cooked through and tender.
Mash the vegetables to the consistency of a thick puree.
Add the rice and wine to the mixture and cook for about 2 minutes until the wine has cooked off.
Add just enough stock to cover the rice and continue to cook.
Keep adding stock about 1/2 cup at a time as the liquid reduces, stirring regularly.
Cook until the rice is cooked through and all the stock has been absorbed.
Remove from the heat and stir in the butter and pecorino Romano and stir until the butter is melted. Adjust seasonings accordingly.
Serve immediately with toasted almonds and additional grated pecorino Romano.
Risotto tips and tricks
You can't make risotto with just any old rice. It requires a special short-grain variety that's capable of absorbing a lot of liquid without becoming mushy. Arborio is most often used, but varieties like Carnaroli or Vialone Nano are delicious as well.
Keep the stock warm in a saucepan next to the risotto pan. Adding cold stock will cool everything down and alter the cooking process.
Be patient when adding stock to risotto. The beauty of this dish is in its starchy texture, which is only achieved by adding liquid a little bit at a time. Add only 1/2 cup or so at a time for the best possible texture.
Don't use a pan that's too wide. The risotto should be cozy enough that it's on top of itself, creating starch with that close contact. Avoid too wide a pan, which will cook the risotto in a shallow, thin layer.
To stir or not to stir? This topic is widely debated with risotto. Too much stirring and you run the risk of a gluey dish. Too little and the rice could stick and burn. The trick is to stir regularly, but not constantly, roughly every 10 to 15 seconds, or so.
This is a wonderful fall recipe that features pumpkin, but risotto is limitless in its flavor possibilities. Depending on your favorite vegetables, herbs, and spices, you can play around with just about any flavor combination.
Editors' Recommendations