The 90s have been back for a while now. In fashion, in music, and even in our favorite snack foods. Everywhere you turn, there's a TikTok or YouTube video titled "You might be a 90s kid if…" Grocery store shelves can hardly stay stocked with old-school cool snacks like Waffle Crisp and Dunkaroos, and we millennials couldn't be more ecstatic about it.
Now, Pizza Hut has jumped on the nostalgic bandwagon as well. Coming in hot just after their re-release of 1990s favorite, The Big New Yorker, is another classic Pizza Hut throwback — mini basketballs. Participating restaurants will be selling their 2023 version of mini basketballs starting March 14, just in time for March Madness. The balls feature Pizza Hut's popular catchphrase, "No One Out Pizzas The Hut," in the restaurant's signature red and black color scheme. The cost of revisiting one of your favorite childhood memories will set you back just $7.
And for those looking to double dunk on the nostalgic feels, The Big New Yorker pizza comes in a special box that transforms into a basketball hoop and backboard for easy living room slam-dunk tournaments.
In a recent press release, Lindsay Morgan, Chief Marketing Officer at Pizza Hut, said, "We're back again for the seventh year as the official pizza of March Madness, and we wanted to do something special for pizza-loving basketball fans. That's why we're bringing back a fan-favorite item, our Mini Basketballs, to pair perfectly with pizza orders during the tournament and unveiling interactive hoop pizza box packaging for customers to get into the basketball action at home."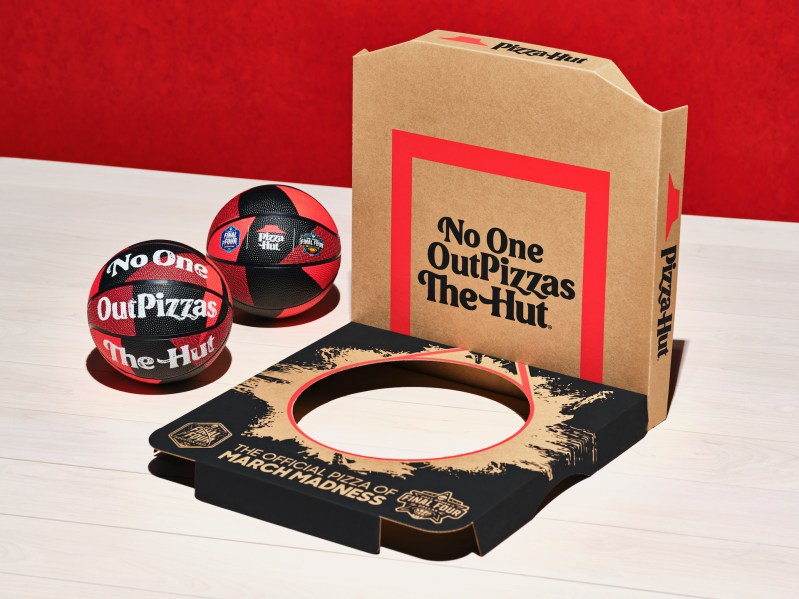 The new mini basketballs and interactive pizza box are only available for a limited time, so check out your local restaurants before they bounce.
Editors' Recommendations