Two years ago, Mexican tequila giant Patrón teamed up with French glassmaker Lalique to create something special, an artistic wonder both inside and out: Patrón en Lalique Serie 1. This year, the companies are back at it again with a second release in the line, Patrón en Lalique Serie 2.

The original invention was inspired by René Lalique's pioneering Art Nouveau style from the late 19th century. Serie 2 draws from the next major period that the Lalique crystal house was involved in: the Art Déco movement, which was popular in the 1920s. This style is doubly important, as both Mexico and France have a claim to the Art Déco movement.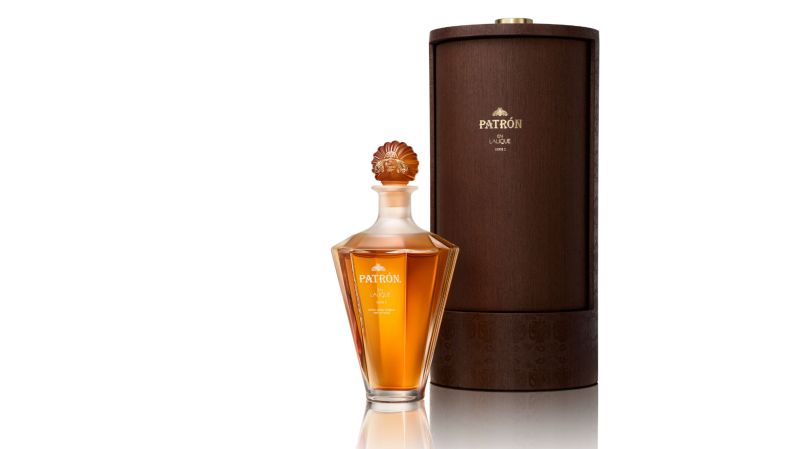 Less than 300 bottles of this limited-edition release (299 to be exact) were created, which is about half of the total production for The Dalmore 40, another example of art in a glass. The bottles were handmade at Lalique's glass factory in Wingen-sur-Moder in Alsace, France. Every single piece is blown, pressed, fashioned, cut, engraved, polished, and signed.
The bottle was inspired by Weber blue agave, the plant that tequila is made from, and is emblematic of Lalique's signature style. The design features straight lines and a contrast between clear and frosted finishes. The stopper is amber and is meant to mirror the liquid inside the bottle.
Speaking of the tequila, it, too, is a special release. While they could throw any tequila in there, Patrón didn't because, well, that's not how Patrón does things. Patrón en Lalique Serie 2 is a blend of extra añejo tequilas that were aged in three different types of barrels — American oak, French oak, and Spanish sherry — for more than seven years on average. Sweet and fruity, the tequila gives off notes of cooked agave, vanilla, raisins, and pecans before a long and pleasant caramel, agave finish.
While you won't be able to find Patrón en Lalique Serie 2 in just any liquor store, if you're lucky enough to come across it, you'll be able to take it home for the cool price of $7,500. (Not expensive enough? You might want to check out this bottle of $10,000 Scotch whisky then.)
Feature image courtesy of Lalique/Facebook.
Editors' Recommendations