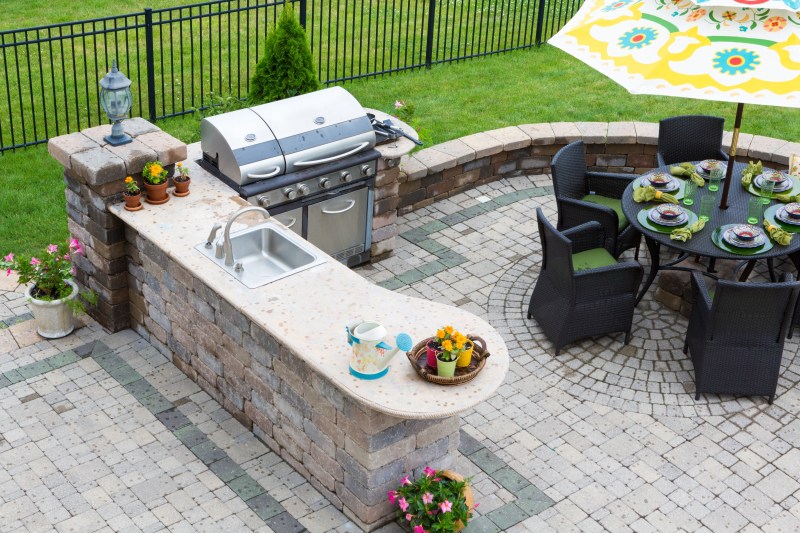 If you've seen those magazine covers of family and friends relaxing and enjoying a summer barbecue in their outdoor kitchen by the poolside, then you know how enticing it can be to add one to your home. After all, the sleek, top-of-the-line appliances, chef-quality grill, and at-home bar can make for a cozy and classy hangout for summer and fall parties. But are outdoor kitchens worth the investment? What are the disadvantages of an outdoor kitchen? What are the benefits?
If you've been on the fence trying to decide whether an outdoor kitchen is a good idea for you and your family, don't fret. Today, we're discussing the pros and cons of owning an outdoor kitchen to help you decide if this investment is right for you. These outdoor kitchen ideas are sure to spark some inspiration for your remodel, and potentially help revamp your outdoor space.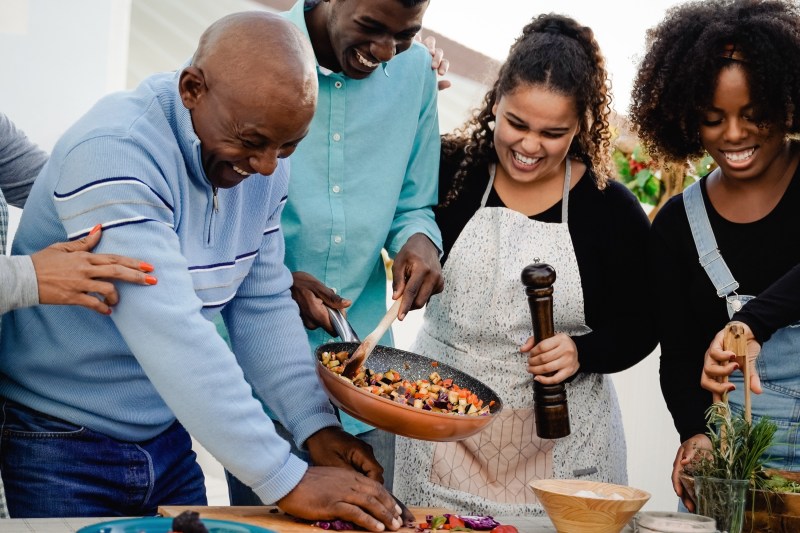 Pro: Perfect for entertaining and hosting parties
One of the best parts about having an outdoor kitchen is that it can be the perfect space for entertaining guests and hosting parties. Family and friends can sit at a custom built-in bar, relax poolside, or gather around the table while you prepare meals. The home chef doesn't have to worry about missing out on any of the fun since outdoor kitchens can be front and center on a beautiful summer evening or fall afternoon. Why remain cooped up inside when you can have a great time cooking great meals outdoors?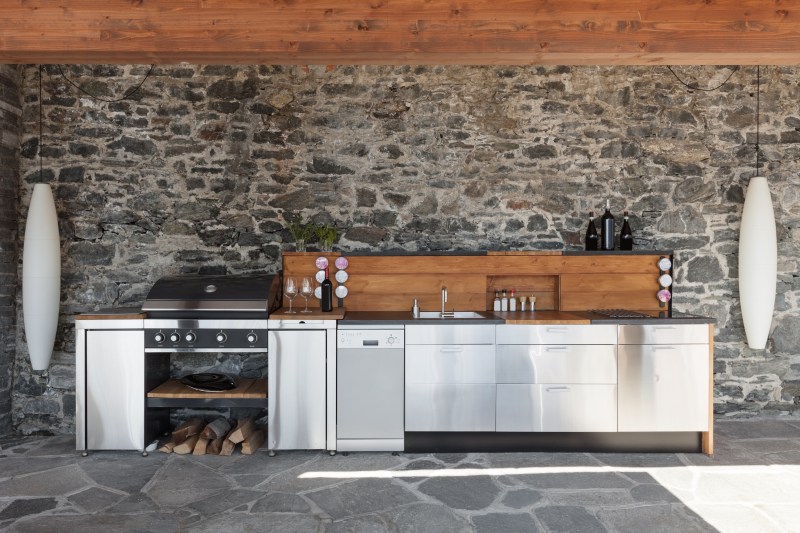 Con: It can require a good amount of space
While the outdoor kitchen is great for entertaining, one issue some homeowners sometimes run into is a lack of space. But how much space do you need for an outdoor kitchen? The amount of space required for your outdoor kitchen will depend on your needs. If you have a small backyard but are only looking to add a simple counter, grill, and outdoor refrigerator, you should be able to make it work with the space available.
However, if you're limited on square footage and want to go all out with a pizza oven, plenty of storage, an outdoor bar, and a fireplace, you may have to rethink your must-haves. The good news is that, since outdoor kitchens aren't one-size-fits-all, as long as you have some outdoor space, you should be able to make an outdoor kitchen work for you.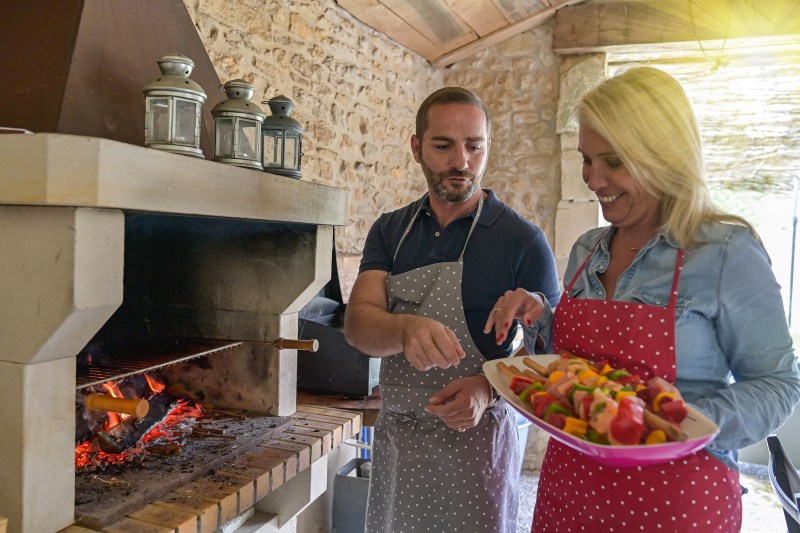 Pro: Can raise your home's resale value
One reason many homeowners love their outdoor kitchen is because it is more than a party space. Outdoor kitchens can raise your home's resale value, making it a solid investment for your future. According to Zillow, "listings mentioning an 'outdoor kitchen' sold for 4.5% more than similar homes without the feature." If you're considering selling your home later, an outdoor kitchen can help raise the retail value.
However, it's important to note that homes in the West, South, and Southwest benefit from this addition more than homes in the North, East, and Northeast, since the prior regions experience better climates for outdoor gatherings. Still, even in regions where winter may inhibit outdoor kitchen usage, many buyers are eager for this home addition.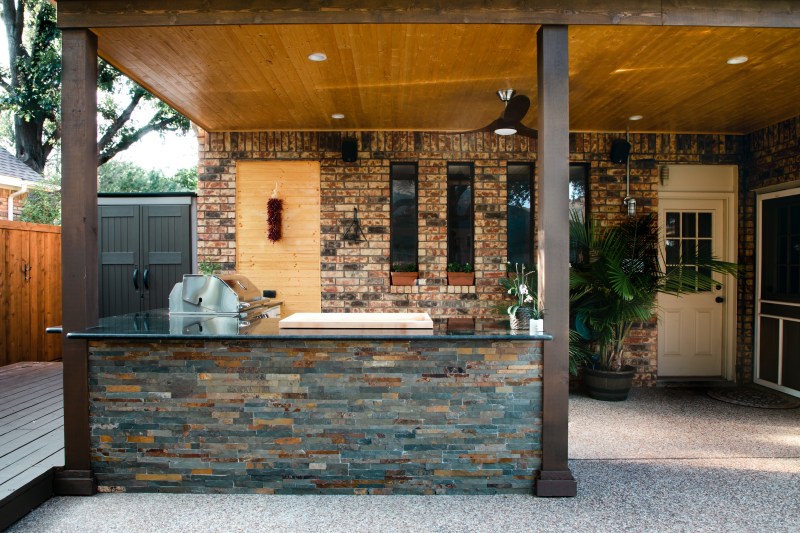 Con: Depending on your needs, it can get pricey
One question you may ask yourself is, "How much does an outdoor kitchen cost?" Outdoor kitchen renovations can be as affordable as $5,000 or as expensive as $20,000 or more. Depending on the project scope, the outdoor kitchen can be a bit pricey. If you want to save money on your outdoor kitchen, try to avoid highly customized, expensive features.
Here are some things that can affect your outdoor kitchen costs:
The amount and types of appliances you include
The size of your outdoor kitchen (square footage)
The materials used in the project (for example, concrete vs. tile countertops)
Plumbing additions like sinks
Pro: You can customize it however you like
Another reason many homeowners adore outdoor kitchens is that they can customize them however they want. Have you always dreamed of having a pizza oven? Good news! You can add that to your outdoor kitchen designs. Have you been craving an at-home bar? Your outdoor kitchen can be the perfect location for it. Outdoor kitchens are highly customizable. From the layout, appliances added, and location on your property to the countertops, storage space, and color palette, you can achieve so many different aesthetics for your outdoor kitchen design.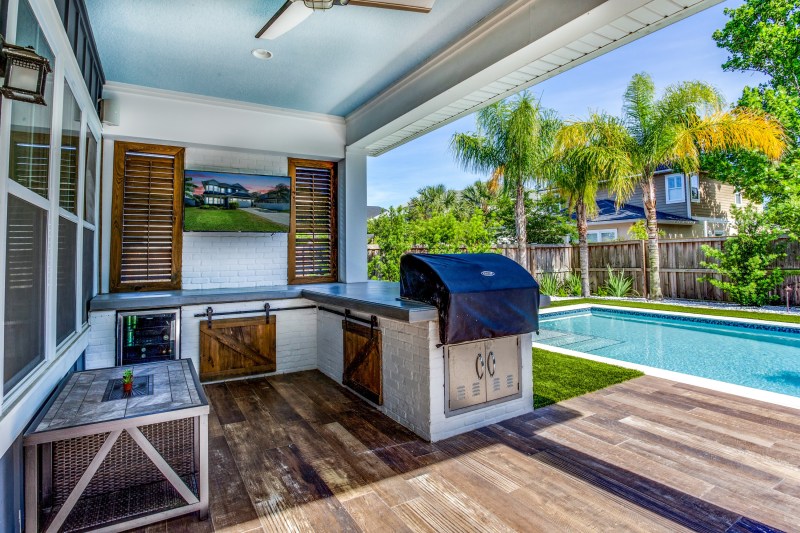 Con: You'll need to consider how to protect it from the elements
One issue you'll need to consider when designing an outdoor kitchen is how to protect it from the elements. The challenges you face with weather and storms will depend on the region where you live. Additionally, those in northern climates that experience snowy winters may need to think about how they will best protect their outdoor kitchen all winter long. You may need to invest in a grill cover or other outdoor weather-resistant coverings. Warm climates will also have to consider whether an awning, roof, or ceiling fan is needed to provide shade and extra cooling during the heat of summer.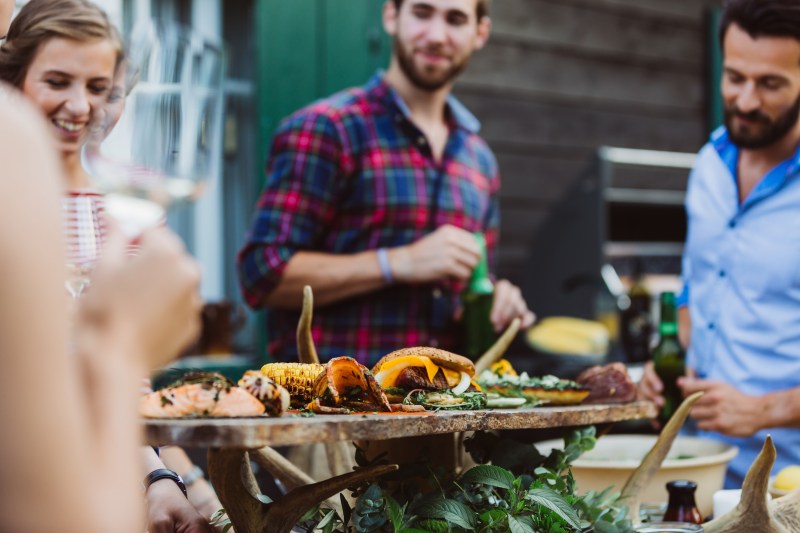 Pro: Makes grabbing a bite to eat more accessible
Outdoor kitchens make entertaining a breeze because they offer a more accessible option for grabbing a quick bite to eat. With coolers for drinks, refrigerators for cold treats, and additional storage all in one place in the backyard, it saves you and your family members or friends from making a trip indoors. For those with an outdoor pool, this can be exceptionally handy. After all, nobody wants to wait to dry off just to run inside and grab a snack from the kitchen. And the alternative of tracking wet footprints through the house or freezing from the AC is even worse! No, thank you!
Is a built-in outdoor kitchen worth it?
As you make your decision, you'll have to weigh these pros and cons to ensure that an outdoor kitchen is right for you and your family. If you're working with a small space, don't spend much time entertaining outdoors, or have a limited budget, the outdoor kitchen may not be a wise investment. However, if you love to host gatherings, spend a lot of time outdoors, and want the added bonus of kitchen features outside, then this can be a fantastic choice for you. Also consider that because outdoor kitchens are completely customizable, some of the cons can be mitigated — you can easily design one that fits your budget, space, and needs, and services like have mastered the art of the personalized outdoor kitchen design.
Ultimately, you'll have to figure out what matters to you most with having an outdoor kitchen. Do you want several features like a sink, chef-quality grill, pizza oven, and mini fridge? Or do you prefer something simple to provide added storage and an accessible place to grill some summer barbecues? No matter what you choose, there's no denying that many homeowners love these outdoor spaces. Hopefully, these outdoor kitchen ideas can spark some inspiration for you to help you decide whether this investment is right for your home.
Editors' Recommendations