If Memorial Day is the first time this year that you're busting out your grill (or maybe taking a new portable grill out for its maiden voyage), then chances are you're already stocking up on meat or making burgers to put on the barbie. These dishes will surely be great on their own, but they'll only get better with the addition of side dishes and snacks — and do we have a side dish for you to try this year: grasshoppers.
Yes, as in the insect and not the minty cocktail.
Specifically, we're talking chili-lime salt grasshoppers. Considered a delicacy in Oaxaca, Mexico, chapulines are a crispy snack served year-round by the masterminds at Seattle-based eatery Poquitos. You can also find it seasonally at the Seattle Mariners stadium.
And while Poquitos' sister eatery, Rhein Haus, located in Denver, added this chirpy topping to its juicy Ballpark Brats for a limited time that has now passed, you don't need a time machine to go back and try them. We've got the recipe (which is surprisingly easy as long as you've got a grasshopper supply) for you to recreate at your Memorial Day barbecue this weekend.
Want to make your burgers or hot dogs even more creative? Try putting these delicious (and protein-packed) treats on top for a bit of an extra crunch. Think of them like onion straws, but in insect form. And actually good for you.
If you're iffy on the whole eating insects thing, we recommend checking out this article on why you should be eating them, or better yet, listen to our Beards, Booze, and Bacon episode on the topic.
Serve these next to the relish because, who else will? That's right. No one. Do it and you'll be a legend.
Chili-Lime Salt Grasshoppers (Chapulines)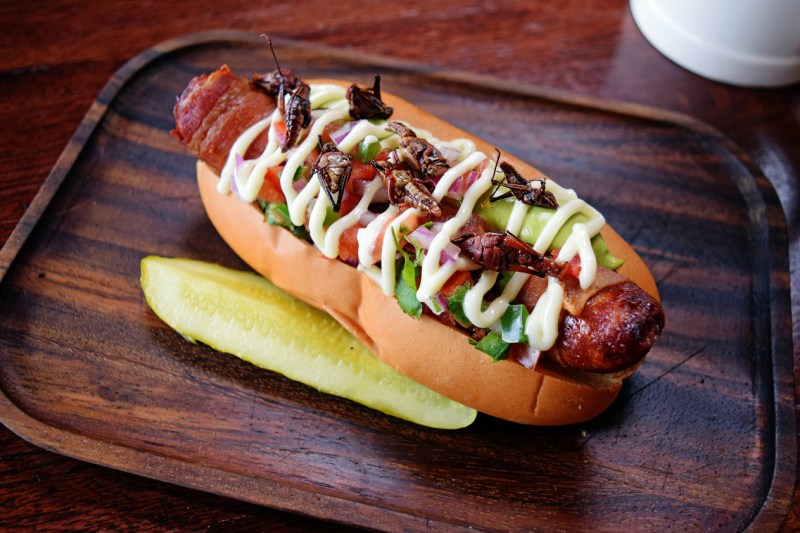 Ingredients:
1 bag of edible grasshoppers (check your closest natural grocer or order on Amazon)
Chili powder
Salt
Fresh Lime
Method:
Rinse and clean the crickets
Cover a cookie sheet with paper towels and spread out the clean crickets with space between them.
Cook at 200 degrees Fahrenheit for 60-90 minutes, depending on your desired state of dryness. (Note: The drier the crunchier.)
Transfer cooked crickets into a bowl and toss with chili powder, salt, and a squeeze of fresh lime.
Article originally published May 29, 2017. Last updated by Sam Slaughter on May 23, 2019.
Editors' Recommendations