Chances are good that you've been under the false impression that macaroons and macarons are two different spellings and pronunciations of the same cookie. We're sorry to tell you, but you've been misinformed. Pronounced, respectively, "mack-ah-ROON" and "mack-ah-ROHN", these two treats are really quite different.
Macaron vs. macaroons
Macaroons, sometimes called coconut macaroons due to all the confusion, are a moist and sweet, chewy, coconutty dream, closely resembling an Almond Joy candy bar. Sweetened coconut flakes are held together with a whipped egg white and sugar mixture, and the result is heavenly. They're often either dipped in or drizzled with chocolate to finish and keep their freshness beautifully, making for wonderful favors or gifts.
Macarons are the colorful little cuties that have taken the world by storm in the last decade or so. The macaron's signature style is its classic meringue outer cookies, sandwiched together by a buttercream or jam filling. The meringue cookies are made from whipped egg whites and sugar that are then piped into small rounds and baked. Once set, they are filled and gleefully devoured.
Both of these delicacies are decadent little wonders, and both should be enjoyed and respected equally. So let us not pit these two treats against each other, macaron vs. macaroon, but rather embrace their differences and enjoy each as the delicately delicious little cookies they are.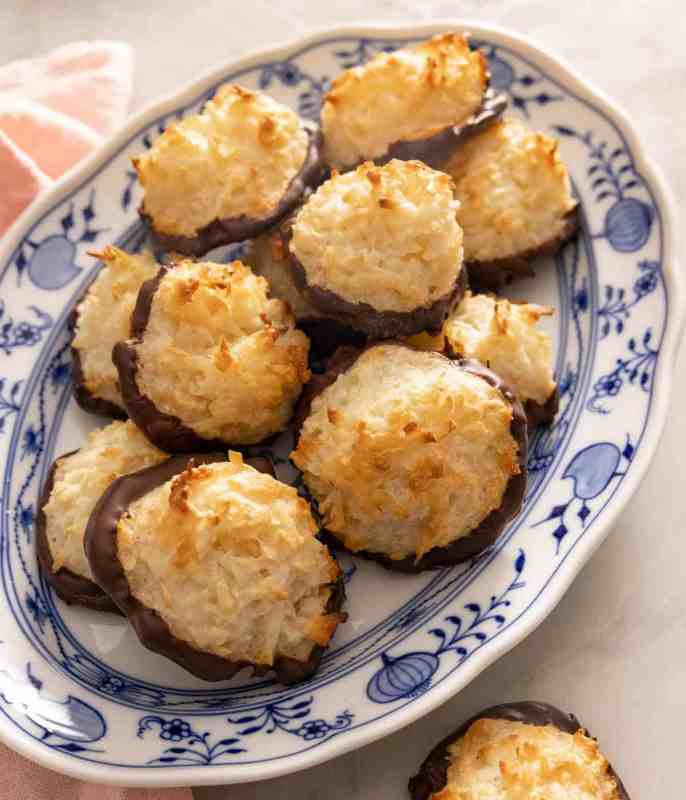 This deliciously classic version of the macaroon is made with sweetened condensed milk and then dipped in chocolate. Traditional macaroons can be either chocolate dipped or plain, but when you have the option to add chocolate — why wouldn't you?
Macaroon tips and tricks
Macaroons are naturally gluten-free, so have no fear of whipping up a big batch for a crowd of diverse eaters.
Be sure to use sweetened coconut flakes instead of unsweetened. These two varieties are texturally different, and unsweetened flakes will cause the macaroons to fall apart.
Folding egg whites is instructed in this recipe. When folding egg whites, do so very gently. The goal is to keep as much of the air inside as possible. The more air that escapes, the less light and fluffy your cookies will be.
These trendy little treats come in almost every flavor imaginable these days. The possibilities of both taste and color combinations are immense, but this classic recipe is a timeless favorite.
Macaron tips and tricks
Macarons are also gluten-free as they contain almond flour and not all-purpose flour.
All-purpose flour cannot be substituted for almond flour in this recipe. Macaroons are delicate little cookies, and the structural differences in all-purpose flour would cause issues in both taste and texture.
Feel free to get colorful and add gel food coloring to your meringue batter. Gel is best for meringue as it will not affect the texture.
Editors' Recommendations