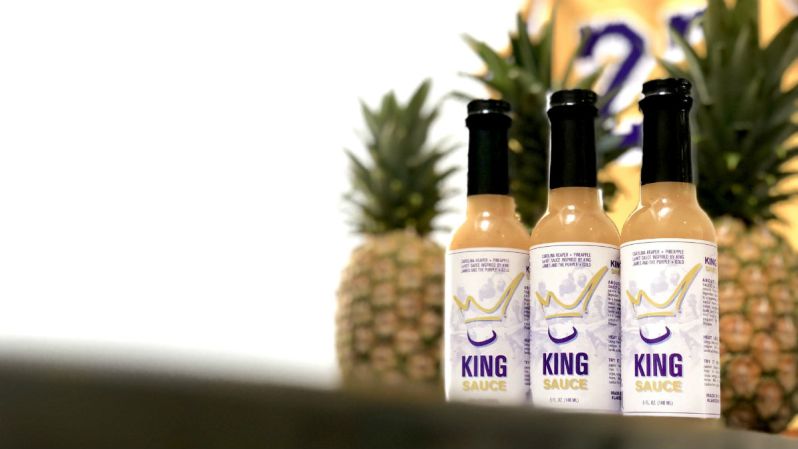 Los Angeles is already totally excited about NBA legend LeBron James moving from the Cleveland Cavaliers to the L.A. Lakers — excited enough to make a hot sauce inspired by the King.
Local hot sauce store and online retailer Fuego Box created King Sauce for the No. 23 forward,"a flavor-forward sauce featuring pineapple and just a bit of the world's hottest pepper, the Carolina Reaper."
Nope, despite popular belief, the ghost pepper isn't the hottest of the hot, although it tips the Scoville scale from 855,000 to 1,041,427 Scoville heat units (SHU). The Carolina Reaper dunks on the ghost pepper at 1,400,000 to 2,200,000 SHU. (This is not a tongue-and-cheek way to compare Michael Jordan to LeBron. MJ is the GOAT, end of story.)
The only other pepper that could possibly be hotter than the Reaper is the Chocolate Bhutlah, although its Scoville rating hasn't been determined yet. So for now, it's only fitting for King Sauce to use the best, hottest pepper. That being said, the sauce is rated a 4/10 for heat. Despite using the Carolina Reaper, the spice level lands at a medium.
Fuego Box also functions as a hot sauce subscription box service. The top-level box, Painseeker, includes two burn-your-teeth-off sauces delivered every 30 or 90 days. Some of Fuego Box's hottest concoctions include Hoff's Southern Stinger Hot Sauce, a winner at the 2016 and 2017 Screaming Mi Mi Awards in NYC, and Hellfire Hot Sauce Fiery Fool, which features both the ghost and Carolina Reaper peppers. The brand also offers "mild to hot" subscriptions for you weaklings out there.
Anyway, back to LeBron James. The King Sauce will likely not go in one of the subscription boxes since it's made in small batches. The L-Train sauce will be available for $10 a bottle at Fuego Box's West Pico location in "limited quantities" starting August 24. Only 2,000 will be made on a one-time run. The sauce men at Fuego Box will also hold a raffle to win a pair of Lakers preseason tickets, a LeBron jersey, and a King Sauce three-pack … which will be perfect to sprinkle over your holiday ham when the Lakers take on the Golden State Warriors on Christmas day.
Editors' Recommendations