Jamaican food is often unfairly labeled as being jerk chicken and not much else, but that's hyper-generalizing a rich culinary tradition born in the heart of the Caribbean. Like Cajun food, Jamaican cuisine is a mashup of numerous great cultures, traditions, and cooking styles.
There's a tremendous mix of influences on the Jamaican table, from African cuisine to the culinary ways of places like Portugal, India, Spain, and England. Over the generations, Jamaicans have taken on a lot of these influences and turned them into something entirely distinctive with local ingredients and cooking methods. Come with us on this journey through the colorful variety of Jamaican dishes.
With the abundance of protein available in the sea and on land, unique tropical fruits, and age-old spice blends, Jamaica has a lot to work with. The resulting dishes are as fun to eat as they are to prepare, and they'll bring some of the island life to your home kitchen.
Don't get us wrong — we love a good jerk chicken recipe. But if we're going to talk about what Jamaicans eat, we need to offer a bit more context. We've even put together a couple of Jamaican recipes for you to take on at home if you can't get out to a genuine Jamaican joint (or visit the country itself). But first, a little primer.
History
Before two supremely unsavory stretches of Jamaican history — the slave trade and British rule — there were Arawak people. This indigenous community had its own way of eating, with many dishes built around the barbacoa, a wait to cook slow and low atop a roaring flame. They used tropical fruits and vegetables, along with a slew of fish and other seafood in their dishes.
The Spanish arrived in the 15th Century and left their mark on Jamaican eating. They brought new kinds of protein like beef and pork as well as some new kinds of citrus and several key spices. The British were in power next and instilled things like corned beef into the diet. Meanwhile, Africans we throwing their dishes into the collective pot, like the national dish (below) and what's now called Jamaican rundown, a milk-based stew of mackerel and veggies (Caribbean red pepper).
Next Generation
So many influences means a lot of fusion and hybrid cuisine today. Jamaican cuisine continues to honor the classics but is not afraid to experiment with them. At restaurants like Broken Plate, diners can try oxtail poutine and curried goat sushi or a chicken breast lollipop with cinnamon-roasted pepper cream sauce. Over at Summerhouse, a beautiful eatery, there's cassava-crusted chevre and curried ackee wontons to start with, along with dishes like breadfruit with honey and lamb meatball kofta. The eggplant plantain parmesan deliciously marries a taste of the Mediterranean with the Caribbean.
The newest generation of chefs, in Kingston especially, is breathing new life into old dishes and combining the island's many, many influences in exciting new ways. If you're hungry, now's a great time to visit Jamaica. Here are some island standards.
Ackee and saltfish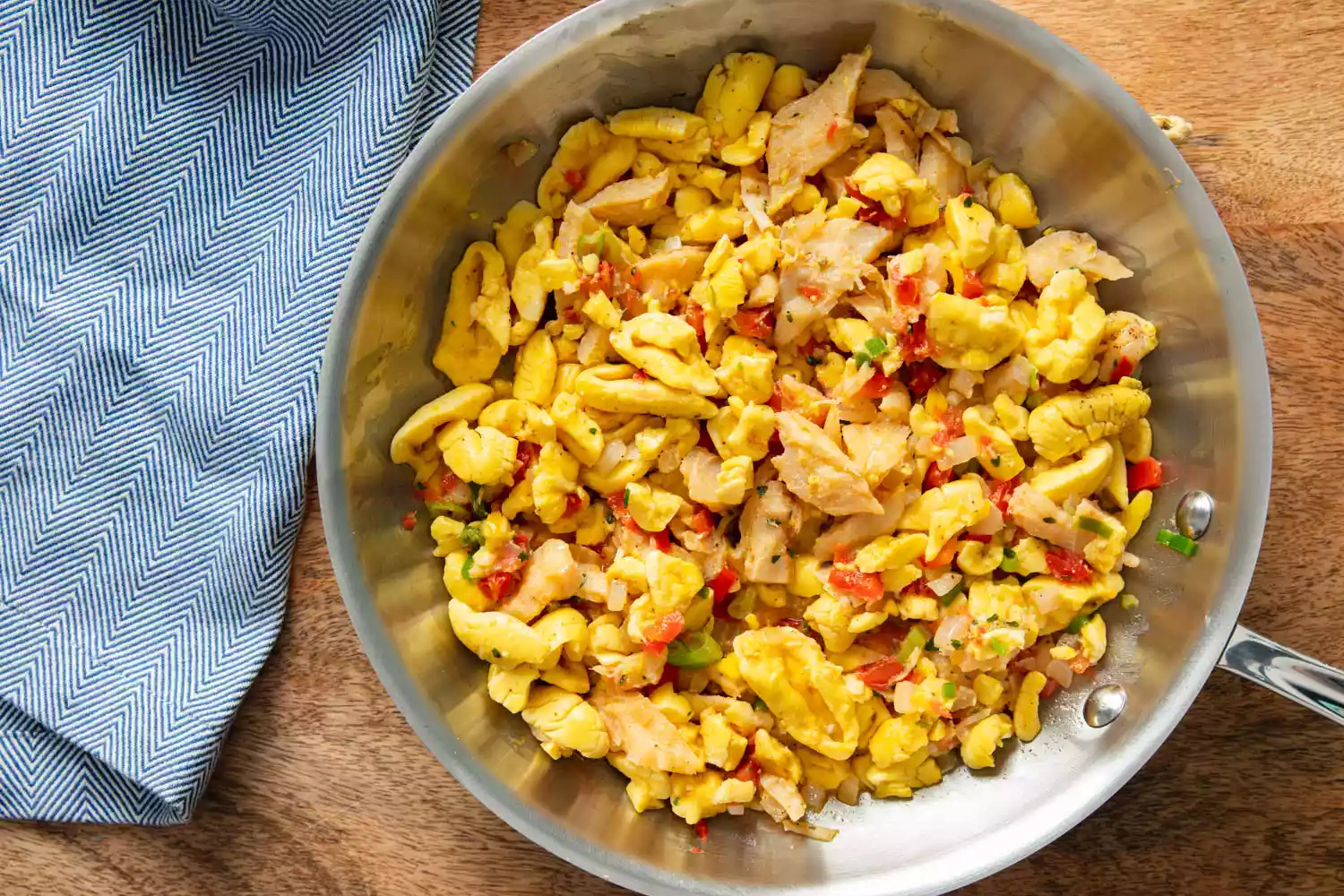 Considered the national dish of Jamaica, ackee and saltfish is a dish that's especially popular in the morning and at brunch. Ackee, a relative of lychee, was brought to the island nation from West Africa long ago. Just be sure you handle it right, as it can potentially be harmful to ingest. We like this recipe from Serious Eats.
Prep time: 5 minutes
Total time: 140 minutes
Yield: 4 servings
Ingredients
8 ounces salt cod
2 tablespoons neutral oil, such as canola or vegetable
2 tablespoons diced yellow onion, from 1/4 onion
2 heaping tablespoons diced bell pepper, from 1/2 bell pepper
1/2 Scotch bonnet chili, stemmed, seeded, and minced
2 garlic cloves, minced
1 small tomato, cored and diced
1 scallion, thinly sliced
2 tablespoons fresh thyme leaves and tender stems, chopped
One 18–20-ounce can of ackee
Kosher salt and freshly ground black pepper
Sliced avocado for serving
Method
Rinse salt cod with cold water until the salt is washed off and transfer to a medium bowl. Cover with fresh water and soak at room temperature for 1 hour.
Drain salt cod and discard soaking water.
Transfer fish to a small saucepan and cover with fresh water. Bring to a boil and cook until fish flakes easily when prodded with a fork — about 40 minutes.
Taste the cod. If it's still too salty, drain and discard the cooking water, return fish to saucepan, cover with a fresh change of water, and boil for an additional 20 minutes.
Once the salt cod is cooked and seasoned to your liking, drain and flake fish into 1/2- to 1-inch pieces. Discard any bones and silvery membranes and set the fish aside.
In a 12-inch skillet, bring oil to a simmer over medium heat. Add onion, bell pepper, Scotch bonnet, and garlic. Let simmer and stir occasionally, until softened — about 5 minutes.
Add the flaked salt cod and cook, stirring occasionally, until fish is heated through — about 5 minutes.
Add tomato, scallion, and thyme, stir to combine, and cook until vegetables are tender and mixture is aromatic — about 5 minutes.
Add ackee, stir gently to incorporate (don't over-mix, as ackee can become mushy), and cook until ackee is heated through — about 3 minutes.
Season with salt and pepper to taste, and serve immediately with sliced avocado on the side.
Brown Stew Chicken
This is a hit come dinner time, especially among English-speaking Caribbean nations. The poultry is browned in brown sugar, which yields a gravy that goes great with onions, garlic, carrots, and other vegetables. Jamaicans like to serve a side of fries with this dish, which works great when you want to sop up the last of the rich sauce.
Run Down
This version of fish stew blends coconut milk, onions, tomatoes, and seasonings like thyme, allspice, and smoked paprika with snapper or mackerel (or any fatty fish, really). It works especially well served alongside rice or boiled bananas. It's a filling dish, dense with flavor thanks to the slow cooking-down of the coconut milk, which ultimately becomes thick and creamy. Jamaicans will often have it with breadfruit, dumplings, yams, or some combination thereof.
Pepper Pot Soup
There's a Philly version of this soup, but the original was born in the Caribbean and Africa. The dish, invented by Black women during the colonial era, is an early example of street food and is usually made from pig tail, beef shank, and a mix of vegetables. It's sometimes compared to gumbo and tends to take on peppers, sweet potatoes, okra, and more. We like this recipe borrowed from Food 52.
Ingredients
1/2 pound salted beef or pig tail
2 medium sweet potatoes
2 medium white potatoes
1 pound yellow yam
1 pound boneless beef shank cut into 1 1/2–inch chunks
1 cup all-purpose flour
1 tablespoon canola or vegetable oil
1 19-ounce can callaloo, drained and rinsed
1/2 pound fresh or frozen okra (about 2 cups)
3 garlic cloves, finely chopped
3 scallions, halved crosswise
5 sprigs thyme
2 tablespoons salted butter
1 Scotch bonnet pepper
Salt
Method
Rinse the salted beef and cut it into chunks that measure approximately 1 and 1/2 inches. Place these into a small pot of cold water and bring to a boil. Cook for 8 to 10 minutes.
Drain the water and refill the pot with cold water. Bring to a boil again and cook for 5 minutes. Drain the water.
Add 3 1/2 quarts of water to a large pot and bring to a boil.
While waiting for the water to boil, peel the sweet potatoes, white potatoes, and yellow yam. Chop into 1 1/2–inch chunks and add to a bowl of cold water to prevent any discoloration.
Add the salted beef and beef shank to the boiling water. Cook for 45 minutes to 1 hour, or until the stew beef is tender — the salt beef is dense, so it won't really seem as tender at this point.
While the beef is boiling, prepare the spinner dumplings by combining the flour, 1/4 teaspoon salt, and oil in a large bowl.
Slowly pour in 1/2 cup of water, stirring with a fork to form a dough.
Once the mixture turns into small clumps, switch from the fork and knead by hand gently, until you have a soft, smooth dough. You may need to add a bit more water along the way, but the dough should not be sticky.
Pinch off slightly less than a tablespoon of dough and roll between your palms to create a long dumpling. It should be about 3 1/2 inches long, like a fat caterpillar. Repeat with the remaining dough.
When the beef shank is tender, use a slotted spoon or strainer to remove the meat from the pot and transfer to a bowl. Keep the broth in the pot — this will serve as the soup base.
Add the callaloo, okra, and garlic to the broth and boil for 20 minutes.
Turn off the heat and blend until the callaloo and okra are smooth with a blender.
Set the pot with the puree over medium-high heat. Drain the potatoes and yam. Add these to the pot with the meat, dumplings, scallions, thyme, butter, and Scotch bonnet.
Cover and boil for 30 minutes, until the potatoes are tender, stirring occasionally to prevent sticking. (Be careful to avoid bursting or puncturing the Scotch bonnet, or the soup will be very spicy.) Salt to taste.
Remove the Scotch bonnet, thyme, and scallions. Use a fork and knife to remove the Scotch bonnet's seeds and stem, then slice into small pieces to serve alongside the soup.
Tia Maria
Jamaica is famous for its rums, which are very much worth exploring. While we love a refreshing Red Stripe beer, we're also drawn to Tia Maria. This coffee liqueur was invented in Jamaica in the 1940s and remains quite popular. It's a fun one to mix with and works well with things like rum and bourbon, along with other ingredients like coconut, citrus, and orange bitters. Try it in a classic like the Manhattan or work it into some brandy cocktail recipes.
Editors' Recommendations