In 1961, the grande dame of American expats in Paris — also known as Julia Child — published the first volume of her iconic cookbook, The Art of French Cooking. In this incredibly detailed tome, Child introduced American home cooks to a plethora of classic French dishes, including cassoulet, coq au vin, and, perhaps most famously, a rich and comforting braised-beef dish called boeuf bourguignon.
Now that retro dishes are having a resurgence and major cities all over the U.S. find themselves eagerly embracing Gallic bistros once again, boeuf bourguignon is poised to enjoy a new wave of relevance, both in restaurant kitchens and at the dining tables of ambitious DIYers. If you feel up to the challenge, read on for some useful, chef-provided tips for making a version of this comfort dish that even Julia would approve.
What is boeuf bourguignon?
Basically, boeuf bourguignon is the French region of Burgundy's answer to beef stew. The dish consists of beef slow-braised in red wine and beef stock, along with vegetables, herbs, and bacon lardons. Once it's ready to enjoy, boeuf bourguignon can be served with potatoes (either roasted or mashed), rice, or buttered noodles.
If you have abundant determination, a desire to hunker down with a perfect cool-weather dinner, and plenty of patience, then you're ready to whip up your own boeuf bourguignon. These eight pieces of advice will guide you along the right path.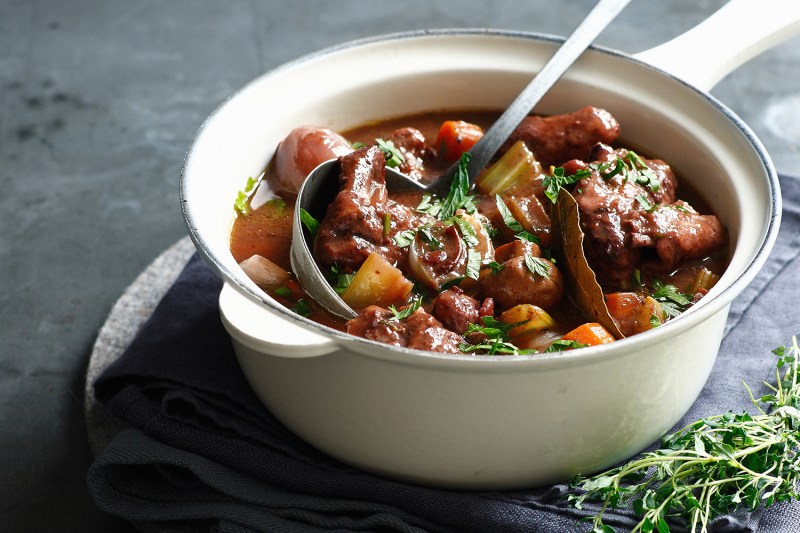 Use a high-quality, preferably homemade stock
When making a real-deal version of boeuf bourguignon, it's important to remember (and to accept) that there aren't any viable shortcuts. A chef who's willing and able to take their time counts among the most crucial elements of this dish and that need extends to the stock used for the stew. "Don't skimp on the stock; not only will a true bone stock pack more flavor than the watery carton variety, but the natural collagen from the bones adds the lip-smacking good texture and thickness that makes the dish irresistible," says cofounder James Peisker of Porter Road in Nashville, encouraging aspiring boeuf bourguignon creators to invest in their end product by making their own bone broth.
Replace generic "stew meat" with a more flavorful and well-textured cut
It's an easy assumption to make: If you're slow-cooking cuts of meat in the context of a stew, then the quality of the meat itself isn't essential, right? However, when we're talking about boeuf bourguignon, our surveyed chefs object to that notion, insisting that beef cuts for this dish should be carefully and specifically selected.
"You have to use beef cheeks for a proper beef bourguignon, as they are soft and tender, and pick up all of the flavor from the sauce," insists chef, cookbook author, and TV personality Judy Joo of her favorite cut for boeuf bourguignon.
Chef and recipe developer Silvia Baldini opts for short ribs in her boeuf bourguignon, telling us that "I like to use short ribs instead of stew meat. I slow-cook the ribs for at least 3 hours in the oven until fork-tender. They come out melt-in-your-mouth delicious every time."
Chef Marc Bauer of the International Culinary Center advises home cooks on what to look for in their boeuf bourguignon meat selections: "The specific cut of meat should be one with many connective tissues or 'silver skins,' which turn into gelatin when cooked at a simmer for an extended time (over one hour to an hour and a half). [The] best cuts are from the shoulder (chuck), or from the shin of the [cow]. Both cuts are dense in connective tissue."
Use a robust red wine
Wine plays a major role in the flavor and texture of a successful boeuf bourguignon, so it's essential to carefully choose your bottle. For the purpose of this dish, chef/owner Jessica Formicola of Savory Experiments recommends using "more wine, less stock" for your braising liquid. As far as a specific wine goes, Formicola suggests "something full-bodied and robust like a Shiraz, Cabernet, or Bordeaux."
Chef Bauer prefers a "French Burgundy wine made from Pinot Noir or Gamay. You can use a good table wine. If this is too elaborate, you can use an Italian red wine for the marinade. If [those are] not available, use [any] dry red wine. You don't have to spend more than $15 for the wine. Use an expensive red wine to enjoy with friends instead."
Executive chef Sebastien Rondier of Brabo Brasserie in Alexandria, Virginia likes to add an extra level of flavor to his boeuf bourguignon by using both a dry red wine and a ruby port in the recipe. "The red port makes a big difference in [my] boeuf bourguignon recipe. It adds slight sweetness to the sauce. You can also add a bit of sugar if red port is not available," Rondier explains.
Don't burn the alcohol off of the wine before marinating
If you really want to capture the flavor of your selected wine in your boeuf bourguignon, it's wise to marinate the meat in wine prior to the cooking process. That said, in the interest of a truly unctuous texture-flavor combination, follow the advice of chef Laetitia Rouabah of Benoit NYC and "do not burn off alcohol before marinating. It makes the meat tender. The tip is to filter the marinade (after marinating the meat overnight). Sear the meat and vegetables separately and then cover with the marinade for about 3 hours. The alcohol evaporates while cooking and you will obtain very soft and tender meat."
Make sure to slow-cook in an oven-safe pot
Boeuf bourguignon requires a long cooking process on both the stovetop and in the oven, so home chefs must be discerning about their boeuf bourguignon pot of choice. Baldini says that "braised meat is essentially a piece of meat that is browned on all sides, and then cooked gently in liquid. You want to do this in a pot that is oven-friendly, since there is no better way to ensure even, low, gentle cooking than by placing the entire vessel in the oven at a low temperature." Therefore, you want a substantial oven-safe pot or Dutch oven that can withstand long periods in the oven and can also cook evenly on the stove.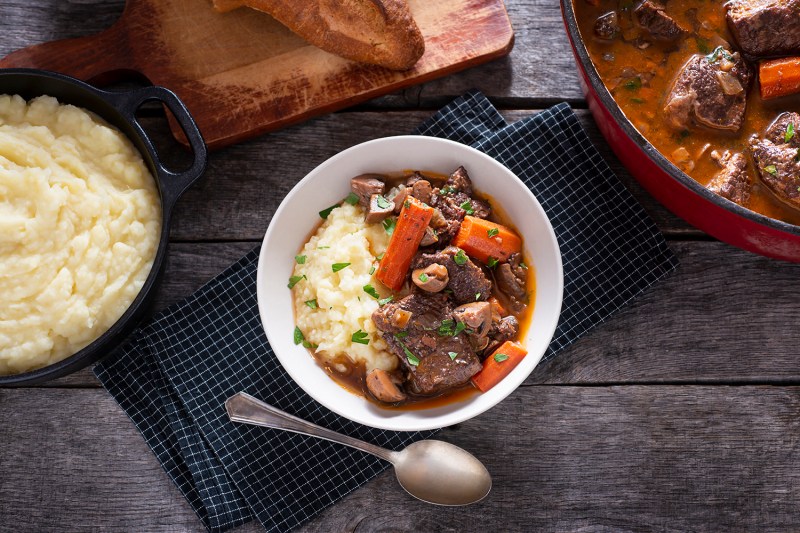 Keep the beef and veggies fully submerged throughout the cooking process
As chef Baldini points out, braising relies massively on the process of cooking meats in a bath of liquid. For that reason, the solid ingredients (specifically, the meat chunks and the vegetables in a boeuf bourguignon) require even submersion. "You want enough wine and stock to cover the meat and vegetables so that everything cooks evenly; if everything is not fully submerged, [then you should] add more beef stock until it is," advises chef/owner Martial Noguier of Bistronomic in Chicago.
For extra depth of flavor, use dried mushrooms along with the fresh versions
Classic boeuf bourguignon recipes include mushrooms as a garnish; most popularly, the versions known as button mushrooms. However, for an extra boost of flavor dimension, executive chef Eli Collins of a. kitchen and a. bar in Philadelphia chooses to supplement his fresh mushrooms with dried options, telling The Manual that "to enhance flavor, [I use] dried shiitake or porcini mushrooms in the braise. It supplies a deeply-embedded umami for the broth"
Resist the urge to thicken the sauce with flour or cornstarch
If you read a few traditional stew recipes, you'll notice that many call for the addition of a starch, like flour or cornstarch, to act as a thickening agent. That may be a popular move, but chef and blogger Niloufer Mavalvala of Niloufer's Kitchen urges you to reconsider in the case of boeuf bourguignon. "I prefer not to [add flour or cornstarch], as the finish of this dish loses the deep sheen and glaze that one gets without [adding those ingredients]. Just let the broth and wine do their work and allow [the dish] to boil an extra 10 minutes until you get the right consistency," Mavalvala advises.
Have a Julia Child moment of your very own by making an at-home boeuf bourguignon, with the help of this excellent recipe:
Judy Joo's Classic Boeuf Bourguignon Recipe
In her boeuf bourguignon recipe, Judy Joo — chef, author, and host of Korean Food Made Simple on the Cooking Channel — combines classic techniques with a few ingredient and flavor variations that speak to both her personal preferences and to her passion for Asian culinary traditions. She likens her spin on boeuf bourguignon to Korean kalbijjim, which she calls "essentially an Asian version of this much-loved French dish."
Ingredients:
3 cups red Burgundy wine
1 cup roughly chopped white onion, peeled
1 cup roughly chopped carrot, peeled
3 large garlic cloves, peeled and roughly chopped
1 bay leaf
4 sprigs flat-leaf parsley
4 sprigs thyme
3 tbsp extra virgin olive oil
3 tbsp salted butter
¼ lbs salt pork, diced
1 lb mushrooms (cremini and button, mixed)
8 oz pearl onions
20 baby carrots
3 tbsp flour
3 lbs beef cheeks, cut into 1½-inch pieces
50 mL brandy
2 cups gelatin-rich beef stock (preferably homemade)
1 tbsp soy sauce
1 tbsp Asian fish sauce
1 lb oxtails
Finely-chopped flat leaf parsley, for garnish
Method:
Preheat the oven to 300 degrees Fahrenheit.
Add the wine, white onion, chopped carrot, garlic, bay leaf, parsley, and thyme to a medium saucepan and bring to a boil. Lower to a simmer and cook for 45 minutes, or until reduced by half. Strain out the vegetables and discard, reserving the liquid.
In a large Dutch oven over medium heat, drizzle in the olive oil and add the butter. Add the salt pork and fry until crispy and golden brown. Remove the pork with a slotted spoon and set aside.
Add mushrooms to the Dutch oven and cook until golden in color, then remove with the slotted spoon and set aside. Repeat with the pearl onions and baby carrots, adding more oil if necessary.
Coat the beef cheek chunks in flour and season well with salt and pepper. Fry the cubes in batches until browned all over. Remove the beef with a slotted spoon and set aside.
Add brandy to the Dutch oven to deglaze, scraping the browned bits from the bottom. Add the red wine liquid reserved previously, along with the beef stock, soy sauce, fish sauce, and beef cheeks.
Add the oxtails to the Dutch oven and simmer for 2.5 to 3 hours with the pot covered.
When the beef is tender and soft, return the pearl onions, baby carrots, and mushrooms to the Dutch oven and place in the oven to braise for 30-45 minutes.
Remove the Dutch oven from the oven and strip the meat from the oxtails, discarding the bones. Skim any excess fat from the surface of the stew.
Add the salt pork and season to taste with salt and pepper.
Garnish with chopped parsley and serve over mashed potatoes or egg noodles with a glass of Burgundy wine.
Editors' Recommendations