Go to just about any high-end restaurant these days – especially those with French-leaning cuisines – and chances are you're going to come across the term confit on a menu. The term, which comes from the French confire, which means to preserve, describes a cooking technique where the meat (usually the leg of a goose or duck) is cooked in its own rendered fat over a long period of time at a low temperature. This not only prepares the meat to be eaten, but it also preserves it in the process – a handy thing back in the day when refrigerators, you know, didn't exist. (The French verb was first used in Medieval times to describe a method of preserving fruits, and they derived the word from the Latin verb conficere, which means "to produce, prepare.")
While confit fruits are still produced, confit of duck or goose is by far the most popular forms of confit cuisine. Other meats such as chicken or pork are allowed to be en confit (cooked in goose or duck fat), but they are not considered true confit. "Confit country," where the method is most popular, is divided into to basic zones according to which type of fowl is used. The Basque and Béarn regions are for goose confit while Saintonge and Brantôme focus on duck.
To find out how to start confit-ing our own waterfowl at home, we spoke with Patrick Bassett, executive chef of Forge & Fire at the Groton Inn in Groton, Massachusetts.
According to Bassett, "Cooking duck confit is a great way to turn duck legs into something amazingly delicious. It is a relatively simple slow-cooking technique."
First, he says, they make a cure for the duck, which pulls all of the flavor to the surface before slow cooking.
"The slow cooking leaves you with a tender fall-apart duck leg you can add to many things such as a salad or appetizer, that will leave the guests craving more," he says. "We like to pair it with a light refreshing salad of winter greens and citrus to brighten it up."

Duck Confit Salad Recipe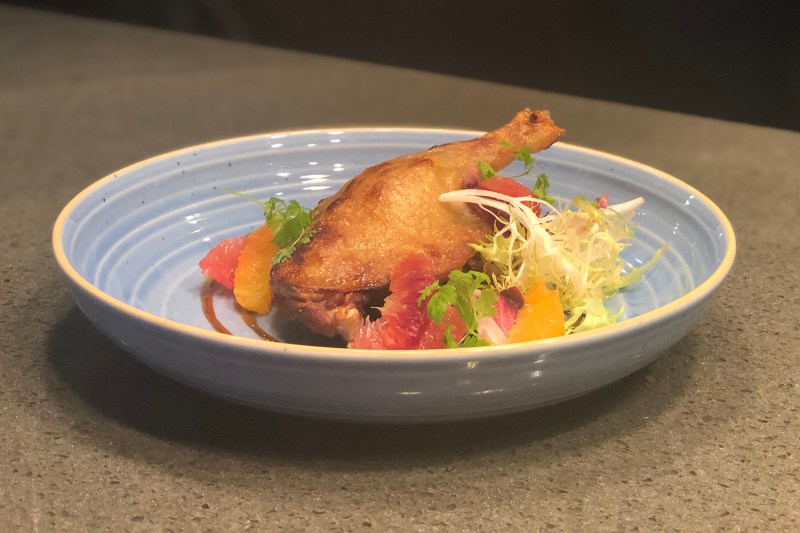 Ingredients:
6 duck legs (available at your local butcher or grocery store)
1 quart duck fat (also available at your local butcher)
Ingredients for the cure:
1 cup kosher salt
.5 cup brown sugar
1 tbsp peppercorns
2 bay leaves
A few sprigs of thyme
Zest of 1 orange
Method:
Season the legs with the cure and allow to sit in the refrigerator overnight.
The following day rinse the legs and cover with duck fat, cooking the duck for four hours at 225 degrees Fahrenheit until tender and falls off the bone.
Finally, crisp the duck leg in a 400-degree oven for 10 minutes.
Ingredients for the salad:
2 heads frisee
1 endive
1 tbsp fresh parsley
1 tbsp fresh chives
1 tbsp fresh tarragon
1 orange (segmented)
1 ruby red grapefruit (segmented) (reserve the juices of the orange and grapefruit for the vinaigrette)
Ingredients for the vinaigrette:
1 small shallot, finely chopped
.75 cup olive oil
.25 cup Champagne vinegar
3 tbsp fresh lemon juice
2 tbsp fresh orange juice from the reserved juices
.25 tsp finely grated lemon zest
Kosher salt and freshly ground black pepper
Method:
Toss the lettuce, herbs, citrus segments, vinaigrette with salt and pepper to taste.
Place the crispy confit duck leg on top of the salad and enjoy!
Editors' Recommendations