Green beans may be a traditional side dish for holidays like Thanksgiving, but the veggie doesn't always get a lot of love for regular weeknight meals. The truth is though green beans are a great dish to add to your table. Green beans are a good source of fiber, low in sodium, have protein, vitamins, and minerals. The key to adding this healthy and versatile vegetable to your list of go-to sides is knowing how to cook green beans. So, let's get cooking.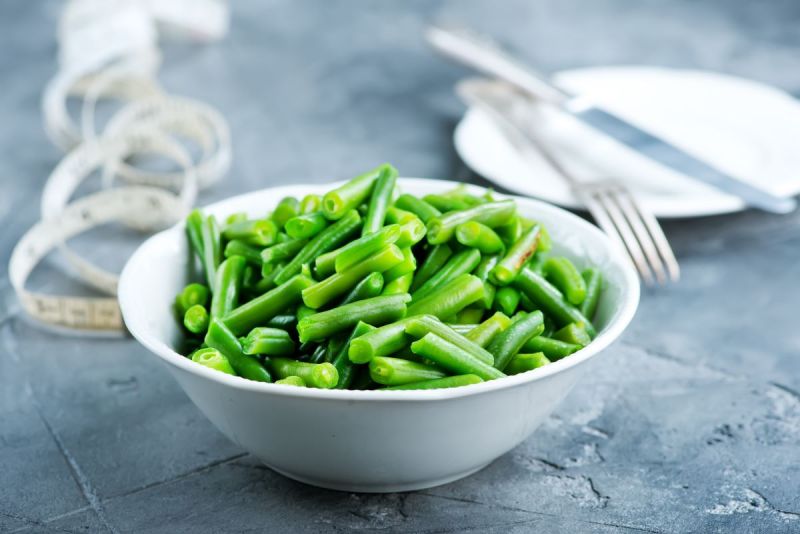 Buying green beans
When it comes to making a green bean recipe, fresh green beans are always the better pick. Frozen green beans can work in a pinch, but fresh green beans are more flavorful. Choose fresh over precut green beans too. Whenever buying green beans, make it a point to cook them not long after buying. Green beans are more flavorful if eaten or cooked right away. Pick smaller green beans with a rich hue. Avoid green beans with a yellow or brown tinge.
Storing green beans
If you can't cook green beans right away, place in the refrigerator in the plastic bag. Don't wash green beans before storing.
Trimming green beans
Before you get ready to cook your green beans on the stove or in the oven, wash them first. Then, chop off the ends. You can tell if your green beans are fresh and delicious if they snap when you break in half.
How to cook green beans on the stove
Cooking green beans on the stove is probably the quickest and easiest way to make a green bean side dish. Once your beans have been cleaned and trimmed, sauté them in a pan.
Heat up a tablespoon of olive oil a pan.
Add in the green beans.
Cook for around five to eight minutes or until the beans have a bright gloss.
Lightly season the beans with a bit of salt, pepper, and garlic; fresh garlic works best.
Sauté with seasonings for another minute.
Add a half a cup of water to the pan.
Cover and let the green beans simmer for a couple of minutes.
Serve right away.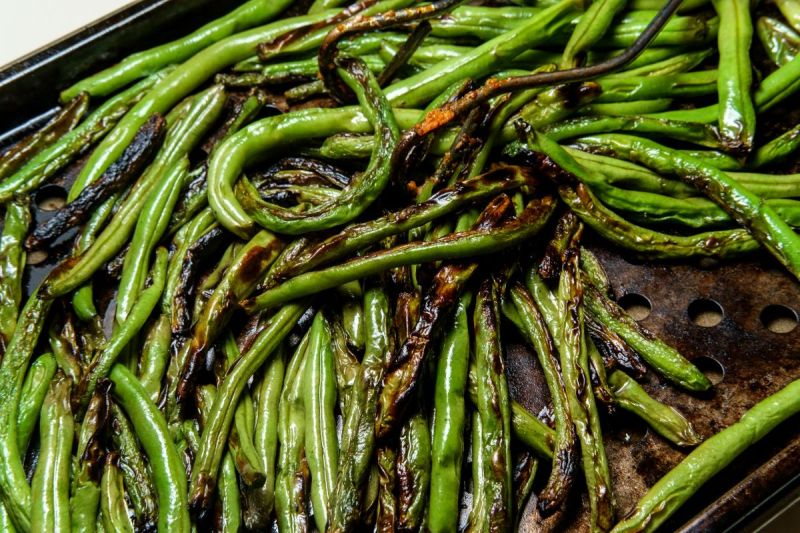 How to cook green beans in the oven
Roasting green beans in the oven is another simple way to bring the veggie to the table. It's easy and healthier than tossing tater tots or French fries into the oven.
Preheat oven to 400 degrees.
Place green beans in a bowl.
Drizzle olive oil.
Toss to coat.
Sprinkle salt and pepper to taste.
Toss again.
Place on a baking sheet.
Cook in oven for 15 to 20 minutes or until crisp.
Tip: Roasted green beans are done when they look a bit shriveled.
Green bean recipes
Once you've mastered the basic green bean side dish of cooking the veggie on the stove or the oven, there are green bean recipes that go beyond grandma's green bean casserole. This green bean and kale salad from the Food Network is a standalone meal that is ready to eat in around an hour. Love bacon? Try this quick and easy green bean and bacon recipe from A Taste of Home. It's a simple, no-fuss green bean/bacon recipe that tastes great after a long day.
Adding green beans to the menu
If you're looking to change up the sides, green beans are a tasty and healthy vegetable to add in. Don't let those green bean nightmares from your childhood keep you from eating this veggie. Learning how to cook green beans isn't difficult and the end result tastes great and is good for you.
Editors' Recommendations